The campaign has been timed to coincide with Hate Crime Awareness Week, which started on Monday 5 February.
The intention is for it to be seen by as many people as possible, including victims and possible offenders.
The comms team has employed local media, community messaging, the Cumbria police website, and various social media channels – Facebook, Twitter, Snapchat, Instagram and LinkedIn.
The pledge includes the line "I'm proud that Cumbria is a place where everyone is free to be themselves" and a promise to always report "violence, abuse or hatred".
Additional messages include information on the different types of hate crime, and how varied offences can be, and the different options that exist when reporting it, including third-party reporting centres.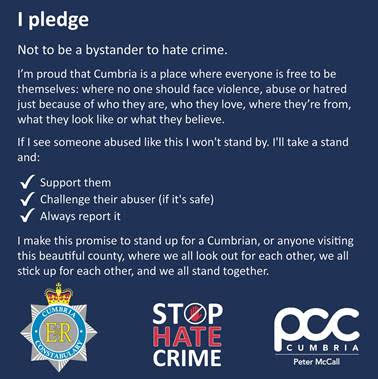 The force is hoping the campaign will result in higher levels of reporting of hate crime and increased public awareness of different reporting methods.
It will measure its effectiveness in terms of engagement, coverage and ultimately in crime incidents reported over time.
Helen Lacey, head of marketing and communications at Cumbria Constabulary, said: "It is vital to run campaigns such as our Hate Crime Awareness Week to start discussions around key issues with the public.
"By engaging on matters such as encouraging reporting, reporting options available, reaffirming how seriously the police take all reports of crime we can help to educate both victims and potential offenders and further improve confidence in community policing."