Let's face it, Greggs isn't everyone's cup of tea (devotees of Jesus or veganism look away now), but the baking brand now has a place on most British high streets and its online popularity is growing almost as fast as its store footprint. Clever PR activity – such as its latest Valentine's Day campaign – has been gaining notable column inches, while a shameless, down-to-earth social media style embraces brand values rather than apologising for them.
Name: Abby Hughes
Job title: Digital marketing coordinator
My typical day/shift involves…
The first job of the day is to catch up and reply to messages we've had overnight. More and more of our shops are staying open later in the day and while we always keep an eye on the contact we get into the night, as a rule we don't respond – unless it's pretty serious.
Next on the list is to check if we have any content planned to go live and if so, make sure it's all scheduled and ready to go.
The main bulk of my day is taken up by responding to customers whether that be about their visits to our shops and what they've bought, or general banter. Customers ask us random questions like what they should have for their breakfast, what our favourite film is or even to help them with coursework.
Which social media channels do you manage?
We focus on Facebook and Twitter and this is where we have our largest audience, but we're starting to put more focus onto Instagram. It'll be good to see how our content and personality translates in a new environment.
The perfect job doesn't exi... pic.twitter.com/kx0HPXpi3m

— Greggs (@GreggsOfficial) January 26, 2018
Which channels work best for the brand and why?
This all depends on the content. The best performing content for us is our reactive posts. We look out for conversations that we can naturally get involved with, not bandwagons to jump on. These tend to be people making comments about our food or us as a brand. The majority of these are found on Twitter; however, content like quizzes tend to work better on Facebook.
Do you use video/gifs in your social feeds? If so, what kind?
Yes, we use both, alongside images. Out of the two, we mostly use GIFs and they are usually showing our food. When we use video it's usually to show large pieces of PR activity such as Ministry of Greggs, Minimise Me or more recently, Valentine's Day.
My brand guidelines/restrictions are…
We have our own personality and way in which we speak as a brand that comes naturally to us talking to customers every day. It's used in all communications, not just on social. The work we do on social feeds directly from our wider brand strategy, so we talk the same way at every customer touch point.
We have no restrictions as such, but there are areas we wouldn't necessarily get involved with, such as politics. We also never want to jump on the bandwagon with posts. It's important to make sure anything we talk about fits with us and our audience.
What makes a good social media manager?
Someone who:
• Totally gets the brand and personality – being able to flex tone in response, depending on subject
• Enjoys talking to and focusing on customers
• Has an eye for fresh and relevant content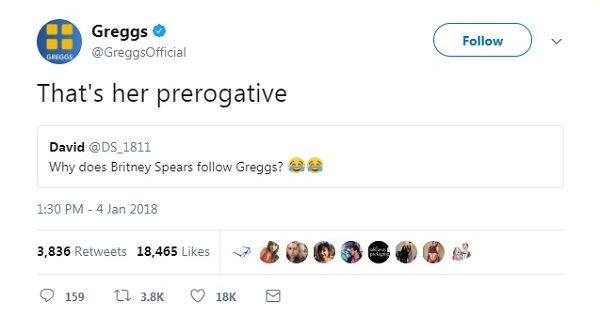 How do you handle criticism online (specifically the Jesus/sausage roll advent calendar issue)?
The same way we'd answer any challenge when we're in the wrong – we held our hands up and apologised. We wouldn't ever ignore people or hide away; facing up and saying sorry is always the right thing to do.
Best experience…
Definitely supporting on the big pieces of activity, as mentioned. Seeing first-hand the reaction and being involved in conversations around the activity is really fun.
Strangest experience…
It's pretty strange when people ask to marry Greggs… Our response has to carefully balance not hurting anyone's feelings with a "no".