Amazon's brand value increased 42% to $150.8 billion (£106.3 billion), overtaking second-placed Apple, which shot up 37% to $146.3 billion.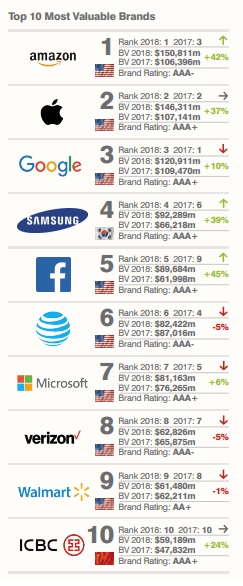 Google's value, meanwhile, grew a relatively modest 10% to $120.9 billion. The Android owner had overtaken its smartphone rival Apple in last year's ranking, after the iPhone maker's value plummeted 27%.
The remaining two spots in the top five also went to tech brands that shot up the rankings. Samsung's brand value was up 39% to $92.3 billion, taking it from sixth to fourth place; Facebook climbed from ninth to fifth, with its value up 45% to $89.7 billion.
Despite these rearrangements, the membership of the top 10 remained the same, with AT&T, Microsoft, Verizon, Walmart, and Chinese bank ICBC making up the rest.
The highest-ranked European brand is Mercedes-Benz, up from 20 to 15, with a brand value increase of 24% to $43.9 billion. The top U.K. brand is 66th-placed BP, with a brand value of $19.6 billion (up 4%).
David Haigh, chief executive of Brand Finance, commented: "Jeff Bezos once said that 'brands are more important online than they are in the physical world.' He has proved himself right by choosing the name Amazon, known as the largest, most powerful river in the world, as 23 years later the Amazon brand carries all before it as an unstoppable force.
The ranking uses factors including marketing investment, familiarity, loyalty, staff satisfaction, and corporate reputation to produce a financial measure of how much value a brand contributes to its owner.

This story first appeared on campaignlive.co.uk.