Analytics company Talkwalker measured the mentions of various campaign hashtags on social media between 19 December and 17 January. The top five were:
#dontdrinkanddrive - 3,808
#nonefortheroad - 2,316
#dontdrinkdrive - 1,005
#dontriskit - 868
#matesmatter - 768
The popularity of the top four was boosted by the number of police accounts featuring them, but #matesmatter stands out because it was associated only with the Department for Transport's "Think"! campaign.
Both #dontdrinkanddrive and #dontriskit were featured in Road Safety Scotland's drink-drive campaign (below), which launched on 1 December.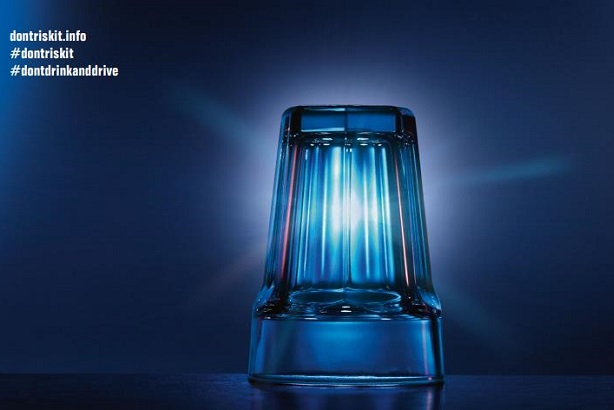 Another high-profile campaign featuring #dontdrinkanddrive was created by Derbyshire Police, with a two-minute film (below) in which children re-enact a real-life conversation between emergency services. It helped reduce offences in Derbyshire over the festive period.
Together with @DerbyshireRPU and @CRESTDerbyshire, we're promoting the message #DontDrinkAndDrive as our annual #Christmas drink-drive campaign kicks off today - and we've taken a novel approach to getting the message out this year. https://t.co/v8FHDzM8l0 pic.twitter.com/PmZeZg1loZ

— Derbyshire Police (@DerbysPolice) December 1, 2017
Several police forces made use of #nonefortheroad, including Greater Manchester, Cheshire, Cumbria, Warrington, Thames Valley and Merseyside.
The #matesmatter hashtag belonged to the Department for Transport, which tends to look for a fresh angle to take each year.
Last year it used #FOMOpints as part of an ad campaign to make it clear to young men with FOMO (fear of missing out) that they have plenty to live for on the day after their night out, which they may not see if they choose to have a second drink.
This year it focused on showing young men they should persuade their friends not to drink and drive, using the key message "Mates don't let mates drink-drive", which it boiled down to #matesmatter.
The message was amplified through a media partnership with Kiss FM's breakfast presenters Rickie Haywood Williams and Melvin Odoom and a short film created by online publisher LADBible.
It shows a young driver getting his pint repeatedly knocked over by his friends in the pub until he gives up and orders a lemonade:
When will he learn!? ???? @THINKgovuk #matesmatter #ad pic.twitter.com/jcRWlf0NT8

— LADbible (@ladbible) December 21, 2017
Millions watched the video on Facebook, Instagram and Twitter, according to Richard Sunley at Talkwalker.
He said: "LADBible is the hottest, most widely shared, social-media-led publisher and the massive penetration of the 'Think!' drink-driving campaign will without doubt blaze the way for similar initiatives across public and private sectors. The challenge will be to achieve similar breakthroughs in measurement strategies to effectively determine return on investment".
'Think!''s own social-media channels also had success pushing out the #MatesMatter message with tweets including the hashtag generating 1,124 retweets and 2,221 likes.
Among the individual police forces active on social media, Greater Manchester and West Midlands attracted the highest number of retweets and likes.
---
Click here to subscribe to the FREE public sector bulletin to receive dedicated public sector news, features and comment straight to your inbox.
Make sure you register for the site to access more than one story per month.
To submit a news, comment, case study or analysis idea for the public sector bulletin, email Ian.Griggs@haymarket.com