It seems that every government of every hue will target gambling at some point; usually following a media panic about 'problem gambling' and a determination that Something Must Be Done.

The current administration is doing just that – something. Reducing the maximum stakes on fixed-odds betting terminals and tightening controls on advertising to protect children and the vulnerable are the proposals in a Department for Digital, Culture, Media and Sport consultation, which closes in January.
---
Also see: 'It's very difficult to fight emotions with facts' - the hostile comms challenge of fracking
Tobacco Manufacturers' Association: how the 'most challenging industry' is trying to turn a reputational corner
---
Recent critics of the sector include PR industry legend Lord Chadlington, who told Parliament the Government should "urgently consider severely curtailing or even banning" all gambling promotion. The Shandwick founder claimed more than two million people in the UK "are either problem gamblers or at risk of gambling addiction".
Challenging myths
That figure is unlikely to be recognised by Malcolm George, chief executive of the Association of British Bookmakers (ABB), the trade organisation for the UK's high-street betting shops.

Asked about the biggest gambling myths, George points to the use of terms like an "epidemic" to describe problem gambling, insisting the rate has stayed "basically flat" for 15-20 years, at about 0.5 to one per cent of the population.
"The idea of an epidemic is just statistically nonsensical and mis­leading," he states.

George says that while it is "fine" for publications to take an editorial position on gambling, it is "beholden on the media" and other commentators to look at the evidence.

"Where my concerns come is when, occasionally, media outlets either wilfully – or through poor journalism, an inability to do maths – come up with figures relating to the issue or supposed evidence that are wholly inaccurate."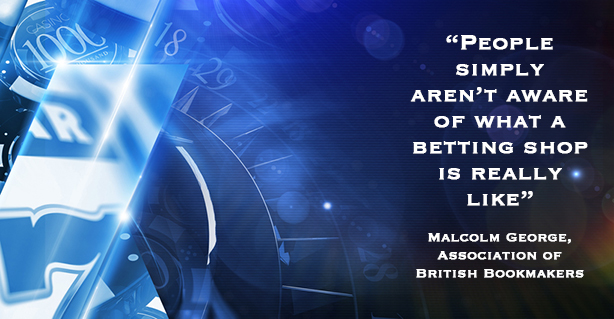 Ignorance is part of the problem, he suggests, highlighting the fact that, excluding the National Lottery, less than half the UK population gamble. "That allows for a lack of quality in the debate because people simply aren't aware of the realities of what a betting shop is like, what online gambling is like or what a casino is like.

He adds: "It just allows those sort of myths to gain currency when in an environment where people have experience of it [this] would be much less able to happen."

The ABB has a 'mythbusters' section on its website. In addition, the body will produce reports on how betting shops benefit the economy and how gambling problems are not escalating. It will also focus on the sector's social responsibility credentials; last October, for example, it ran the first Responsible Gambling Week with other industry groups.

The ABB has an extensive approach to dealing with the media.

"On busy days we might have 15 broadcast media [interviews and] countless print media requests, and we try, insofar as you can physically fit them in – we will do them. On an ongoing basis we are trying to be open with the media, trying to engage, and I think, in many ways, that's the best thing you can do: undertake interviews, have the evidence."

The same goes for political engagement. As George points out, parliamentary questions, ministerial statements or regulatory proposals are often the spur for a media story anyway.
A new set of tools
Social media, meanwhile, represents a "challenge" for governments and trade bodies alike to differentiate "genuine broad-based public interest, public concern" from "vociferous" but "narrow" points of view.

Not surprisingly, the ABB, whose membership includes William Hill, Ladbrokes and Coral, will use videos, infographics and similar resources to make its case where appropriate. But for George, technology has changed "the tactics more than the strategy".

He explains: "It is a tool for communication and, inevitably, social media becomes more and more sophisticated with every day that passes, and as an industry association… you have to be aware of that, and you have to be aware of the tools that are available to you.

"Does it change the fundamentals of how you go about addressing an issue, communicating a view? I'm not so sure. You still need to ensure you have clarity of message, and you need to ensure you are reaching the stakeholders – the decision-makers – in your issue. That hasn't changed."
Also see: A question of principles: How much do ethics really matter in PR?