The public views energy as the sector with the worst reputation, according to new research that suggests people are increasingly seeing good corporate governance as important.

In its RepTrak research, Reputation Institute asked about 2,000 members of the British public to rate several companies by how they saw their ethical credentials. The resulting data was used to rank 18 industries out of 100.
---
More: 'It's very difficult to fight emotions with facts' - the hostile comms challenge of fracking
---
Energy scored lowest, with an average of 59.4. Telecoms, Services, Information and Raw Materials were also ranked near the foot of the list, while the industrial, automotive and healthcare industries performed strongest (see table).

"It is perhaps not so surprising that we see the energy and telecommunications sectors at the bottom of the list," says Reputation Institute UK managing director James Bickford. "A lack of transpar­ency, questionable ethical practices and interventions from regulators have tarnished almost all companies in both sectors, leading to notions that they do not hold customer fairness at heart."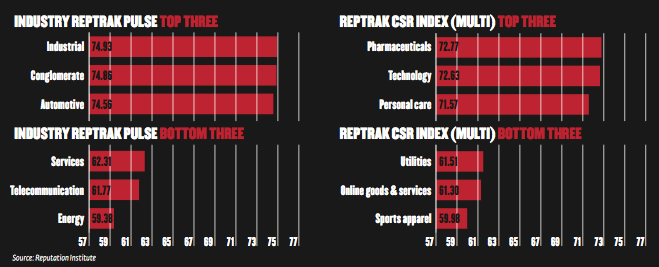 Bickford notes that people placed greater importance on good corporate governance – perceptions of fairness, ethics and transparency – in 2017 than they did in the same survey one year earlier. "This seems to have manifested itself in the industries people perceive as the most reputable," he says.

"The industrial category comes top, and this may be surprising. But, we have found that the likes of Rolls-Royce Aerospace, Boeing and Airbus… achieve strong ratings for CSR [see table, below right], with Rolls-Royce Aerospace coming in as the ninth-most-reputable business across all sectors in terms of CSR.

"These businesses also score highly in terms of the products and services they provide, the most important dimension of reputation."

Pharmaceutical tops the CSR list. "Our research suggests this is because businesses within the sector align CSR initiatives with their corporate brand purpose, and ensure initiatives are about action instead of rhetoric," Bickford explains.
Also see: A question of principles: How much do ethics really matter in PR?