What links tobacco, firearms and pornography? In PR terms at least, these are the 'sin' industries; now specified as out of bounds by company policies at Edelman, the world's biggest agency.
---
A question of principles: How much do ethics really matter in PR?
---
Plenty of other agencies, and plenty more companies in other sectors, have similar policies. It cannot be denied that tobacco is a pariah industry, but thanks to new 'harm-reduction' products, such as the e-cigarettes now used by about three million Britons, it appears to be turning a corner. In July, the Department of Health's Tobacco Control Plan for England said that e-cigarettes were a viable tool for smoking cessation, and in October, Public Health England's 'Stoptober' campaign took an unprecedented step by embracing them for the first time.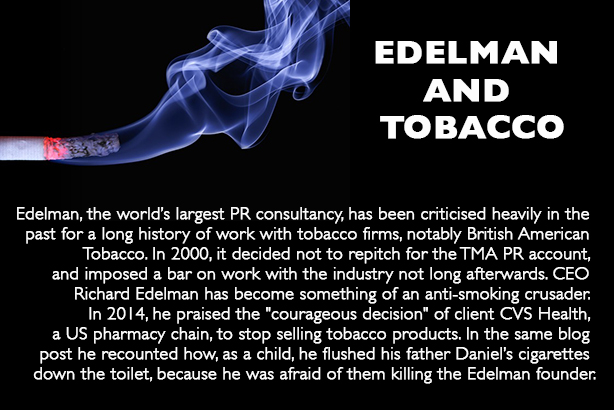 One of the people working to make tobacco respectable again is Giles Roca, director-general of the Tobacco Manufacturers' Association (TMA), a six-person operation jointly funded by three of the UK's biggest tobacco firms: British American Tobacco, Japan Tob­acco International and Imperial Tobacco.

The TMA does not itself use agency support, although it was represented by none other than Edelman until 2000 (see box above). It also funds the free-to-join Tobacco Retailers' Alliance.

PRWeek meets Roca at the association's low-key office in Westminster, its walls decorated with a mix of classic tobacco ads, pictures of industry CSR work and media coverage of stories on the ills of black-market tobacco. The man himself is not among the UK's more than seven million smokers.

"Yeah, I get asked that question reasonably often," he says. "'You must smoke…' Well, no, I don't, because the risks are well known [and] well documented. Nobody is denying the risks."

Roca does admit to having dabbled with tobacco as an Englishman studying at the University of Edinburgh, but his more significant student experimentation was with Conservatism. Roca, who says he was always "obsessed" by politics, began working for the Scottish Conservatives in 1999, the year the Scottish Parliament was set up.

He then moved back south and worked in the Conservative office of the Local Government Association, then for the party in the House of Lords. Roca next became head of comms for Essex County Council, where, in a parallel with his current tobacco abstention, he did not actually live in the county. He subsequently was at Westminster City Council from 2010 to 2014, coinciding with current government comms chief Alex Aiken, before moving to the TMA.

"This job is very political. This is the most challenging industry bar none," Roca says. "In terms of policy, there is a significant amount of attention on the product, rightly so. Being in that position, with that level of focus, is very attractive in terms of the challenge."

The post was advertised by headhunters, with the industry redacted. "They thought that tobacco would scare people off, and it does, it does push people away," acknowledges Roca, reiter­ating that he enjoys its "challenge". The words "interesting" and "very interesting" are also oft-repeated – a measured and serious interviewee, Roca is clearly, if quietly, still passionate about politics.

He acknowledges that distaste towards Big Tobacco is "part of the environment that we operate in". Asked whether so many being scared off affects the quality of talent available to the wider industry, Roca says: "The people I deal with in-house are of an extremely good standard – you wouldn't expect me to say otherwise. You have to be pretty resilient; it is not an industry for people with thin skins."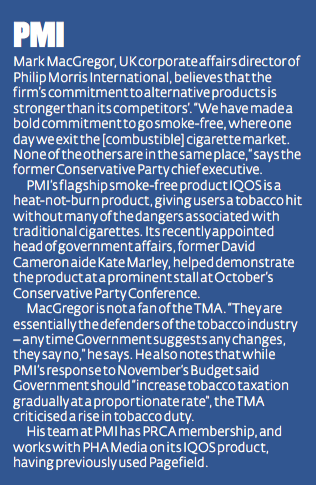 As for agencies, Roca reckons they are becoming ever more willing to work with tobacco firms when they are convinced of manufacturers' desire to prioritise harm-reduction products.

"This is a fascinating time to work with a tobacco company if you are on the PR side… we are at the start of something, we haven't finished. The next two or three years are going to be very interesting," he says.

Alongside the firms that have worked with non-TMA member Philip Morris International (see box), recent APPC registers list FTI Consulting as working with Imperial and BAT, the latter also using EUK Consulting.

Many agencies become very nervous when talking about previous tobacco work, and with good reason – such work can lead to litigation decades down the line, while imp­assioned detractors of the tobacco industry are keen to document and broadcast their perceptions of the ills done by agencies.

As for whether Big Tobacco has a job selling itself as an employer or client to stereotypically idealist millennials, Roca comments: "If millennials want a job that is really challenging, which is at the start of something, which is, I think, going to be really big… why wouldn't you want to be part of that? It's a great time to join the industry."

Sales in new products are now worth about £1bn annually, from a standing start just a few years ago. Only last week, in an eye-catching move, PMI took out ads in three nationals in which it claimed to be "trying" to give up conventional cigarettes in favour of new alternatives. Roca too is keen to get the industry on the "front foot" in talking about alternative products, noting the amount spent on R&D and inviting PRWeek to visit a "fantastic" BAT facility.

Yet much as he is keen to focus on innovation, it remains the minority of his and his members' business. "The majority of our work is on what you'd call the traditional side of the business, but increasingly we are looking at how we represent the industry's changing products and some of that is very interesting in terms of relationships between us and the regulators," Roca says.

"Some people are still very, very reluctant to engage with tobacco and that is a key job for the association – getting out there, talking to people and engaging, using the evidence."

Should the DH's July thumbs-up for e-cigarettes be seen as the result of successful lobbying by the TMA and its members? Roca responds: "It's common sense – we called for it, but so did the health groups; so it is clear there is alignment there, and I appreciate the Government was listening."

He says it feels like the Government has "moved on from feeling that we need to impose Draconian legislation", and is pleased to note a recent speech in favour of engagement with tobacco firms by Labour MP Kevin Barron, whom Roca describes as "a strong advocate of tobacco control".

Roca lists Action on Smoking and Health (ASH), a charity working to reduce tobacco harm, and the Royal College of Physicians as health groups roughly aligned with TMA views on next-generation products. Elsewhere, the Advertising Standards Authority has been consulting on how e-cigarettes may be marketed, where one of the issues is whether such marketing might encourage people not previously using nicotine products to begin doing so. The National Institute for Health and Care Excellence is another body the industry is watching closely.

A few days after our interview, the British Medical Association announced a softer stance. "Only last year the BMA advocated a ban on using e-cigarettes in public, so this move is both welcome and recognises the emerging evidence in this field," Roca says. "We've said all along that there need to be clear messages from all involved if consumers are going to understand the benefits of e-cigarettes. This step helps with that."

'Evidence' is another a word Roca returns to frequently. It is broadly acknowledged that there is still a need for more evidence supporting the long-term benefits of emerging products. At the same time, tobacco and e-cigarette proponents express concern at the idea that lack of evidence might stall regulatory changes and inhibit conversion of cigarette smokers to vaping.

"Good policy is based on evidence and I hope we are generating the evidence to make the case for why these products should have a relatively positive regulatory environment," says Roca.

Should cigarette packs have pictures of rotting organs on them? "I really have no view on that," he says. "A lot of this comes from Brussels again, from the Tobacco Products Directive. They must have some evidence, somewhere, that shows that these things are effective, although I've seen things saying that some of them make very little difference."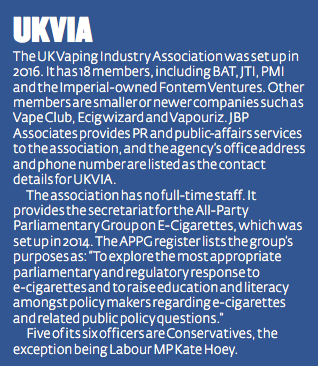 That brings us on to the EU, and to Brexit, which Roca and his counterparts at UKVIA (see box) and elsewhere see as a key to possible further change.

As was discussed at an Institute of Economic Affairs event with UKVIA (the TMA was not present) at the Conservative Party conference in October, leaving allows the UK to abandon the provisions of the EU's Tobacco Products Directive, which informs local law on a variety of related matters, from marketing to the size of bottles of e-cigarette liquid.

The DH document in July said that the Government would "assess recent legislation such as the TPD… and consider where the UK's exit provides opportunity to alter the legislative provisions".

"Absolutely, Brexit does provide an opportunity for the UK in this area to go beyond where other people sit," says Roca, who prefers not to reveal his personal view on the referendum and its outcome. "The UK is leading the debate on the use of next-generation products as a tool to move people away from combustible tobacco."

Through the June 2016 vote, and its engagement with key decision-makers, the tobacco industry appears to be well-positioned to take (back) control of the next-generation agenda.