Days before Bell Pottinger's collapse in September, when the writing appeared to be on the wall for the crisis-hit agency, the boss of another major UK consultancy used a memo to employees to address ethics head-on.

"While the scandal relates to Bell Pottinger specifically, there is without doubt a dark grey cloud lingering over the head of our industry," wrote Freuds chief executive Arlo Brady.

He said that while the cloud was "justified" for Bell Pottinger, "it is not justified for our industry as a whole, and certainly not for us".
---
Also see: Bell Pottinger saga sparks calls for global code of ethics - but are these realistic?
---
Brady continued: "From a values position we are just about as far from the scandal as you can get. The kind of work that Bell Pottinger was doing is to me abhorrent, and something that we would never consider.

"There is a robust debate every time a new piece of business comes through the door, and you may not know that we turn down far more than we accept.

"I am driven by purpose, meaning and impact… unlike Lord Bell I do not believe that everyone deserves representation. I am proud of the incredible work that we do and I feel the pressure of your expectation and ambition. We stand apart from the industry; long may that continue."
Reputation in the spotlight
It is an irony that the industry is not always good at handling its own PR. But the ignoble demise of Bell Pottinger, following its controversial activities in South Africa, has shown that mismanagement of an agency's reputation can be fatal.

It is not surprising, then, that Freuds and others have been eager to distance themselves from such shady activities, particularly if they work with clients who could be described as morally dubious. There is no suggestion Freuds has acted improp­erly, but the agency is not averse to controversial clients. As PRWeek reported in 2016, the agency did work for Saudi Arabia, specifically its Council for Economic and Development Affairs, for a "programme of economic, educational and cultural modernisation".

How else do PR agencies publicise their ethical credentials? And how pertinent is the issue really in the post-Bell Pottinger world?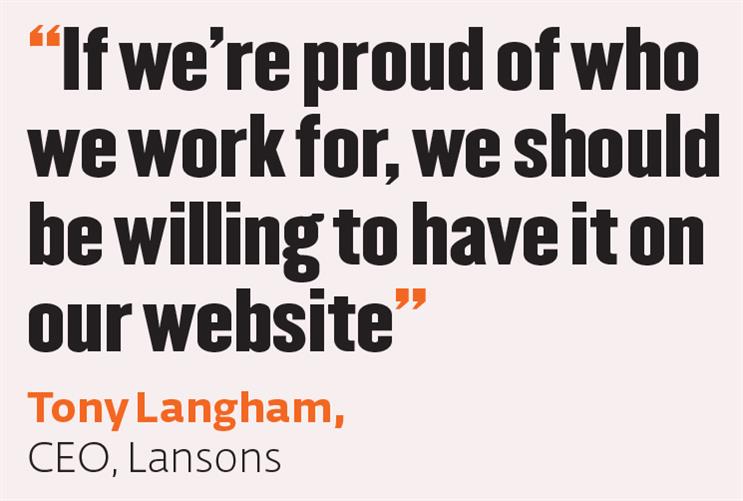 Edelman is one major player that states the types of clients with which it will not work. It does so in a companion document to its Code of Ethics and Conduct. The three ind­ustries are tobacco, firearms and pornography. Edelman's 30-page code, published online, also outlines its commitment to transpare­ncy, honesty and fair dealing, among other things.

The world's biggest PR agency has felt the heat of neg­ative campaigning in the past; for example by Greenpeace, after documents came to light in 2014 about Edelman's work with energy company TransCanada relating to the construction of a new oil pipeline.

In the Statement of Purpose on its website, Edelman puts some distance between itself and the more controversial activities of some clients: "We believe that independently held, opposing views deserve to be heard in the court of public opinion and we assert our role as a firm to being advocates for our clients. Doing so doesn't condone every action every client takes or imply implicit support for every position a client may adopt, but does reflect our absolute commitment and support of their right to exercise their freedom of expression."

Animal testing companies and religious groups are among the other organisations that global agencies contacted by PRWeek have ruled out working with.
Transparency
But is the problem more a lack of openness about agency policy? PRWeek spoke to two UK agency bosses who publish full client lists on their websites.
"I just see the direction of the world is transparency, and if we want people to respect us, I think all agencies need to be transparent about who they are working for," says Tony Langham, chief executive of Lansons. "It should also be a personal pride point. If we're proud of who we work for, we should be willing to have it on our website."
Lansons recently came under scrutiny in Private Eye for its work with the law firm Appleby; the publication labelled Lansons a "major player in defending offshore secrecy" in relation to rev­elations in the Paradise Papers. Langham said at the time: "We're protecting the British network of international finance centres, which form a key part of London's leadership position in the financial world."
He told PRWeek: "We're all grown-ups; we can decide whether we want to represent tobacco companies, betting companies, tax-avoiders, oil companies, foreign governments – as an industry, we just need to be honest about it."
Langham predicts that, following the Bell Pottinger episode, some RFPs released next year will require information about agencies' other clients.
He says: "If I was doing an RFP and I was a major international organisation, I would say, add your full client list to the appendix of the document, because that's the easiest way."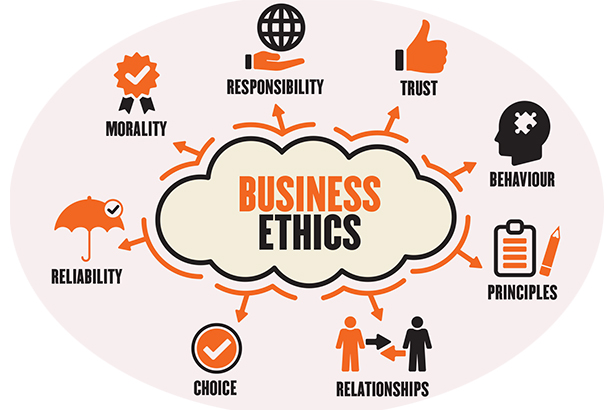 Legal disclosure
Hanover is another London-based corporate and public affairs specialist that publishes its client list online. Chief executive Charles Lewington is comfortable with the disclosure, pointing to the legal requirements that already exist around revealing clients through the Foreign Corrupt Practices Act in the US and the UK's Bribery Act.
Hanover also registers clients with the Asso­ciation of Professional Political Consultants, and abides by the marketing self-regulatory code, overseen by the Association of the British Pharmaceutical Industry, for its healthcare comms work.
"I think it's quite significant that Bell Pottinger didn't have a healthcare business," Lewington says, intriguingly. "That might have made it realise it needed to take ethics and compliance more seriously."

Hanover has more reason that most to take the fallout from Bell Pottinger seriously. In November, the agency acquired Bell Pottinger's Middle Eastern business. Lewington does not appear concerned about his business being linked to the toxic Bell Pottinger brand, saying it "hasn't been a problem at all" and citing the fact the Middle East operation was not involved in the activities that led to Bell Pottinger's collapse. In addition, its client base is corporate rather than political.
"It was very important for me that I didn't buy anything that had any risky geopolitical clients," he adds. "It's a great team of very good consultants who were very badly let down by poor leadership."
Lewington says a recent client commissioned PwC to undertake a due diligence report on Hanover, asking about its approach to ethics and compliance, as it had become a big client over a short period.
It could be seen as a sign of the times, but Lewington is cautious. "I don't think it was linked to Bell Pottinger," he states. "I think it was standard practice for major suppliers to the company."
One senior source at a network agency also cautions against the idea that clients have changed their tune radically regarding the ethical credentials of their agencies since the Bell Pottinger scandal.
"It's on people's minds, it's on people's agenda, but it's not in their top three things," the source says. "I don't think [clients are] saying: 'I need to make sure my agency is whiter than whiter than white'."
Conversely, the source suggests some clients actually like their agency to work with controversial clients and handle challenging assignments: "They like that idea that they are working with a really serious, grown-up agency that's working on some big, serious issues."
Staff concerns
Another factor is staff attitudes. It is no coincidence that Brady chose an internal memo to publicise its ethical credentials to Freuds staff.
It is something of a cliché to suggest that millennials are a generation with a keener interest than most in working for ethical organisations. PRWeek sought the views of its 30 Under 30 contingent of twenty-something PR professionals. Those who responded fitted this ethically minded mould.
"Personally I'd struggle to work for a client whose political position was completely opposed to mine," says James Hennigan, head of campaigns at Galibier PR. "As an example, I'm very glad that Galibier chose to ignore the Vote Leave tender."
"It's so important to have a stance on these things and saying 'no' to working for an unethical company should be a given," states Jamie Mancini, creative associate at John Doe.
He adds: "As PR people it's our job to communicate how great our clients are, and you need to believe in what you're saying – be it promoting a simple product or a brand as a whole. If you have to pursue something for a job that you personally don't agree with, you're in murky moral waters."
Ben Goldsmith, formerly head of PR and content for Balderton Capital, who founded Goldsmith Communications in the summer, says: "A wonderfully sage friend advised me to only take on work for which I want the company to be known.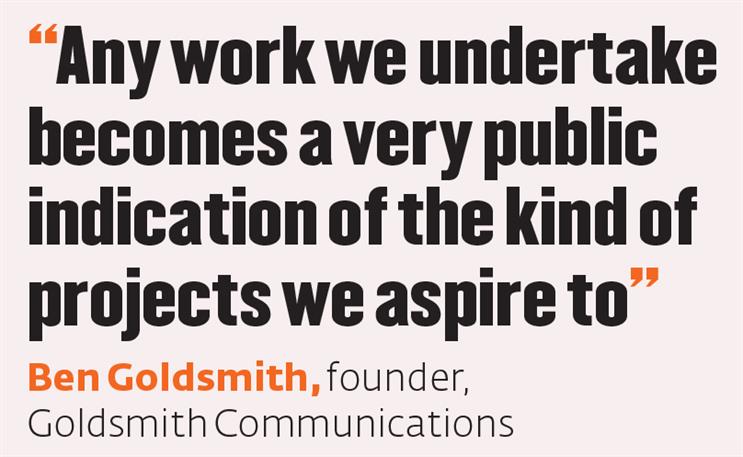 "His point was that any work we undertake will become an ad for the firm, and a very public indicator of the kind of projects we aspire to take on. And even though it might be satisfying to cash chunky cheques in the short term, it could take years for an agency to recover from a toxic association."
Agencies are receptive to these standpoints. In its Statement of Purpose, for example, Edelman makes it clear that the company "supports an employee's right to elect not to work on a piece of business that does not align with his or her personal beliefs".

A source at another big global agency takes the same view. "We would never make someone work on something that they didn't want to work on," the source says.

"If someone was saying they don't want to work for these four, five, six companies, and they're all our clients, then they probably shouldn't be working at an agency that does big international work. But I think you would always listen to someone's very specific concerns."
Similarly, Lansons – winner of the PRCA's Ethical Champion award in 2017 – has a 'conscience clause' in its employees' contracts that allows members of staff to opt out of certain work if it conflicts with their ethical position.
"I believe the whole industry should allow individuals not to work on things if they have an ethical objection," says Lansons' Langham.
"If you're a Muslim, nobody should make you work on an alcohol account if you don't want to – I think everyone would agree with that one. But what if you're an environmentalist, and you don't want to work on a fracking account? I think individual perspective matters.
Lewington says the key is to strike "the right balance" between commercial demands and the views of employees.
"We have good internal communications systems," he says. "We'll have an internal meeting once a month that, generally, I take, and we want to make sure we provide the right reassurance and inform people of developments. If young people feel this is a business based on values and integrity, they will respect the leader of the business to make the right decisions on their behalf."
For Langham, the situation with younger employees is more mixed than one may assume: "There's a group of younger people who are engaged and caring, but there's another group who think the corporate world is an unkind and uncaring thing, and expect things to go wrong, and therefore they're almost less likely than, say, my generation, 30 or 40 years ago, to complain."