We are talking about ethics in the PR and comms industry in the London offices of Pagefield with its founder, Mark Gallagher.

He remembers being called, for reputational advice, by the presidential office of a country that had imprisoned a journalist for criticising the government.

Gallagher explains: "I said 'No, for three reasons: first, because if we help you it will only make the story bigger; second, because our credibility would be shot if we defended something like that; and third, because if you did imprison a journalist because he was critical of the president (silence down the telephone) then you should release him.'"

The regime released the journalist the same day and Gallagher discovered he was the 17th London-based adviser the presidential office had called.

He adds: "They had all given him the same advice. This is not an industry with a moral-compass problem."

Gallagher thinks the industry has a good record, considering its size and scale, and that ethical failures are often the result of an absence of "robust debate" within agencies.

The issue of the industry's moral compass is in the spotlight as never before following the collapse of Bell Pottinger in September. Indeed, Pagefield and its founder were drawn into the story after 17 former members of Bell Pottinger's 22-strong crisis comms team joined a new agency, Pagefield Global Counsel, launched by its former crisis and litigation chief, Stuart Leach, and Gallagher – more on that venture later.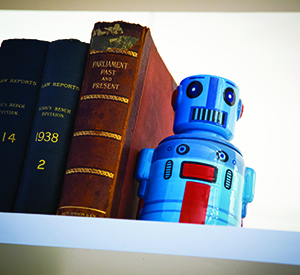 The Bell Pottinger affair, which saw the agency fall into admin­istration in the aftermath of its controversial work for the Gupta family in South Africa, also engendered an industry debate about whether there are clients with which agencies simply should not work.

Gallagher thinks there is an important distinction to be made between a controversial client and controversial work. He gives the example of work Pagefield has done for a big tobacco client, helping it to convince decision-makers of the benefits of "next-generation" products such as e-cigarettes.

He says: "This is actively helping the migration of terrible old refusenik smokers like me, to get them on to something which is going to be 90 per cent safer, and I make no apology for that. Yes, big tobacco is by definition a controversial client, but it is by no means controversial work."

There are some potential clients you have to turn down, Leach thinks, because you are unable to help them.

"Someone comes to you and says 'I want you to make me look good', and you say: 'The way to look good is to stop doing bad things, and when you change that, come back, because I can't make any difference,'" he says.

One way of ensuring that agencies do not lose their moral compass is to allow staff to decide whether or not to take a client.

Leach says: "At PGC, we have a very strong process over who we should be working with that's run by more of the junior people, and they have control over that."

A similar system exists at Pagefield. Gallagher says he was recently approached by a company that had a "tax PR problem". He asked for a show of hands at Pagefield, in which he did not vote, to decide whether or not they should take the work. The majority voted against, so they dropped the idea.

Gallagher says: "I was delighted, because this company did not have a PR problem; the problem was it wasn't paying its bloody tax, and someone has to pay for the schools, hospitals and tarmac."
The end of Bell Pottinger
After working as a barrister for ten years, Leach set up an agency-within-an-agency at Bell Pottinger specialising in litigation, crisis comms and international affairs.

Having seen the agency from the inside, he is well-placed to deliver a verdict on whether it deserved its ruthless reputation. But Leach is diplomatic, saying that at Bell Pottinger he focused on building a mutually supportive team with a commonly agreed charter on how to conduct business.

He decided to leave in the summer, as the crisis over the agency's client work with Oakbay Investments in South Africa deepened. Bell Pottinger's London offices were besieged by protesters and the PRCA summoned it to a private hearing, where it would eventually be expelled from the association before going into administration.

Leach says: "I resigned in July… I could see where the reputational hit was going and I did not want it to stick to me because I knew that I had a reputation, as did the team, and it was important to protect that."

His resignation, before the axe fell, made it easier for Leach to meet with Gallagher, as well as giving them the freedom to discuss the future. Far from feeling tainted by association with former Bell Pottinger staff, Gallagher is proud of providing a "safe berth" for the people who would eventually form PGC, as well as six more who came to work for Pagefield.

While acknowledging that what happened at Bell Pottinger was "not the industry's finest hour", he is disgusted by the way the industry treated the agency at the end.

Gallagher says: "One of the things I found repellent about the reaction of 'power London' to the collapse of Bell Pottinger is that there was so little regard for the 180 people who'd worked in the London office, who now had to go and find new jobs. I was shocked by the amount of finger-jabbing and hand-rubbing going on over the summer, as well as a certain voyeuristic pleasure in watching a slow-motion car crash."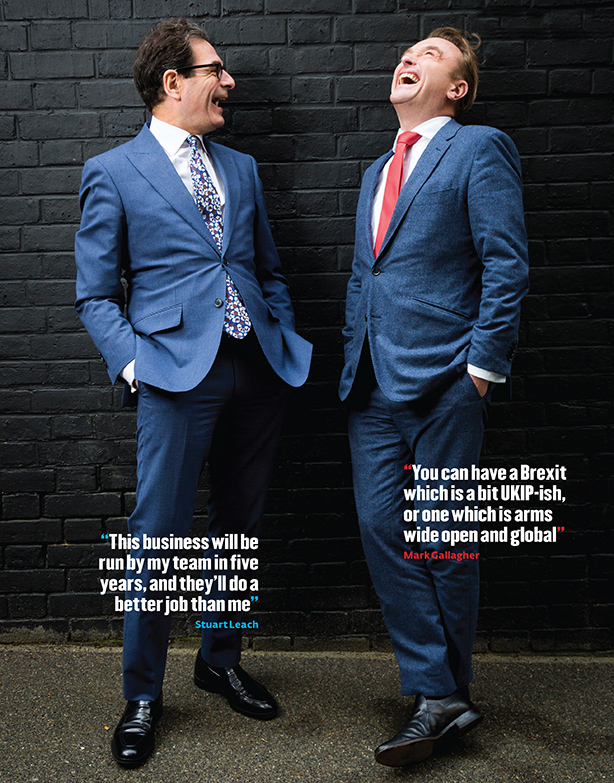 Building a new future
Gallagher and Leach carry the air of two people who have known each other for 20 years rather than newly minted business partners, but this is what they are, having created a sibling for Pagefield to play with.

It is testament to their shared vision that they come across as an old, rather than an odd, couple; as one finishes speaking, the other naturally picks up from where they left off.

When they first met – the pair were introduced by mutual friends shortly after Leach resigned from Bell Pottinger – they found they had plenty in common.

Gallagher says: "When I had my first meeting – what we laughingly refer to as 'our first date' – we agreed on the principle of specialism as we agreed on virtually everything else."

It struck them that there was an opportunity to create PGC as a separate company populated by people with different skills from those at Pagefield. An alliance in the mutual interest, in other words; a symbiotic relationship.

Within weeks they had signed a deal that saw the 17-strong ex-Bell Pottinger contingent migrate with Leach to form PGC. Specialism, they agree, is the way to build a successful agency.
A symbiotic relationship
They hope that the two separate entities – Pagefield, which specialises in public affairs, corporate PR and campaigning, and PGC, specialising in litigation, international affairs and crisis – will complement each other, and clients of one will seek the services of the other if the need arises.

Gallagher continues: "We've effectively doubled the waterfront of issues that we can offer to clients. What we don't do at Pagefield is litigation support, although we do a tiny bit of crisis."

Leach adds: "What's happened quite often is that we get involved with clients in our specialist area and they like us… and we now have the ability to bring in experts for areas we're not specialist in."

His team, comprising lawyers, PR professionals, journalists and even former military comms specialists, will work in the world of the "complex and contested" in which people are actively briefing against their clients.

PGC has been busy assembling an advisory board – the same technique used at Pagefield, where Sir Christopher Meyer, the former British ambassador to the US, is chairman. Meyer will also be on the PGC advisory board, but it will be chaired by a very senior retired member of the armed services and another mystery member "who we don't refer to in the public domain".

PGC has also won pitches, but Leach says: "We do not name our clients because of the nature of the work we're involved with."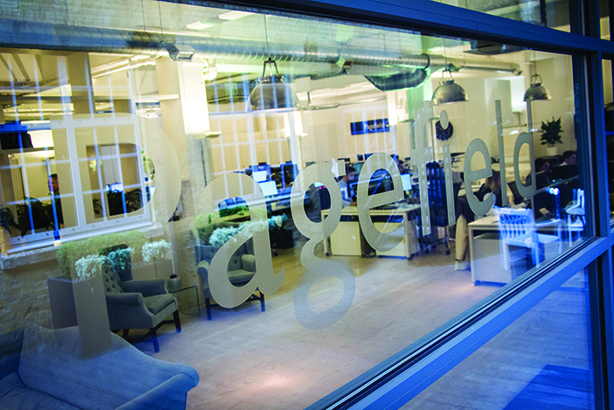 The risks and opportunities of Brexit
Gallagher is pro-Brexit (see box, below), although the as-yet-unknown landscape that will be the final settlement on the UK's withdrawal from the EU has made many other industry leaders nervous about the future. Do the business partners see any risks to the PR sector on the horizon?

Leach says the nature of PGC's specialism is that it takes on clients who are dealing with reputational and comms issues all over the world.

He says: "We're a small team but we operate very easily, as a fast, agile unit operating all over the world. From a business perspective, I don't think very much is going to change."

Gallagher concedes that agencies that have made income by explaining the workings of Brussels to their clients will "clearly have a challenge", but he does not see Brexit becoming an important issue for the industry.

He says: "The British comms industry is a massive exporter of professional services around the world and, of the fee income it generates, a bit will be generated from companies based in continental Europe. But in my experience, that's a tiny fraction of the work we do."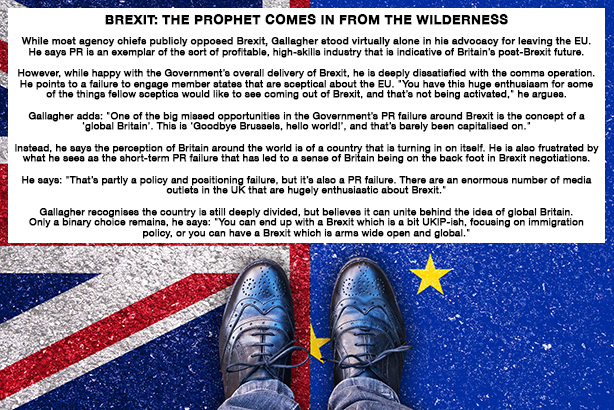 Pagefield performance and recruitment
Pagefield does not release its figures, as a matter of policy, but Gallagher reveals that, as of November last year, he was looking at 32 per cent growth year on year for revenues and profits, calculated before taking on new recruits and starting PGC.

As with so many areas of the two businesses, Gallagher and Leach are in concert over structure, recruitment and retention. They devote a lot of time to the question of talent.

At both London offices – the 'Pagefield Bunker' in Marshall Street and the new PGC office in Chancery Lane – the pair opt for a flat structure in which they sit with the rest of their team, rather than squirrelled away in a corner office.

Gallagher says: "It's all very well the founders talking about openness, transparency, democracy and all those good things which make agencies like this feel different; but you also have to recruit, down to junior level, people who share that."

Leach recruits from a wide range of professions, with his mind on this question: could they run the business in five years? He says: "I'm perfectly comfortable, when I look at my team, that this business will be run by them in five years, and they will do a better job than me."
The future of the Pagefield family
Gallagher shakes his head emphatically when asked whether Pagefield plans to induct more agencies into the family, or put the business up for sale; he and Leach have enough to do.

Besides, Gallagher thinks the biggest question has yet to be answered. He says: "How do you turn the concept of these two beautifully constructed and recruited teams, which share a brand, values and philosophies, and make that work for clients and, ultimately, for the growth of both businesses? That's the journey we've just started, and it's something we will judge one another on in 12 months."

With so many business ideals in alignment, is theirs an industry marriage made in heaven?

"I think so," Leach says. "I've had a really exciting and fabulous career and I can tell you now this is the best thing I've ever done and will be. It just feels absolutely right and the positive energy that exists between the two set-ups is really powerful."
---
The wit and wisdom of Gallagher and Leach
Mark Gallagher on…

Business decisions: "Fortune favours the brave!"
Having your own office: "Always beware of people in our business who squirrel themselves away in the corner rather than the middle of the newsroom."

The quest for talent: "To find that rare-as-hen's-teeth thing: the person who can write beautifully and knows what to do with a semicolon."

The need to pay interns properly: "I was extremely conscious that when I first arrived in London I could barely afford a bag of couscous."

Parties: "We got a call from a country that certainly wouldn't pass the 'Islington dinner-party test'… not that I have a major interest in such parties anyway. I'm usually invited as the pantomime Tory."
Stuart Leach on…

The ethics of the PR sector: "To say there's an industry-wide problem is pretty insulting to a vast number of people who know what the right decision is."

Client reputation: "The best defence is having a good reputation that you may need to build through more traditional methods."

Professional reputation: "Our reputation as a team was different to that of the agency [Bell Pottinger]."

Team-building: "It's all about having each other's backs and a flat structure – it's all about fun."

The General Data Protection Regulation (GDPR): "It's one of the biggest reputational issues."

Crisis comms: "A crisis is just an event that's been badly handled."