PRWeek UK is backing a new mentoring scheme that aims to increase the number of PR professionals from ethnic minorities in top UK roles.
Fifteen senior industry figures from BME (black and minority ethnic) backgrounds have agreed to be mentors for the BME Mentoring Scheme (see the full list below).
---
Click here to access the BME Mentoring Scheme application form
---
From this month, BME professionals working in comms and public affairs can apply to be a 'mentee', where they will receive the benefit of the mentors' experience and expert advice to boost their careers (see box).
The scheme is organised by BME PR Pros, an organisation founded by comms consultant Elizabeth Bananuka (below), in conjunction with PRWeek UK.
"I've been fortunate enough to work with many great agencies and comms teams who genuinely value diversity and are keen to boost numbers of BME staff at all levels – from entry to leadership – and to cut low retention rates among this group," says Bananuka.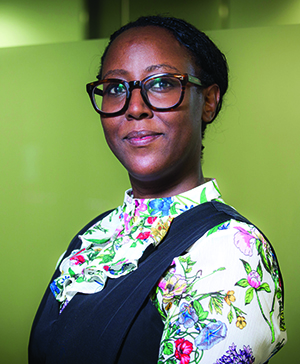 "The BME PR Pros/PRWeek Mentoring Scheme is about BME leaders and rising stars joining forces to promote diversity and support the careers of talented BME professionals keen to progress to the next stage of their careers - be it from account manager to account director, agency to in-house, MD to agency owner."
Before the launch of the scheme, the mentors were asked about the challenge of diversity in the sector, and how PR can encourage a more diverse workforce.
"Diversity is a real problem," says Ronke Lawal, founder of Ariatu PR. "I think I missed a step because I didn't work in an agency but I receive messages and meet so many young black PR, comms and marketing graduates who are struggling with the same issue. They are being rejected before they even have the chance to shine."
Reaching out to the best
Daljit Bhurji, global MD at Diffusion, says diversity should be an industry-wide goal. He calls on the PRCA and the CIPR to attract "ambassadors" who "reflect the PR industry as we want it to be seen", then encourage them to visit the top 100 universities and largest sixth form colleges to promote the sector.
"While apprenticeships in PR are opening new doors, they cannot be seen as alternative to reaching out and attracting the brightest graduates into the profession," says Bhurji.
"There is a need to look again at how we are positioning PR as a profession and as a career. When did you last hear anyone complain that working in PR was boring? We need to reach those exceptionally gifted candidates, some of whom may not even realise it themselves yet, who actually want a work life that is intellectually challenging, makes a tangible impact and offers variety, creativity, fun and a structured career path.
"Let's make sure we are selling PR in a way that connects to both the head and the heart."
Fanclub PR managing director Adrian Ma agrees, and points to the 'bias' that he says "comes from society". "Most people from an immigrant background probably had parents like mine, who wanted them to become a doctor or lawyer. I did work experience at a law firm and hated it. It seemed to be about working with people at the most depressing times of their lives, and I'm not strong enough for that."
He adds: "More needs to be done to promote PR as a career option to the parents who have moved to the UK. That's only going to come about by having smart people doing great work, which the world can see makes a positive social impact."
Bananuka agrees: "This is why this mentoring scheme is so important. Not only are our incredible mentors real role models and examples of the great and varied careers to be had, but they can advise and support on the best way to progress in the sector. After all, diversity can't be limited to only junior roles and entry positions."
The mentors:
Anouchka Burton, strategic comms consultant
Perveen Akhtar, comms consultant
Max Kalu, senior analyst, Milltown Partners
Adrian Ma, MD, Fanclub PR
Daljit Bhurji, global MD, Diffusion
Preena Gadher, co-founder and MD, Riot Communications
Ikenna Lewis-Miller, account director, Burson-Marsteller
Avril Lee, MD Health UK & EMEA, MSLGroup
Isobel Bradshaw, senior corporate comms manager, Vodafone
Nana Anto-Awuakye, head of world news, Cafod
Ronke Lawal, founder, Ariatu PR
Lang Xiao, founder/director, ARTouch Consulting
Janelle Feliciano, creative director, Weber Shandwick
Jessica Hope, founder/MD, Wimbart
Charandeep Singh, head of external relations, Scottish Chambers of Commerce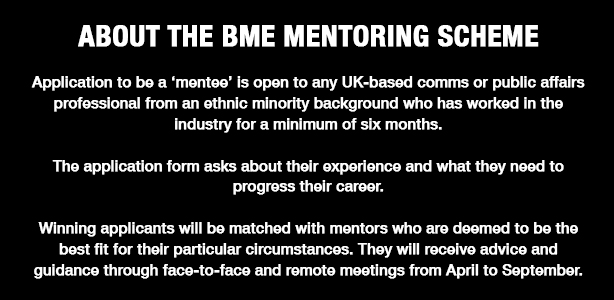 Click here to access the application form. The deadline for entries is 5pm on Friday 16 February.