After another year of change, innovation, success and challenges for PR in 2017, here are seven agencies we'll be keeping a particularly close eye on in 2018.
---
Don't miss: Seven NEW UK PR agencies to watch in 2018
---
The below firms aren't the agencies we are saying will be the strongest or best-performing in 2018 - rather these are ones whose fortunes are relevant to anyone interested in the health and future of the industry.
1) Freuds
The second half of 2017 was one of change, albeit with a strong continuity flavour, at Freuds. Founder Matthew Freud appointed a new CEO, Arlo Brady (right), who joined more than a decade ago. Brady merged the firm's consumer and corporate team, and The Brewery, latterly the corporate division, became the name of the new holding group. He also announced a clearer management structure – although all partners have been with the business at least 18 months. Getting the right balance between corporate/crisis work and innovative content-led comms - and the appropriate resourcing - will be a priority for Brady.
2) Ogilvy PR UK
As it stands, Ogilvy PR UK looks set to be restructured out of existence, in name at least, in 2018. At the start of 2017, Ogilvy & Mather Worldwide's CEO said the group's brands would be consolidated into "a single, brand, integrated operating company". This was enacted immediately in the US – details about other territories are expected in February. In anticipation of the move, Ogilvy PR's UK CEO Marshall Manson moves to Brunswick shortly, while EMEA CEO Michael Frohlich is increasingly devoting time to inter-agency 'Team WPP' clients, including British Airways. How will this ambitious experiment in marcoms discipline convergence pan out?
3) Golin
Golin maintained strong growth through 2016, but last year lost creative director Charlie Coney to the office in Los Angeles, and its account with Sainsbury's. It also faces a fight to retain Npower – but in happier news, has won new briefs with Premier Inn and Green & Black's. It continues to work to position itself as an equitable, flexible employer. Globally, it remains to be seen how having three 'co-CEOs', among them the New York-based British native Matt Neale, will play out long-term.
4) MHP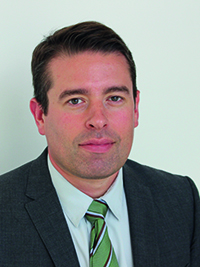 CEO Alex Bigg rang the changes in 2017, with senior hires including Edelman's Nick Barron (deputy CEO, pictured right), Cicero executive director Mike Robb (head of financial services), and former Bell Pottinger partners Andy Bloxham and Jamie Lyons. Major internal promotions and the departure of creative director Mark Perkins (he of the Missing Type campaign) gave the top team a fresh look. Bigg has spoken of plans to "unleash the power" of the "sleeping giant" by rejigging structures and responsibilities, and with rumours that owner Engine is up for sale, plus the recent opening in Singapore, it bodes for an interesting 2018.
5) Axon Communications
Healthcare specialist Axon Communications' low turnover of both staff and clients has helped it to not only grow to become one of the UK's biggest agencies, but to do so while keeping a comparatively low profile. The Canadian-owned agency more than doubled its revenues in the past three years, reaching £10.1m in 2016 and putting it 28th in the Top 150. Parent National Public Relations created a new holding group brand, Avenir Global, in November, saying the firm was "seeking out acquisitions".
6) Taylor Herring
The agency had a superb 2017 – its flair for creative campaigns included a 'historically accurate' portrait of Jane Austen's fictional character, Mr Darcy, which scooped the Culture, Media, Sport & Travel gong at the PRWeek UK Awards. Taylor Herring also picked up the Technology Award for its Mobile Billboard campaign for client Samsung. Not content with PR, however, Taylor Herring entered the world of advertising in November, producing what it claimed was the longest single-shot TV ad ever screened in the UK. Agency boss James Herring warned the PR industry is set to "eat adland's lunch" in 2018. Watch this space (and bring a fork).
7) Milltown Partners
2018 marks the fifth anniversary for Milltown Partners, the 'discreet' comms and policy consultancy set up by former Google comms director DJ Collins and Paddy Harverson, previously comms head at Clarence House and Buckingham Palace. Milltown has grown to 41 people, outgrown two offices and added three partners.
Although it is cagey about clients, the focus on high-level strategy and crisis support is high margin with specialisms in tech, global institutions and traditional corporates disrupted by tech. In 2017 Milltown partnered with Harper Gray, a tech comms firm run by Charlotte McCrum, which moved into its office. Expect further stellar profits growth and possibly a big ownership play.
---
Keep an eye out tomorrow (4 January) for our list of the new agencies to watch next year
Read next: Winding back the clock - 11 UK PR agencies to watch in 2017