Screaming protests, political attacks, and occasional violence.
There is perhaps no other organization as politically embattled as Planned Parenthood. In recent years, defunding the organization became a rallying cry for many conservative politicians. The issue emerges around budget time, when lawmakers are deciding how to allocate Medicaid and Title X funds, some of which go to Planned Parenthood.
But for Kevin Griffis, VP for comms at the nonprofit, the most effective response is focusing on the individual women Planned Parenthood helps.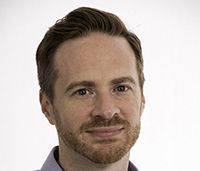 The regular attacks on the organization have shaped a comms team that works seamlessly during times of crisis. Griffis oversees all comms coming out of Planned Parenthood and more than 30 staffers.
"I've been around great PR teams in campaigns and government," Griffis says. "But I haven't been part of a team as good as Planned Parenthood."
In 2017, there were at least five bills in federal and state legislatures with a measure to take government funding away from the nonprofit.
It's no surprise Planned Parenthood fights back hard on the defunding debate. The organization's largest source of annual revenue, about 40%, comes from government reimbursements and grants. In the 2015-2016 fiscal year, federal money was followed by private contributions, which made up 33% of revenue, and non-government health services revenue at 23%. Annual revenue was $1.3 billion, up about 4.5% over the previous year.
Keeping healthcare affordable
Griffis joined Planned Parenthood in April 2017, in the middle of a contentious year. He has worked in politics and government since 2004 and was involved in President Barack Obama's 2008 campaign.
After Obama's election win, Griffis joined the Department of Commerce as director of public affairs, but his real passion was elsewhere.
"I was asked, 'In a perfect world, what would you like to do in the administration?' I said I wanted to go to the Department of Health and Human Services (HHS)," Griffis remembers. "Increasing the number of people who have access to healthcare has always been important to me. It's a basic right."
Griffis did make his way to HHS. He spent three years there, working on comms around the Affordable Care Act (ACA) as well as Ebola and Zika.
When Obama's presidency ended, so did Griffis' work at HHS. When looking for his next job, he anticipated the challenges Obama's healthcare legacy, especially the Affordable Care Act, would face with Donald Trump — who had promised to repeal the ACA as president. So he landed at an organization where he could continue to protect access to healthcare: Planned Parenthood.
The fight over healthcare since President Trump's inauguration turned into a marathon debate, with several attempts to repeal ACA introduced throughout the year. Planned Parenthood was there since day one of Trump's presidency, kicking off the year as a major sponsor of the nationwide Women's March and closing it out fighting for birth control access.
The nonprofit pushed back on the proposed repeal bills, including the American Health Care Act, Better Care Reconciliation Act, and Graham-Cassidy bill — all of which would have stripped federal funding from Planned Parenthood. It mobilized its massive supporter base to petition, call, email, or tweet about what each of the bills meant for women's health and placed its top spokespeople — such as its president Cecile Richards — in the middle of the debates.
None of those bills passed, leaving ACA largely unchanged. But the Trump administration dealt a blow to one key part of ACA for Planned Parenthood's patients in October: birth control coverage.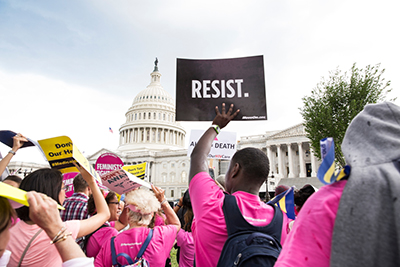 Battling the administration

"The administration has already undermined ACA's guarantee for no-cost birth control," Griffis says.
ACA required employers to cover birth control at no cost, with exemptions only granted for privately held companies with religious objections (granted after the 2014 Hobby Lobby case). The Trump administration's new rule opened up the criteria for exemptions. Any employer may be exempt if it has a religious or moral objection to providing the coverage.
Griffis and his team anticipated the change might be confusing to the average person. One day before the official announcement, Planned Parenthood held a press conference and put out information online.
A few weeks later, the organization launched #Fight4BirthControl. The campaign has several goals, Griffis says: informing people about the threat to birth control coverage, showing how to engage employers to continue covering birth control, and letting companies say they're standing with Planned Parenthood and their employees in this fight.
#Fight4BirthControl operates mainly online, where Planned Parenthood is sharing resources such as videos and articles on FightforBirthControl.org. On the website, supporters can sign a petition, send a message to HHS, or find a toolkit for starting a conversation with their employers.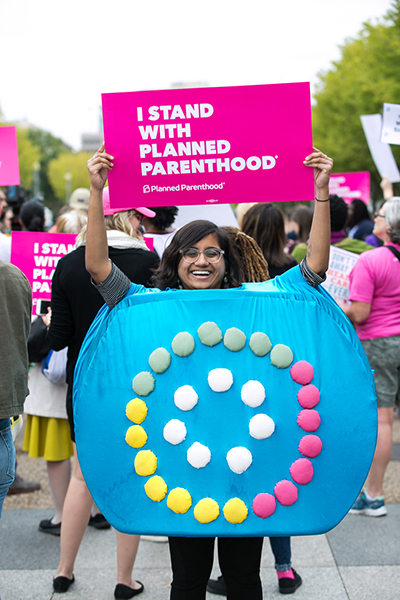 There is some on-the-ground work, as well. Student groups petitioned their universities to continue covering birth control on their health plans.
Employers are publicly committing to cover birth control with #BusinessforBC. Major brands such as Kodak, Universal Music Group, Levi Strauss, Rent the Runway, Squarespace, and Uber pledged to continue to offer birth control to employees.
The ongoing campaign follows Planned Parenthood's typical strategy. It gives supporters the chance to take action while educating them. Many of the online resources highlight who has the most to lose from the change in the birth control mandate, focusing on stories of women whose lives were changed by having access to free birth control under ACA.
"When we are under attack, one of the things we focus on is the healthcare we deliver," Griffis says.
The organization follows a similar formula when legislation attempting to ban abortions surfaces. Griffis mentions most Americans support access to abortion, noting the controversy stems from a "small group of very vocal opposition."
A 2017 Gallup poll found 79% of Americans think abortion should be legal at least under certain circumstances, while only 18% said it should be illegal no matter the circumstance.
Despite abortion being closely associated with Planned Parenthood, only about 3% of its medical services are abortions, according to its annual report. Sexually transmitted infection testing and treatment and providing contraception make up the lion's share of its health services.
Planned Parenthood stresses that more people come to its clinics for birth control or cancer screenings than for an abortion, all while balancing that it is proud to offer safe and legal abortions.
"Labels such as pro-choice and pro-life don't describe how the majority of the population feels and tend to polarize people. They stop making the conversation about the individual woman," Griffis explains.
The power of Planned Parenthood comes from the 2.4 million people that visit one of its more than 600 local health centers every year. The organization has 10 million activists and supporters around the country, about 682,000 of whom are active contributors.
"People develop passionate, personal convictions about the organization," Griffis says. "There's no shortage of individuals who want to support us."
That support can come in the form of personal stories online about how Planned Parenthood helped a woman, or someone standing up in a town hall meeting and asking their senator about protecting access to healthcare.
"It is organic and springs from the care Planned Parenthood delivers and what it represents in individual lives, as well as communities," Griffis says.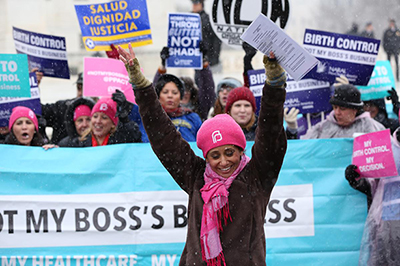 Health education for all
The other half of Griffis' role is overseeing health comms. He is located in Washington, DC, along with the policy PR team, while the health media team is based in New York.
Much of this is done online. Planned Parenthood has separate Twitter accounts for its advocacy and health services arms. The advocacy account focuses on political threats to women's health, minority and LGBTQ communities, and the organization itself. The health account includes women's reproductive and sexual health education.
Education ranges from articles about how parents can talk to their kids about sex, to videos showing the signs of breast cancer, to Ask Me Anything sessions on Reddit with its doctors. The health media team is run by Elizabeth Clark, who reports to Griffis.
The challenge is reaching Planned Parenthood's diverse patient community, Griffis says. There are two Twitter profiles aimed at its black and Latino patients, @PPBlackComm and @Latinos4PP.
These accounts are more curated than the main health account. @Latinos4PP posts about Latina advocates for birth control, the conditions in Puerto Rico after Hurricane Maria, or the DREAM Act and Deferred Action for Childhood Arrivals, as well as health. @PPBlackComm shares news about maternal mortality in the black community, or supporting #StandWithBlackWomen.
"We communicate directly with people on the channels they use and trust," Griffis explains. The followings for @Latinos4PP and @PPBlackComm are much lower than the organization's main accounts — about 5,300 and 6,500, respectively — while the main account has more than 210,000 followers. Planned Parenthood's political action and advocacy Twitter has even more, with over 450,000 followers.
Alencia Johnson, director of constituency comms, maintains close ties with 600-plus local affiliates to gauge how to best reach Planned Parenthood patients.
"We have a team focused on going to conferences, or being in publications, or being in an online or social media venue," Griffis explains. "If we have a health campaign around breast cancer, we'll have individual messages, as well as ideas for how people can involve their patient communities."
Because the nonprofit's political PR points back to its health services and patients' individual stories, the political and health sides often collaborate.
Griffis' team is geared up for a tough few years, but Planned Parenthood has been a flashpoint for over a century and is still around to fight.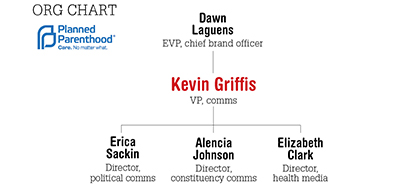 Request for documents
Two federal agencies made moves to look into the alleged sale of fetal tissue by Planned Parenthood and other abortion providers at the end of 2017.
The requests are reminiscent of the scandal around the debunked undercover videos in 2015 that appeared to show a Planned Parenthood doctor talking about illegally selling "baby parts."
The nonprofit fought those claims, saying it helps patients donate fetal tissue to research organizations, but does not profit from it. There were several federal and state investigations, but Planned Parenthood was never charged.
The latest requests by the FBI and Department of Justice are not official investigations. Rather, they seek unredacted documents from a 2016 Senate Judiciary Committee staff report on fetal tissue donation.
Planned Parenthood's few public statements say the information is not being used for a "formal legal proceeding." The nonprofit also stresses the 2015 investigations of the same issue came up empty.