'Truly' sorry
Boots
Back in July, Boots said it was "truly sorry" after its chief pharmacist Marc Donovan said the company might "incentivise inappropriate use" of emergency contraception by lowering its price. A later promise to cut the cost of the product was later broken.
Paperchase
The retailer, under pressure from the Stop Funding Hate campaign group, also said last month that it was "truly sorry" for the crime of a running promotion in the Daily Mail:
We've listened to you about this weekend's newspaper promotion. We now know we were wrong to do this - we're truly sorry and we won't ever do it again. Thanks for telling us what you really think and we apologise if we have let you down on this one. Lesson learnt.

— Paperchase (@FromPaperchase) November 20, 2017
Google
Someone who also said sorry like they meant it was Google's EMEA boss, in March, as the row over ads appearing next to extremist videos on YouTube escalated.
Deeply and sincerely sorry
Dove
Woke beauty brand Dove apologised 'deeply and sincerely' on Twitter after a hugely controversial Facebook campaign that showed a black woman using its body lotion, then becoming white after removing her jumper.
October 9, 2017
Apologies
Pizza Hut
Stop Funding Hate claimed another notable scalp earlier this month, this time forcing Pizza Hut to apologise for a similar promotion, this time in the Sun. 'We apologise for any offence caused,' the brand said.
Sorry... and sorry again
Pepsi
Pepsi actually apologised twice for the same offence in April, after being forced to can its Kendall Jenner ad following a huge online backlash. Agency-land was quick to chip in with its opinions on the debacle.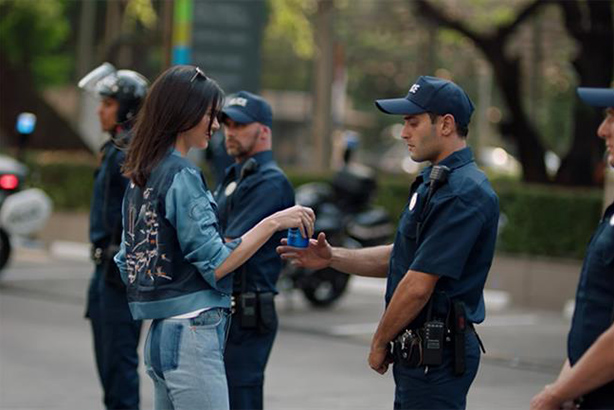 Sorry (but not really)
London Dungeon
When London Dungeon faced a social media storm after released a series of tweets and Facebook posts designed to convey the darker side of Valentine's Day, it did say sorry, but only for 'upsetting some people', not for the campaign itself. It also made its 'apology' in the same style as the offensive posts themselves:
We recognise that we've upset some people and for that we're very sorry. pic.twitter.com/RW8d4VRC8D

— The London Dungeon (@LondonDungeon) February 15, 2017
McDonalds
The burger n fries firm went down a similar 'sorry for any offence caused' road in May after pulling its unpopular 'dead dad' film, following yet another social media backlash - and vowed to learn lessons.
Zoella
"It made me so sad," said Zoella in November about her £50 (12-door) advent calendar that prompted 'rip-off' accusations. She went on to say "sorry that so many of you feel let down by this product" – but it was the retailer's fault, apparently.
That couldn't save her from being named our Flop of the Month, mind.
Re-accommodation apology
United Airlines
The carrier's CEO Oscar Munoz managed to apologise following the now infamous incident that saw a passenger forcibly ejected from an over-sold flight but only for "having to re-accommodate these customers" – a 'sorry' that caused more damage than it repaired. The use of the phrase 'reaching out' in the same statement was almost as unforgiveable.
United CEO response to United Express Flight 3411. pic.twitter.com/rF5gNIvVd0

— United (@united) April 10, 2017
Not sorry
Uber
Uber's new CEO didn't actually use the s-word, but said the firm would 'learn from its mistakes'. Mistakes that happened before he started.
He was accused (or praised, more accurately) for having 'thrown [predecessor[ Kalanick under the limo' with that statement.
Full, unequivocal, and absolute apology
Bell Pottinger
Finally, no 2017 list would be complete without a mention of Bell Pottinger, which issued a "full, unequivocal, and absolute apology" over its work with contoversial client Oakbay. Not that it did them much good.
---
More:
'Sorry' needn't be the hardest word for public sector organisations
If you're going to say sorry, say it early and say it straight, says FTI crisis comms report
PRs launch 'Apology Clause' campaign to tell businesses they can apologise without legal liability worry