Eeyores/Grumps Of The Year
This category honours excellence in the field of professional grouchiness. We have joint winners: Beattie's Chris Gilmour and Gavin Devine of Newgate.
Devine wins his award for having a good old grumble about the extended jolly that is the Cannes Lions not showcasing our industry in the best light. (To be fair he may have been on to something - the festival has now been shortened, and also, to be fair, PRWeek did entice him to write the piece, but we won't let that get in the way of teasing Ebenezer Devine.)
Gilmour's name is etched on the trophy for his searing attack on 2017's favourite whimsical PR intern, Southern Rail's Eddie (so good they only named him once). His piece, Here's what I'd #askeddie: Why does Southern Rail think exploiting a kid is its way out of a crisis?, suggests this commuter (below) relying on what is officially the UK's worst rail franchise somehow isn't managing to look on the bright side of life.
Dude, lighten up.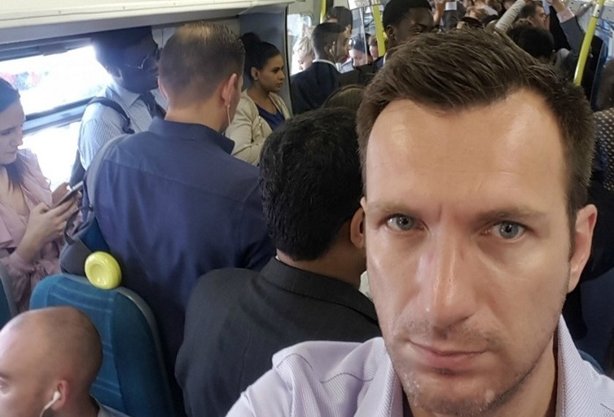 Excellence In Innovative Means Of Effecting Revolution
This award goes to the aptly-named Jolly Rebellion, for its Write off Trump this Christmas campaign.
Sick of the divisive nature of political discourse in 2017, particularly that emanating from the be-wigged one's Twitter account, the rebellious start-up has created its very own font and invite the public to download it, for a small sum.
Proceeds will go to a range of charities promoting, among other things, gender equality, countering prejudice and just being jolly nice to each other. Flack feels the rumble of poetic justice in his soul. They even have a campaign image which conspires to stuff The Donald's mouth with the font.
The world should be so lucky...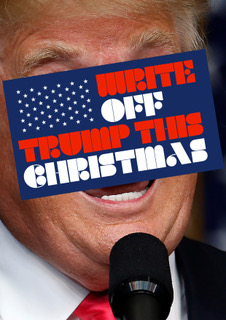 Where Are They Now Award
This one goes to a man we heard a lot from until a couple of months ago. In recent weeks former Bell Pottinger CEO James Henderson (below), who quit in September prior to the agency's collapse, is rumoured to have been spotted at a cinema, a theatre... anyway, Flack understands why he'd keep a low profile.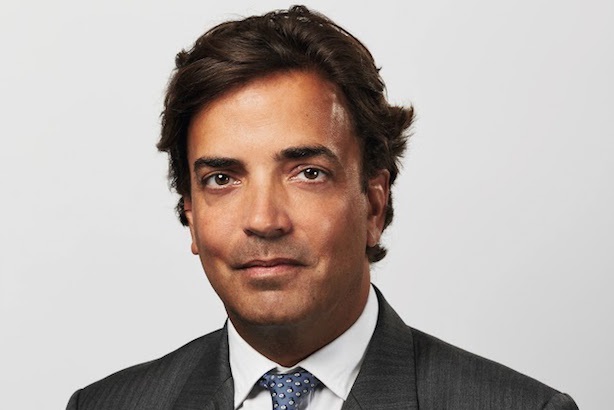 Passive Aggressive Parting Shot Award
This is given to 3 Monkeys Zeno for its clearly-miffed-but-keeping-calm-and-professional statement after Iceland's consumer PR brief, which was previously held by the agency, was put out to pitch.
3MZ managing director Christine Jewell said: "We were surprised at the re-pitch being called, especially as we had increased both the quality and quantity of results, and improved [Iceland's] share of voice very significantly during our time working on their behalf. We wish them well with their new PR partner and look forward to using our skills and contacts to the advantage of other retailers."
Frosty...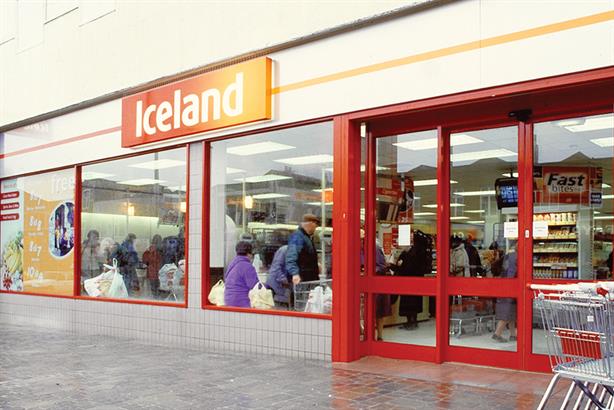 The WTF Award of 'xcellence in English Language
Congratulations to Oxford Dictionaries for this win. Every year, the OED publisher names its 'word of the year' around this time. Previous winners have included post-truth, selfie, sudoku and simples, and have received publicity aplenty.
This year's winner still got lots of coverage, but not all for the right reasons. The winner was... 'youthquake'. Yes, you read that right, youthquake. No, Flack neither.
The word "youthquake" has been chosen as the word of the year. But don't worry if you've never heard of it, the person from Oxford dictionaries who chose it couldn't provide a single example of using it in a sentence....#R4Today

— Jamie Wood (@JamieWoodMedia) December 15, 2017
Ah, "youthquake", the well-known word of the year that was used about about twice in the UK media before today. pic.twitter.com/wvwpzaS60a

— Jim Waterson (@jimwaterson) December 15, 2017
Best Spad Entertainment
The Government's quarterly transparency disclosures give an amusing if partial insight into the world of spad-agency relationships, where the currency is lunches, gifts and rugby tickets.
Jimmy McLoughlin and Sheridan Westlake appear the Number 10 spads with the busiest luncheon diaries, as did now-departed colleague Chris Brannigan, breaking bread with agencies galore from the Portlands and Tulchans of the world through to Incisive Health and WPI Strategy. One-time Bell Pottinger man McLoughlin breaks his regime occasionally, finding time this year for breakfast with Weber Shandwick and dinner with Finsbury.
New Downing Street head of broadcast Tom Swarbrick has hopefully been practising his 'grateful face', having disclosed the gift of two cups and saucers by his host in Japan during the PM's visit to the country. This time last year, he was perhaps a little more pleased to receive a bottle of whisky from LadBible, although it was "retained by the department", according to official notes.
There also emerges an amusing contrast between News UK and the BBC's approach to entertaining; while May's head of strategic comms received a "Bruno Marrs [sic] ticket" from the Sun and Times publisher, Westlake's gift from aunty was a ticket to the Dimbleby lecture.
The documents unearth an encounter that both parties would have found even more intriguing in retrospect; a meeting on 28 February this year, when then Number 10 comms chief Katie Perrior met BBC hack Robbie Gibb, the man who would later succeed her. What did they talk about, Flack wonders?
Best By-line Picture
In January, PRWeek published a fascinating insight into the comms industry in Ghana as part of our regular Postcard From series. The author was Walter Kudzodzi, a consultant at Brand Communications Ghana. Flack was taken by Kudzodzi's striking by-line image. We won't spoil the surprise – see it for yourself here.
And finally…
We don't think the multi-award-winning Missing Type blood donor recruitment campaign for NHS Blood and Transplant won enough awards this year, so we decided to bestow the inaugural (and, possibly, final) Missing Type Award to Missing Type.
There's a highly commended prize for Missing Type International, too.
Flack hears rumours of a popular game doing the rounds in the industry whereby a shot of alcohol is downed as 'punishment' for every mention of the campaign. In that case, here's to 2018 (hic).