The Avon and Somerset Police comms team used a pop-up campaign on Tinder and Snapchat to engage hundreds of users on the subject of staying safe online.
Launched in November 2016, the aim was to encourage 18- to 35-year-olds to take care online by creating tongue-in-cheek content that reached the target audience on the platforms they were using.
Increase in online dating crimes
The campaign followed statistics showing a sharp rise in the number of crimes relating to online dating. Between 2011 and 2016 there was a 2,000 per cent increase nationally in the number of crimes involving victims who had met the offender on dating apps Tinder and Grindr.
This increase was mirrored in Avon and Somerset, where 66 crimes associated with Tinder and Grindr were reported in in 2015/16, compared to 20 in 2014/15.
Officers initially wanted to reach the target audience by putting posters in nightclub toilets, but Avon and Somerset Police's comms team decided to try developing a campaign that could run on the Tinder app itself.
The team set up two tongue-in-cheek profiles on the app, run by communications officers who were in the target audience themselves.
Tinder profiles launched
Charlotte Lowe, digital comms officer at Avon and Somerset Police, worked with press officer Scott McPherson to launch the profiles on Tinder on a Sunday evening, a time when users are most active on the app.
"It was never meant to be a permanent campaign, but a temporary stunt that was all about talking to communities on the platforms they were using, in the language they were speaking," Lowe told PRWeek.
"We wanted to deliver the key messages straight to the target audience, cutting out the middle man. We didn't know if they read newspapers or used Facebook, but we did know that they used Tinder."
The comms team did not send out a press release or share information about being on Tinder, but used the app organically to engage users, as each dating 'match' was sent a message featuring safe online dating tips.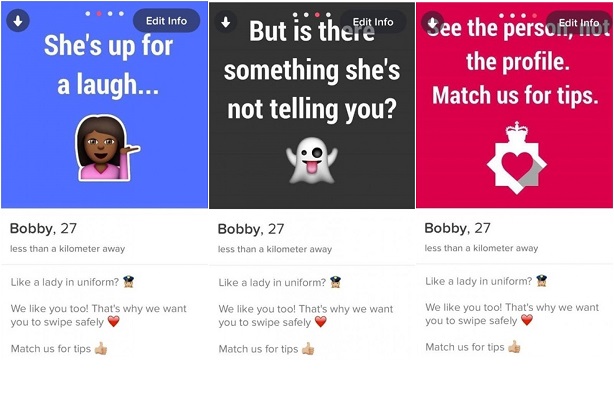 Tips included asking their date's full name and Googling them; asking for more photos; asking a friend what they think and telling them when and where they planned to meet; and, if something bad does happen on a date, telling the police and reporting the crime.
Media coverage
Local journalists using the app discovered the stunt on launch day, while it was picked up by national media including the Mirror and Capital News shortly afterwards.
The profiles gained 250 Tinder 'matches' in 24 hours; this rose to 1,000 over the week of the campaign, according to Lowe.
A day after the Tinder launch, the Avon and Somerset Police comms team took the concept to Snapchat, creating a Snapchat story asking followers whether they had "matched" with the force recently.
"People would reply saying they hadn't matched on Tinder because they thought it was a fake profile, so that was another channel for us to engage with the target audience around the messages," explained Lowe.
The Snapchat story gained 124 extra followers in 24 hours, with a total 300 views of the story.
Meanwhile, the Tinder and Snapchat activity sparked a television interview on BBC Points West, with Superintendent Marie Wright, who was the force's lead for rape and serious sexual offences at the time.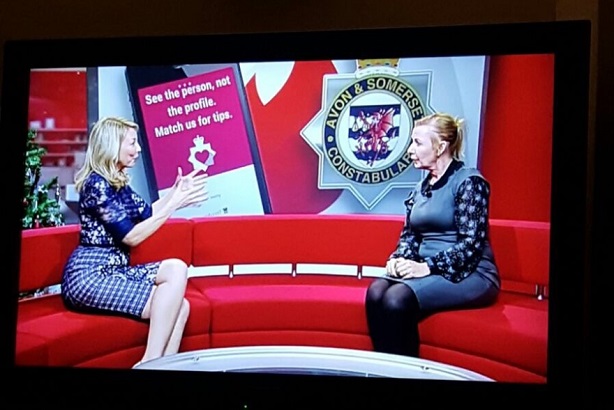 Measurement challenge
Lowe said the main challenge of using a stunt-type campaign was in measuring its effectiveness.
"With Tinder, all the matches had to be counted manually, which was a challenge," she revealed.
"We didn't have a really tangible way to relate our campaign to either a drop or an increase in reports, and we couldn't track it because it is an evolving platform.
"But if we want to reach out to new audiences on evolving platforms, we have to accept it is going to be difficult to evidence behaviour change when the campaign concept is around discussing practical tips with people one-on-one."
The comms team expected and planned for the campaign have a short lifespan – and the profile was removed by Tinder after a week.
An indicator of success has been the interest from other forces, with Gloucestershire Police having now carried out its own campaign, and several other forces planning to explore the concept.
---
Click here to subscribe to the FREE public sector bulletin to receive dedicated public sector news, features and comment straight to your inbox.
Make sure you register for the site to access more than one story per month.
To submit a news, comment, case study or analysis idea for the public sector bulletin, email Ian.Griggs@haymarket.com