Ruffles has pulled and apologized for a social media post featuring a spoof ad for "tofu-urkey" flavored chips that left a bad taste in the mouths of some consumers.
The post, which appeared on Ruffles' Twitter, Facebook, and Instagram accounts last week, featured the text, "There's a reason tofu-urkeys are never pardoned." It included a picture of a Ruffles bag labeled, "Tofu-urkey, 100% turkey-less, limited time never."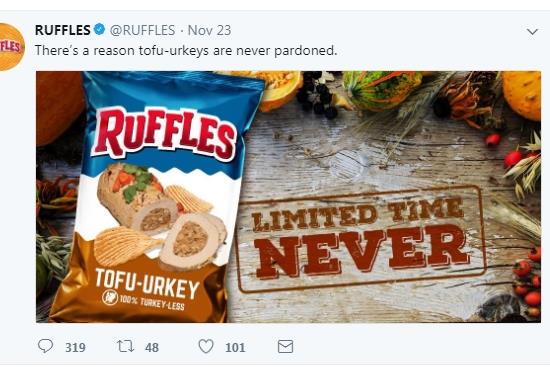 Vegans and animal lovers in particular took umbrage at Ruffles' joke, with some threatening to boycott the brand.
I'll never buy #Ruffles again! #Clueless #BadBusiness #Insensitive #UnCompassionate #ColdHearted #Bully #Douchebag BeyondInsensitive https://t.co/oE3s3XpxIs

— My To Sense ? (@PurrpleKrystal) November 24, 2017
PETA said in an emailed statement that its EVP, Tracy Reiman, sent a letter on Wednesday to Vivek Sankaran, president and COO of Frito-Lay North America, urging Ruffles' parent company to "pull the idiotic ad—which is garnering backlash from customers—and replace it with a compassionate one that shows respect for all living, feeling beings."
On Wednesday, Ruffles apologized for the post on Facebook and said it will remove it from the brand's social media feeds.
Based on comments on the apology post, some people are still not satisfied with Ruffles, while others are perplexed as to why the brand deleted it at all.
A representative from Ruffles was not immediately available for comment.