Eye on Paradise misses the Man
It's always surely a badge of honour for City PR firms to get a good kicking in Private Eye. That badge is worn this fortnight by Lansons, which was "identified in the Paradise Papers as a major player in defending offshore secrecy" through its work with the law firm Appleby, a member of the International Financial Centres Forum.
Atop that article stood a story looking at the Isle of Man's role in tax avoidance, and asking why it does not have a public register of who owns companies registered there. However, the Eye failed to note (if only it had plugged the terms into PRWeek.com), that the Manx Government is of course one of Lansons' largest and longest standing clients.
Lansons CEO Tony Langham denied that the firm's worked defended offshore secrecy, telling PRWeek: "We're protecting the British network of international finance centres, which form a key part of London's leadership position in the financial world."
Democracy, pah
With PR-land reliably Remoaniac, with the exception of some more right-leaning elements of the public affairs world, it may be little surprise that two events this week showed the industry's disdain for democracy.
To the Mall Galleries on Wednesday night first, where start-up Atlas Partners celebrated its second birthday by looking at 'moments that mattered' from the past two years. Various MPs, media figures, notables and, for some reason, PRWeek's Sam Burne James, were invited to nominate their moments, which were put to a public vote.
#MomentsThatMattered

"When @Wimbledon champion @andy_murray called out #EverydaySexism" by @samburnejames @PRWeekUKnews

Vote for your #Moment here https://t.co/yRaj90lS43 pic.twitter.com/Sss7b7nZnL

— Atlas Partners Ltd (@Atlas_Comms) November 17, 2017
The winning moment, nominated by The Sun's Tom Newton-Dunn, was when we found out the Brexiteers had no plan.
But Atlas co-founder Charles Napier announced that the hack "cannot be here this evening because he's doing something more important, no doubt destroying the reputation of Philip Hammond in one way or another". It meant the prize was passed instead to writer and broadcaster Afua Hirsch, who cited Prince Harry's hitting out at the press' treatment of Megan Markle. As a certain Donald J Trump knows, coming second still means victory, sometimes.
The following evening at the splendid St John's Smith Square in Westminster, PR and comms recruiter Ellwood Atfield went large on the marketing budget with a big-scale bash for the Political Cartoon of the Year Award 2017 (below).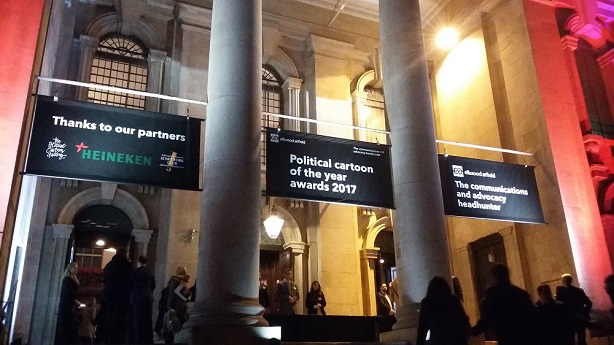 "The Political Cartoon of the Year Award is decided by the people... personally I think that's a big mistake, as far as I'm concerned, letting people vote is tremendously overrated," Tim Benson, who runs The Political Cartoon Gallery, told the crowd. Check out the headhunter's website to whether you think that democracy did the trick.
Gongs were presented by one-time politician George Osborne, who has not only brought political cartoons back to the Evening Standard as editor, but exhibits the same spirit of mocking and derision for those in power in his editorials, as one attendee noted. Agency folk in attendance included Portland's Steve Morris, Acuitas' Simon Nayyar and Field's Chris Rumfitt.
Meanwhile, one of the mentors on PRWeek's Women in PR mentoring project particularly enjoyed a total of at least five rather risqué jokes from Benson on feminism, tokenism and harassment in his short speech, which included a description of one political cartoonist as "a man who made Harvey Weinstein look like a boyscout".
We'll spare the blushes of the comms pro in question, beyond saying that she possesses an impressive booming laugh.
Not Loving' It
Ah, Black Friday, the annual post-Thanks Giving jamboree of brand and retail promos. It's not often one has sympathy for global corporate behemoths but this tweet from McDonald's had Flack cringing into his morning McMuffin:
Black Friday **** Need copy and link****

— McDonald's (@McDonaldsCorp) November 24, 2017
Annoyance received
Internal comms turns out to be much like external comms, Flack mused at PRWeek's Strategic Internal Communications conference on Tuesday. Top issues included choice of platform, how to get cut-through and what analytics to take note of.
But one very internal-specific issue seemed to really strike a chord. How do you win around "a CEO who enjoys an 'all staff' email" to a more nuanced form of internal comms, asked one audience member. "Hmmm, yes, I know a few of those" reflected the event's chair, Lloyds Banking Group's Jim Connor.
Awards banter... or is it?
Now Flack appreciates that a PRWeek Award is the Jules Rimet of communications honours – the ultimate PR prize – but one agency went to great lengths this week to ensure it had one in the trophy cabinet, or on the wall:
??????????YES!!!! We won a @prweekuknews award for best new agency and we are so hash tags proud ???????? pic.twitter.com/fOxtjGhc1p

— TalkerTailor (@TalkerTailor) November 22, 2017
The response from the rightful Best New Agency winner was swift (and smart)...
We highly commend this tweet ?? ?? ?? ?? ??

— Ready10 (@ready10) November 22, 2017
...but Flack wonders whether the 'wronged' party' – instead of playing nicely in public – might have preferred to use Finchy's line:
Elsewhere in agencyland banter, Octopus and Lewis have been at it - although in this case, Lewis does not appear to have responded thus far...
Well, they do say that imitation is the sincerest form of flattery... We're very honoured that @teamlewisglobal has clocked on to our Brand To Sales™ approach ?? https://t.co/D3ZEctsu1j

— Octopus Group (@OctopusGrp) November 23, 2017