CHATTANOOGA, TN: Marshmallow sandwich snack MoonPie posted—and quickly deleted—a tweet on Monday alluding to sexual harassment amid a swarm of allegations against politicians and other public figures.
"You won't have trouble keeping your hands to yourself if your hands are full of delicious MoonPies," the brand tweeted.

A representative from The Tombras Group, which has been working with MoonPie for three years and started handling the brand's social media one year ago, could not be reached for comment. A MoonPie representative also could not be reached for comment.
Some social media users who spotted the tweet before it disappeared were not happy with the brand making light of the topic.
Is this a weird way to show support for abuse/harassment survivors?
Rather poor taste. https://t.co/7k5E9wE3BA

— ??Elizabeth McQuern (@ElizMcQuern) November 20, 2017
One Twitter user replied to MoonPie's tweet, writing, "Which part of this is supposed to be funny? The part where you promote your product by alluding to sexual harassment?"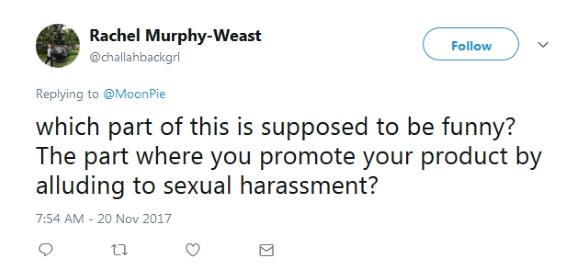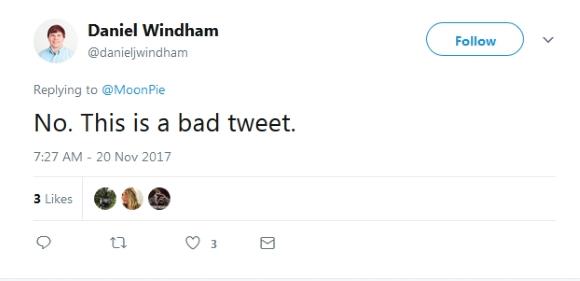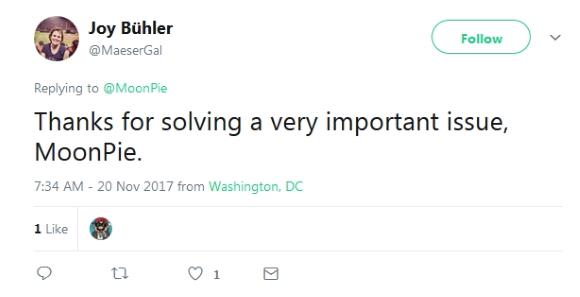 Another person tweeted, "The MoonPie Rule > The Pence Rule," referencing Vice President Mike Pence's refusal to spend time alone with women other than his wife.
The MoonPie Rule > The Pence Rule https://t.co/5369LN7CnK

— Justin Camblin ? (@justincamblin) November 20, 2017
The tweet was posted as people have been coming forward in unprecedented numbers to accuse executives, entertainers, politicians, and other public figures of improper sexual behavior. In recent weeks, scandals have swirled around individuals including studio executive Harvey Weinstein, comedian Louis C.K., actor Kevin Spacey, and politicians Roy Moore and Sen. Al Franken (D-MN).