With the comms industry in Ireland experiencing a revival, it is an exciting time to be in business. As a small, open economy, the country's prosperity relies heavily on international trade and foreign direct investment and remains particularly sensitive to changes in global economic conditions.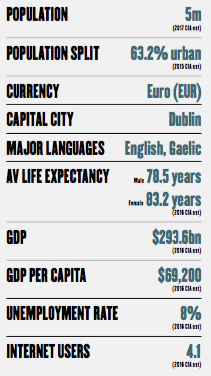 On the back of our current state of robust growth, more companies are allocating additional budget to both PR and public aff­airs support. Brexit is undoubtedly driving some of the growth in comms budgets, but the rising economic tide is driving spending on campaigns to announce office openings, staff expansions and advocacy for additional expenditure in key policy areas.

Organisations are again seeing the benefits of retaining outside support for their PR and public affairs functions in this increasingly complex landscape. Never has local knowledge and the capacity to understand Ireland's economic, social and political landscape been so valued by foreign investors, as the reality of Brexit brings a wave of new interests and others begin to hedge.

Ireland's PR and public affairs industry has undergone significant change over the past few years. With comms budgets among the first cut during the recession, downward pressure on fees and shrinking staff levels were a reality for many firms. It took great resilience to survive. The only winners in the comms market were those agencies that specialised in public affairs, as tightening regulation was felt by the bigger companies that still had budgets to fight it.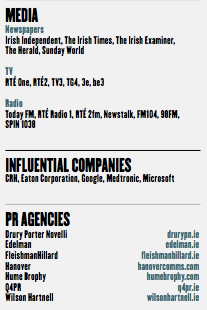 As a small market, consumer PR campaigns here tend to have smaller budgets and greater alignment with UK and Ireland combined activities. However, as the only English-speaking Eurozone country, many multinationals choose to locate their European headquarters in Ireland, lending greater strategic importance to stakeholder relations and regulatory affairs than might otherwise be the case.

This foreign direct investment has been Ireland's primary market driver, making it the fastest-growing economy in Europe for the past three years. It has become a hub for international pharma and tech companies in particular, and five Ireland-based firms are listed on the FTSE 100. Companies in Ireland are proving it is an ideal base for their international operations, with €34bn in profit in 2016 alone.
---
Also see: Public Relations Institute of Ireland seeks new leader as CEO takes job with country's new Taoiseach
---
The introduction of the Register of Lobbying in 2015 brought welcome transparency to the industry. While the legislation req­uires regular returns and record-keeping across all sectors, it has facilitated greater understanding of strategic advice to org­anisations by highlighting the value and effectiveness of comms.

Consequently, public affairs has become a more widespread service offering. Previously only PR firms, hiring specialists, or long-established public affairs companies practised in Dublin, but now more corporate comms firms are entering the space.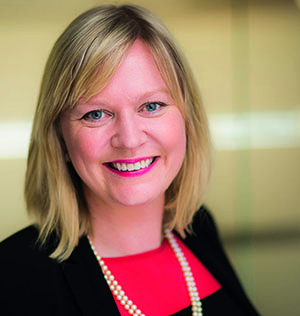 While the Irish market continues to evolve in a dynamic and somewhat volatile environment, those who position themselves as a safe pair of hands, with a deep knowledge of the Irish media and political landscape, will continue to prosper.

With the well-established clientelism of the Irish market and the vulnerability of the broader economic landscape, it is no longer sufficient to simply offer potential clients face time with high-profile media and political representatives; you must have the capacity, knowledge and insight to "see around corners".
Lorna Jennings is managing director of Hanover Dublin