The rail industry has launched its Small Talk Saves Lives campaign today, aimed at passengers and the general public.
Featuring a short film that tells a true story of someone who tried to take their own life, the campaign was launched on BBC Breakfast today (15 November) and will be seeded across social media and digital channels from Network Rail, the Samaritans and British Transport Police.
Allison Potter-Drake, head of corporate comms at British Transport Police, told PRWeek: "It makes absolute sense that we work together on important campaigns such as this to maximise impact."
Social media channels being used include Twitter, Facebook and Instagram, with a dedicated hashtag #SmallTalkSavesLives for the campaign.
The 90-second film features the story of a 28-year-old woman called Sarah Wilson, who planned to take her life on the railways, but was dissuaded from suicide because someone reached out to her.
Her story inspired the making of a video to promote the campaign, where unsuspecting passengers on a train platform initially think a station announcer is warning them of delays due to a suicide on the line, only to find out that they are listening to a story of hope and recovery, told by Sarah herself.
A shortened version of the film, produced by Progress Film Company, is being shown on the giant screens at London Victoria station on launch day, and digital posters will be displayed on screens within all of Network Rail's stations.
Donna Mitchell, media relations manager (campaigns) for Network Rail, said the key purpose of the campaign was to empower the public to spot vulnerable people around the rail network and strike up a conversation with them in an attempt to interrupt suicidal thoughts.
The overarching aim is to reduce the number of suicides on the rail network, which totalled 237 last year.
The key message of the campaign, which was worked on by healthcare company Pegasus, is that suicide on the railway can be prevented and lives are being saved every day through interventions made to vulnerable people.
A series of four campaign posters encourage passengers to trust their instinct if they think somebody is in need of help.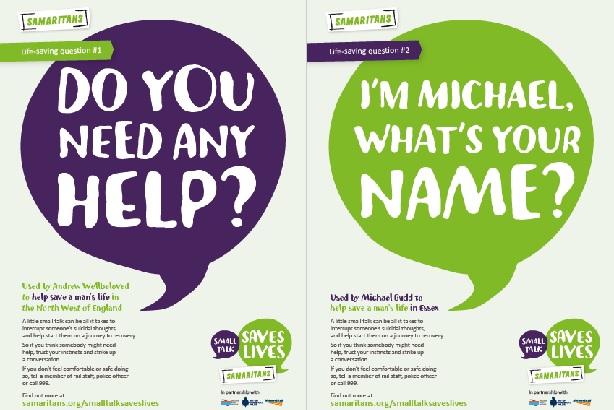 The campaign also urges passengers that if they feel comfortable and safe approaching a person in need, a simple question or a bit of small talk could be all it takes to interrupt their thinking and start them on the road to recovery.
"We surveyed 5,000 rail passengers asking how they felt about making these types of interventions, and we will rerun the survey in the new year in the hope that we have increased intent among this audience," explained Mitchell.
"We will also be measuring the number of interventions and the number of suicides and suspected suicides over the next year."
Potter-Drake added: "The aim of the campaign is to encourage the public to have those conversations and join us in saving lives. It also encourages the public to get in touch with us if they need to.
"Operationally our officers know that this is likely to result in more calls for their help, but if that means they can be there at the right time to help save more lives, the campaign will have been a success."
---
Click here to subscribe to the FREE public sector bulletin to receive dedicated public sector news, features and comment straight to your inbox.
Make sure you register for the site to access more than one story per month.
To submit a news, comment, case study or analysis idea for the public sector bulletin, email Ian.Griggs@haymarket.com