Betsafe hires PrettyGreen
PrettyGreen has been appointed by Swedish gaming company Betsson Group, to handle the PR for its Betsafe brand in the UK. PrettyGreen will be responsible for creating integrated content series with some of the biggest names in sport – Manchester City, Tony Bellew and Saracens Rugby Club among others – as well as creating PR opportunities around sporting events. It was confirmed as Betsafe's retained agency last month, having worked on a project around the McGregor-Mayweather mega-fight in August (below).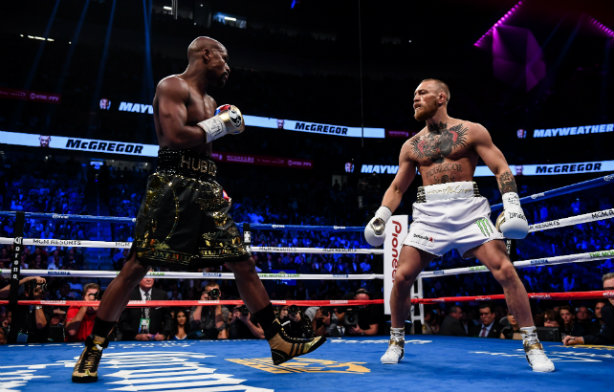 Riggins launches reputation agency
Phil Riggins, for six years a partner at Brunswick, has formed a new brand and reputation consultancy – the Brand and Reputation Collective. Riggins joined Brunswick from APCO in 2011 in a role focused on opinion research. He left Brunswick earlier this year to join Swiss-headquartered Leidar and will continue to collaborate with the company, according to Leidar CEO Rolf Olsen.
Hume Brophy hires Labour veteran
Former Labour minister Iain Wright has joined Hume Brophy as a senior adviser. Wright was MP for Hartlepool for 13 years until stepping down in May this year. He was most recently chair of the Commons business select committee for two years, leading its inquiry into the working practices of Sports Direct. The agency recently announced an acquisition that expanded its services in the US and Asia.
Comprigo hires Caliber
Comprigo, an online product comparison brand owned by Bauer Media Group, has hired the agency Caliber as part of a six-figure partnership managing its online PR, SEO, design and digital marketing.
Seven Dials wins Ondine
Seven Dials PR has been appointed to handle Edinburgh's Ondine Restaurant, overseeing media relations for the restaurant itself and its chef patron Roy Brett. Seven Dials was set up in 2013 and is led by former Independent editor-in-chief Simon Kelner.
Represent hires Tulloch
Edinburgh agency Represent has appointed Hannah Tulloch as associate director. She spent the past five years with London b2b firm TopLine.
Peel+Williams' Maldives check-in
Peel+Williams has been appointed as the UK public relations representation for Fushifaru, a brand-new resort in the Maldives which celebrated its soft opening last month (October).