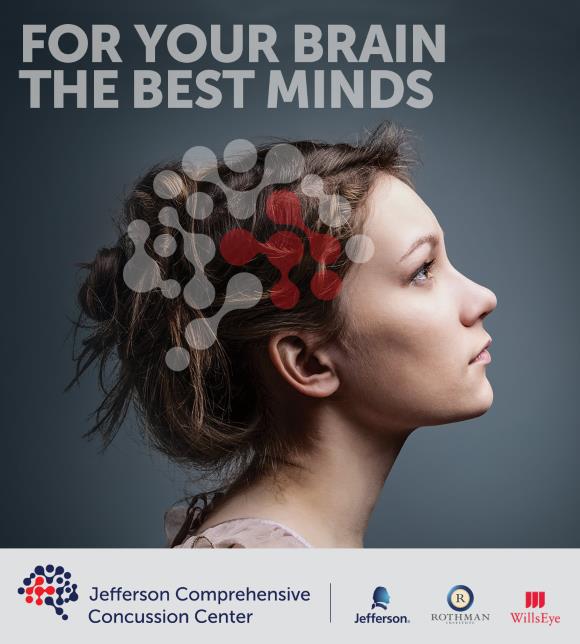 A common misconception is that concussions only happen to football players, but the reality is that they are common in sports. The Jefferson Comprehensive Concussion Center is using VR to change that perception in a new campaign.
The Recreating the Feeling push places the viewer in three 360-degree video situations showing common concussion symptoms, such as double vision or light sensitivity. Launched on Monday, the campaign was developed with LevLane, a Philadelphia-based marketing agency.
"One of the things we heard, especially with therapists, is concussions are a silent injury," said Jonathan Cooper, SVP of content, PR, and social at LevLane. "Sometimes people don't understand what you're coping with [when you have a concussion]. So we asked, 'How can we possibly recreate the feeling?'"
Concussions and their symptoms are not widely understood by the average person, Cooper explained, so part of the campaign was created to show what a concussion looks or feels like to both encourage empathy and educate the audience.
Watching concussion symptoms manifest in everyday situations, like in a cafe, office, or classroom, with VR and 360-degree video shows just how disruptive a concussion can be. The Concussion Center's videos show how the visual symptoms alone can make working or school difficult. For instance, a student may have difficulty tracking movement and accidentally pour too much liquid in a chemistry experiment causing an overflow or an office worker could have trouble finishing tasks because she is experiencing double vision while looking at her computer screen.
The videos will be available on JCCC's website, Facebook page, and YouTube page, where people can watch them on their phones and a VR cardboard viewer.
Recreating the Feeling is one part of JCCC's concussion-education efforts. The center also holds community events for parents of student athletes where they can test their child's baseline motor skills, giving them a point to judge if the student is injured, Cooper said.
"People have a narrow view of the causes of concussion," Cooper explained. "They think it has to be blunt force or severe impact, and usually it's tied to sports. But they're common in automobile accidents, slips and falls, for DIY home repair folks, or in office settings where you bang your head reaching under your desk. It doesn't have to be a major impact."
JCCC was created in 2013 through a partnership between three Philadelphia health systems: Jefferson, Rothman Institute, and Wills Eye Hospital. LevLane has worked with the center since it was created.
Several health campaigns have prominently featured VR in the last few years, including Regeneron's retinal disease campaign and Excedrin's migraine experience augmented reality campaign.
"I think we're going to see more VR now that this tech is becoming more readily available," Cooper said. "We'll see more of this in healthcare, in particular in patient education, patient awareness, and even patient compliance. This is a step toward that."