One panellist said the campaign "blows the competition out the water", while another said she "can't help but love it". However, one panellist thinks Marks & Spencer "probably" remains the best campaign to be launched by major retailers so far.
The John Lewis campaign film tells the story of an unlikely friendship between a boy named Joe and a fun-loving monster named Moz, who lives under the bed. It was released this morning just before 8am across John Lewis' social channels.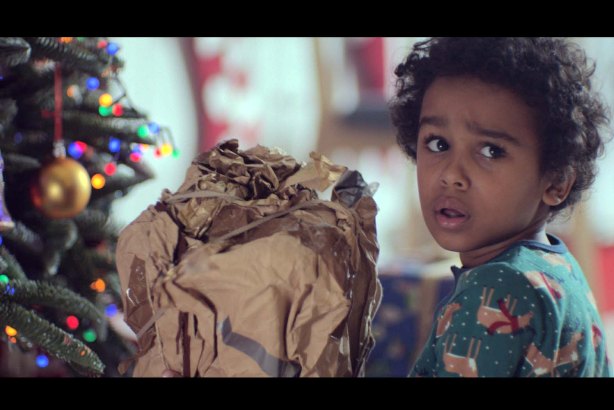 Social shortfall
The film garnered over 1.1 million views on the John Lewis Facebook page between its launch at 7.38am and 9.50am. This is in comparison to 5.5 million views in roughly the same timeframe last year for the retailer's Buster The Boxer campaign.
John Lewis' YouTube channel also showed the Moz film had been watched just over 30,000 times during the first two hours since it launched, which is down from roughly 39,000 last year.
Research by social media monitoring tool Brandwatch shows this year's campaign was mentioned a little more than 18,000 times across social media between 7am and 10am, while data from PR agency Hotwire suggests Moz was mentioned just under 15,000 times on Twitter between 7.40am and 9.50am.
This is in comparison to Buster, which generated over 30,600 tweets in roughly the same timeframe in 2016.
According to Brandwatch, 76 per cent of mentions for Moz across social media were positive, while 24 per cent were negative. As with last year, the audience for the campaign was two-thirds female to one third male.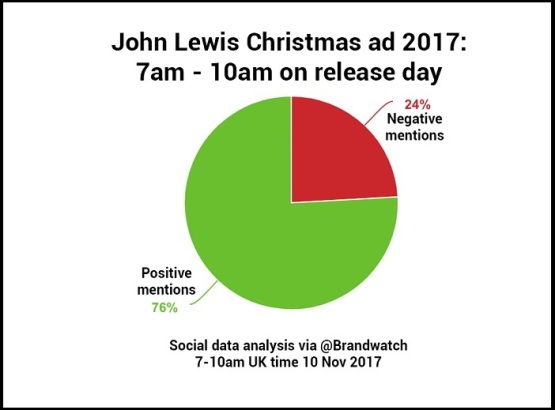 But what does the PRWeek Christmas panel think?
David Fraser, founder of Ready10, said: "The problem John Lewis has is the standard they have set themselves over the years. Their festive ads are industry-defining so when they produce one that's good, but not a classic, as I think they have here, they can perhaps be a little unfairly bashed."
"So what's right with it? It captures the anticipation of Christmas and the joy of giving and receiving gifts, as their spots always do. What's wrong with it? I don't think the story it tells is new - and it's not even new for John Lewis."
Asked which Christmas campaign currently led the pack, Fraser said: "At this point, you'd have to say M&S is winning - but with one major fixture left to play. Let's see what Sainsbury's have this weekend."
Emma Hazan, global head of consumer at Hotwire, added: "Where this campaign blows the competition out of the water is in its multi-channel amplification. Using Google Home to allow people to download an audio book and personalise it, Facebook to create a VR filter to let us become Moz, and a partnership with Sky means John Lewis is going to smash it in terms of finding innovative, fun ways to reach a wider audience outside of traditional TV."
However, Hazan said she was disappointed that the ad wasn't a "tear-jerker". She said: "I prefer Aldi's Kevin the Carrot sequel as a piece of content but John Lewis' smart multi-channel thinking and a killer of a song will probably safely see them cross the finishing line as the Christmas winner."
Ranj George, meanwhile, head of consumer at Lewis, said: "With some of the top creative minds, millions spent and an Academy award-winning screenwriter at the helm, expectations are predictably high. I would say that it is money well spent. John Lewis hasn't diverted from a well-trodden path of producing an ad that tugs at the heart-strings and it's not overtly product-led, but more about the feeling you get from association with the brand. That's no bad thing - if it works, why change it?"
Nik Govier, co-founder of Unity, added: "By nature I prefer to zig while others zag but I can't help but love this. It's incredible that each year they crank out the goods. I'm also pleased to see that they're pushing beyond the obvious stuff. Yes you can buy Moz in store and there's a story, but I like that it's an audio book read by Sally Philips and a bedtime story in the context of this ad doesn't feel gratuitous.
"Finally, replacing letters on John Lewis signage was a lovely touch. They know they don't have to do much to fan the flames of anticipation, but I like that they went beyond just social teaser clips."
Innocent fun
As with previous years, spoof versions of the John Lewis campaign are expected in the coming days. PR agency Frank has already signalled its intentions, saying it will again create a "discount version" of the ad on a budget of £700 for its client MyVoucherCodes.co.uk.
The agency, which has enlisted the help of students from the School of Communication Arts, said the spoof would be published online by 3pm today (10 November).
Elsewhere, brands including Innocent were reacting to the release - with the smoothies firm tweeting a reaction from 2016's hero Buster, and the moon-based star of the year before.
Paddy Power and others including a Harvard and Chime digital creative chipped in with their takes.
Buster calls The Man On The Moon. "Have you seen the state of this?" "Oh, I know," The Man replies. "They made me go to the actual moon." #MozTheMonster

— innocent drinks (@innocent) November 10, 2017
Done a 2-minute job at redesigning the John Lewis Christmas ad. Capitalism, yeah! @johnlewisretail #MozTheMonster pic.twitter.com/2vnwwFmGub

— John Crossley (@jcrossley1) November 10, 2017
"John Lewis Christmas BAD, more like" direct quote from yer Da.

— Paddy Power (@paddypower) November 10, 2017
Meanwhile, last night on the East Coast of the US, the retailer's folk hero namesake was readying himself.
Any moment now, or so I'm told by 1.79 quadrillion people. @johnlewisretail #Isuggestdecafe https://t.co/33RiuPfT2D

— John Lewis (@johnlewis) November 9, 2017
Read next: John Lewis launches imaginative 2017 Christmas campaign with monster under the bed