The integrated campaign, which stays true to the retailer's long-time focus on thoughtful gifting, has at its heart a two-minute film that tells the story of Joe, a little boy who is kept awake at night by a 7ft imaginary monster living under his bed.
---
What did PRWeek's expert panel think of #MozTheMonster and how has it performed on social?
---
Over time, the pair form an unlikely friendship and play together late into the night, stomping up and down Joe's room and playing with his toys. However, the fun eventually takes its toll on Joe, who struggles to stay awake during the day.
Come Christmas morning, Joe notices a badly wrapped present under the tree. Assuming it to be from Moz, he unwraps it to discover a nightlight that, when turned on, helps him get some much-needed some peace and quiet from the monster.
The film, created by advertising agency adam&eveDDB and Oscar-winning director Michel Gondry, is set to a cover version of The Beatles' 1969 B-side 'Golden Slumbers', performed by Elbow.
It was released this morning (10 November) across John Lewis' social media channels, and will debut on TV this evening during Gogglebox on Channel 4. It will also be run across Sky's own channels at approximately 9.30pm.
Campaign amplification
John Lewis' partnership with Sky also includes a reading of the storybook version of Moz the Monster by actor Sally Philips. That version is available as a video download to Sky TV customers and via the Sky Go subscription service online.
Google Home customers will also be able to download an audio book-style recording of the story and personalise the reading with their own sound effects - such as choosing the farting noises Moz makes.
John Lewis has also partnered with Facebook and created a VR filter, which allows users to turn themselves into Moz and share their creations via social media with the hashtag #MozTheMonster. Last year the retailer created a similar filter for Snapchat users.
Charity tie-up
As part of the campaign, John Lewis is also selling a soft toy version of Moz (below), branded mugs, a storybook of the film, and pyjamas and slippers.
The retailer said it would make a donation to charity partner Barnardo's from the sale of the Moz cuddly toys and the mugs. These retail at £20 and £5, respectively.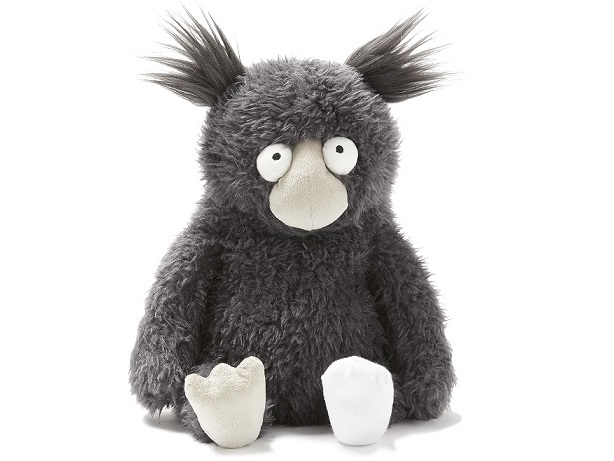 Meanwhile, at John Lewis' flagship store on Oxford Street, scenes from the film will greet customers from this morning, including what the retailer claims is the first farting and snoring window display. In addition, 10 John Lewis outlets have been adapted with 'Monster Maker' stations, where customers can create their own Moz selfies.
John Lewis said its marketing department would lead the campaign, but added that PR would play "a vital role" in amplifying all campaign content throughout the Christmas period.
John Lewis customer director Craig Inglis said: "This year's Christmas campaign brings to life the power of children's imaginations and the joy of great friendships. Moz and Joe's story is magical and heartwarming and I'm sure it will be loved by all of our customers, young and old."
Speculation
As with previous years, there has been fevered speculation over the John Lewis campaign, after the retailer teased the story on Twitter earlier this week, releasing a four-second clip on Monday with the hashtag #UnderTheBed and then a 10-second clip on Wednesday.
It was also teased more widely throughout the UK during the week, including by replacing the letters on shop fronts with Moz's eyes.
---
Read next: Which retailers' Christmas campaigns are turkeys and which have proved crackers?