HSE's comms team focussed on three specific areas of illness to encourage employers and workers to engage with its Go Home Healthy campaign.
Taking a deliberately narrow focus has already proved effective for HSE, which has driven 45,000 people to its new Go Home Healthy microsite in the first six weeks of the campaign.
Meanwhile, more than 2,000 people have accessed its social media sharing toolkit, which includes images featuring a former stonemason called Terry, who was diagnosed with terminal lung disease, and his wife Christine, as well as statistics on workplace ill health.
Terry, a former stone mason is suffering from silicosis. Listen to how this has affected his life https://t.co/2YwlQIO1Hh #WorkRight @H_S_E pic.twitter.com/I0gK1a6qkI

— Go Home Healthy (@Go_Home_Healthy) 30 October 2017
Lester Posner, head of comms at HSE, told PRWeek: "The call for employers to ensure our workforce can 'go home healthy' is one that I am sure no-one would disagree with.
"We are using this message and campaign to shine a light on workplace ill health, particularly in relation to the three priority areas – occupational lung disease, musculoskeletal disorders and work-related stress."
Launch event
The non-departmental public body launched the campaign on 18 September at its first annual conference, attended by an invited audience of around 300 employers, union representatives, health-and-safety bodies and sector groups.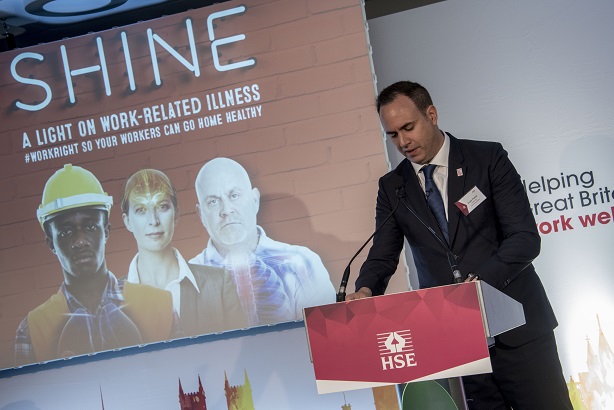 The overarching message of Go Home Healthy led the audience to more specific guidance and information on the HSE's three focus areas.
The campaign also has a sub-theme addressed at employers, urging them to 'shine a light' on the hazards in their organisations, and also to 'do the right thing', expressed by the hashtag #Workright.
Social media activity
To maximise its reach, HSE's campaign mix includes social media activity on its Twitter, Facebook and LinkedIn accounts.
Two new campaign-specific social channels - the Twitter handle @Go_Home_Healthy and Facebook's Go Home Healthy page - have more than 1,200 people engaged in the conversation online.
To boost earned channels, HSE is actively encouraging other health partners and stakeholders to support the campaign using the social sharing toolkit, while paid-for social activity aims to increase the reach beyond those currently engaged with HSE on health.
HSE created a series of YouTube videos, including three separate 35-second clips devoted to the areas of stress, musculoskeletal disorders and lung disease, as well as a longer, 1 min 25 sec #Workright video, sharing statistics on numbers of cases of ill health, working days lost and even deaths.
Meanwhile, the dedicated microsite for the campaign – www.hse.gov.uk/gohomehealthy – is providing ongoing insight through an evaluation dashboard, allowing HSE to test what works and respond with comms to emerging opportunities, explained Posner.
Other content includes high-profile endorsements from influential voices including DWP Minister Penny Mordant, the Rt Hon David Blunkett, Carole Spiers from the International Stress Management Association and Professor David Fishwick, an eminent lung specialist in the NHS.
Case studies, press releases, blogs, opinion surveys, polls and thought leadership pieces feature alongside the social content and 28 printed articles have carried the Go Home Healthy call to action.
Long-term goals
Posner added that the Go Home Healthy campaign is a long-term project, with the goal of behaviour change and reduction in workplace ill-health.
The focus for ongoing PR is the placement of thought leadership pieces, both on and offline, in targeted, specific trade media publications that are widely read by HSE's priority audiences.
"Over the next few years the campaign will draw on existing insights, expertise and initiatives to make the biggest possible impact," he explained.
"Our hope is that this will lead to sustained behaviour change and a reduction in some of the occupational health issues we see today."


---
Click here to subscribe to the FREE public sector bulletin to receive dedicated public sector news, features and comment straight to your inbox.
Make sure you register for the site to access more than one story per month.
To submit a news, comment, case study or analysis idea for the public sector bulletin, email Ian.Griggs@haymarket.com