There were audible gasps at last month's PRWeek Awards when The Who frontman Roger Daltrey strode on stage to induct Alan Edwards into the PRWeek UK Hall of Fame (below).
The rock legend is among countless stars who consider Edwards, founder and chairman of PR agency Outside Organisation, a confidant and friend. Prince, Bowie, the Rolling Stones, the Beckhams, Amy Winehouse and Naomi Campbell are just some big names to have relied on Edwards' shrewd advice and campaigning know-how over a career now into its fifth decade.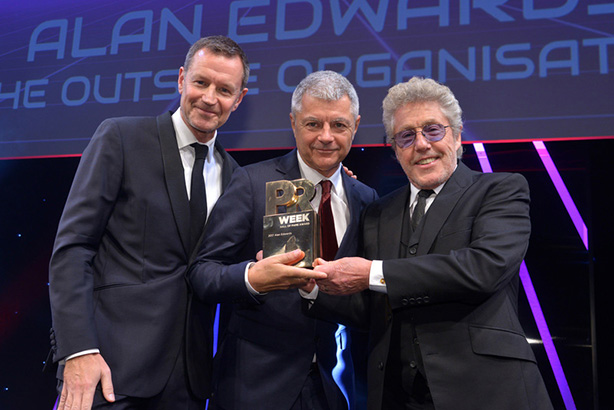 But PRWeek isn't here for a retrospective, or celebrity anecdotes (OK, there will be some). Edwards, who worked with music PR Keith Altham in the 1970s before founding Modern Publicity in 1981, and then the Outside Organisation in 1995, is focused on the future, ensuring that Outside stays ahead of the curve.
Part of the strategy is making clever appointments – not least that of former Sun editor Dominic Mohan, who joined as Outside Organisation chief executive in 2015. Sitting with him at the agency's Tottenham Court Road office, Edwards recalls a story about Prince that sums up how things have changed, but also points to fundamental principles that endure.
It was the 1980s – the days before the internet as we know it, and ubiquitous mobile phones. Once a month, Prince would send Edwards an envelope containing about 30 pictures of himself.
Storytelling still vital
"He would say: 'Distribute them in any way you want, add whatever spin, develop the stories,'" Edwards says. One could call it an early example of a content strategy. "It was a very clever strategy to be visible, to create noise, to have a whole myth, a mystique; nobody ever got to Prince."
He adds: "The truth is, if you're a good PR, you're a storyteller. The media have changed, the methods of getting those stories out have changed – they're much faster than they used to be – but the basics are still the same. Is there a funny angle, is there a hook, are you getting your client's perspective across?"
Mohan agrees. "I think maybe that got a bit lost for a while. There's a lot of smoke and mirrors around social-media agencies [but] you strip it back and the core is being able to tell a big story," he says. "The raw material has to be the idea and the creativity. Really the engine room of creativity, ideas and storytelling is as vital as it's ever been."
During the punk era Edwards put together creative graphics and cartoons, for clients such as The Stranglers, that would stand out for the likes of NME and tabloid newspapers. His trump card was that he knew the location of the only colour photocopier in London at the time.
Creative abilities, coupled with mastery of communication channels, are as crucial today. Take a recent example: one Premiership footballer client wants Whatsapp to be his primary platform for communicating with his digital-savvy audience.
Back to basics
Edwards explains: "In the 1990s, particularly, PR became a bit processed. It was about volume; lots of words and back-up documents. But social media has brought us back to the basics in many ways. With Instagram, which I love as a medium, we can pull out a funny little slogan or picture or something, and it's picked up instantaneously by hundreds, maybe thousands, of media. It doesn't require even words or a press release."
Mohan adds: "A lot of traditional media organisations thought they had a God-given right to create content and people would subscribe to look at [it], whereas now banks are publishers, individuals are publishers. They don't necessarily have to interact directly with traditional media.
"We can help produce a popular video that we know is going to be shared and liked around the world, and – if it's a good and fun enough idea, or has a serious or campaigning message that stands out in this cluttered multimedia landscape – traditional media will pick it up anyway."
To publicise Phil Collins' appearance at the British Summer Time (BST) festival in Hyde Park in June, former showbiz journalist Mohan invited comedian Al Murray (a big Collins fan, and keen drummer) to star in a promotional video in which he mimicked Collins' playing. The clip was uploaded on to the social channels of event organiser AEG, the Outside Organisation and Collins himself.
Mohan explains: "It was far more effective than a couple of paragraphs in a print product. Because it was a funny piece of video… it was in The Sun online, the Mirror [and] Clash Music, it was picked up around the world by Billboard and various other publications. Out of that slightly crazy, populist, almost tabloid idea, we got huge coverage."
This leads to a more profound issue about the changing nature of marcoms. "What was that video… Was that an ad? Was that PR? Was that marketing? It's just content," Mohan says.
Blurred lines
So where does PR sit in the marcoms mix these days? Edwards says ad agencies have a problem: "[Advertising] isn't dead, but it's not about [paid-for] advertising any more. A good PR campaign is so much more effective, influential and quicker."
Indeed, Mohan predicts a future where the "badges" of 'advertising' and 'PR' agencies may disappear, replaced by simply 'media' or 'content'.
In the shorter term, Edwards anticipates problems for PR agencies that don't modernise: "Some [traditional PR agencies] are very old- fashioned, process-driven, very slow, lots of massive meetings with millions of people sitting around tables making presentations."
Edwards decries the "antiquated" approach of treating different elements of the media – whether radio, social media, or anything else – as specialisms with dedicated teams.
But, again, modernising doesn't mean abandoning core disciplines. He bemoans the demise of another traditional PR trump card, contacts – linking this to overuse of email and the decline in phone calls: "People will say: 'I've sent 500 emails'… Yeah, but who did you speak to? There's still an element of [needing] to be able to buy someone a drink; you've got to talk about it, to visualise it; you've got to be able to explain."
It was an unsolicited phone call that led Mohan and Edwards (above) to meet in the 1990s. The young journalist was told that Edwards was a good person to know. A call to the PR man's land-line led to lunch. "We've been friends ever since," says Mohan.
Edwards recalls: "I kept saying: 'Come into PR, it's pretty lively, pretty exciting every day,' and in the end, you just succumbed – you weakened."
Inside Outside
They make for an engaging and affable business partnership, displaying knowledge that justifies their positions as among the most-connected individuals in showbiz and media.
In their current roles, Edwards focuses more on music clients while Mohan is more heavily involved in crisis comms, with the two "meeting in the middle" on sport.
Corporate and financial PR involves all the team – Edwards doesn't believe in the strict demarcation of departments: "Some music campaigns we'll do almost all through corporate PR, we'll do it through the City pages, the financial pages of the Standard. It isn't always about the music; it might be the person who produces the music, or the head of the record company. It's actually often a business story and the music follows behind."
It may surprise some that financial and corporate PR are strings to Outside's bow, but the agency's approach is informed by its entertainment background. For example, a "glamorous spin" was put on Richard Desmond's media business Northern & Shell through publicity for Desmond's band, the RD Crusaders; its varying line-up has featured famous musicians, with the businessman on drums.
"It made Richard look a lot more friendly; like a normal bloke who plays rock and roll," Edwards says. "It can be that a music person needs a corporate approach, and a corporate person needs a music approach. We try to look at everything a bit creatively, rather than saying: 'That's this department, that's the other department.'"
Events are another big part of Outside's remit, with the Pride of Britain Awards, MOBOs and British Summer Time festival among the roster.
One of the most recent was One Love Manchester – the high-profile concert that followed the Manchester Arena bombing in May. Edwards told the audience at the PRWeek Awards that at a recent Stone Roses gig, a concert-goer thanked him: she had been in the Arena when the bomb exploded, and One Love inspired her to venture out again.
---
Also see: Case study – The challenges of launching One Love Manchester, less than two weeks after the attack
---
"It was a lovely sense of positivity [around One Love]," Edwards says. "On a good day, the power of good from the PR industry is just brilliant. It was humbling. We were proud to be part of that."
Protecting the legacy
Outside Organisation, which employs about 20 staff, grew its revenue 40 per cent to £2.1m last year. Edwards foresees a similar performance in 2017, with a strong second half after a "tough" first.
Could overseas openings be on the cards? Edwards is cautious, preferring relationships with counterparts in other countries. Outside previously looked at opening in Germany, France, Australia, Dubai – even the US, with backing from Bowie – but high overheads were a deterrent.
The business has had several approaches over the years; Edwards cites Weber Shandwick and, intriguingly, the recently collapsed Bell Pottinger as examples. Would he sell?
"It's a legacy and I wouldn't want to just chuck it away for a deal," Edwards says. "It would have to be about 'how can we expand and develop the brand?' We're not closed to that conversation, but equally, we haven't got a 'for sale' sign outside."
A greater focus on tech and financial comms is planned. Growth in content creation is also among Mohan's priorities. He says the agency is "not blinkered" in its attitude to different platforms: "I'm one of the first former [national newspaper] editors who 'gets' social and digital media, because it was on my watch. Previous editors [who] have gone into PR have barely had a website to worry about. As well as producing a very popular print product, I had to be very conscious of how social and digital media sit alongside that. That's helped and framed my work alongside Alan."
Mohan adds: "Depending on the client, we have a very strong traditional media strategy, hand-in-hand with a social and digital one. It's mad to separate them… they have to have the same ethos, language, values, so it makes sense that it's all done by the same brains under the same roof."
Far from Mohan's appointment signalling a step back from his day-to-day duties, Edwards says he has been working longer and harder since the CEO arrived – although, in the longer term, he sees himself in a more "ambassadorial" role.
"[PR] is the opposite of being a footballer," Edwards says. "You get better as you get older. The more contacts you've got, the more knowledge [and] skills you've got. You can keep your stamina. I probably go out exactly the same as when I was a teenager, four or five nights a week. I love it."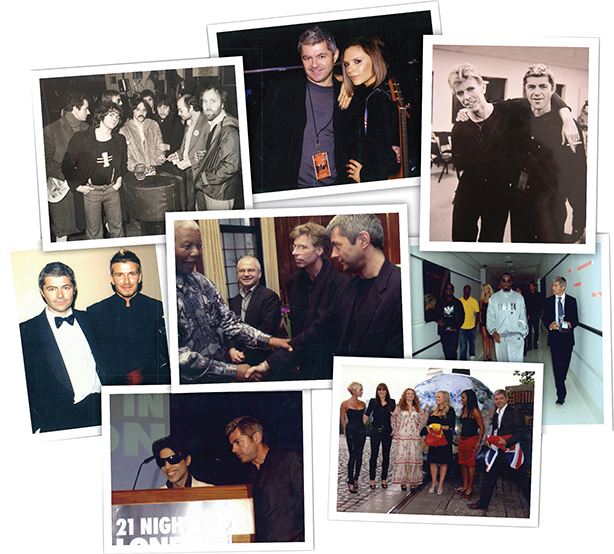 Contacts and clients (clockwise from top left) The Stranglers, Victoria Beckham, David Bowie, Puff Daddy, The Spice Girls, Prince, David Beckham, Nelson Mandela

Edwards insists he won't be retiring to Spain to play golf soon – how could he leave just as PR enjoys a digital-fuelled renaissance?
Edwards beams: "For the creative PR and individual, this is a golden era of PR. You can influence more people in a shorter space of time. You can influence the world in a day."
Mohan on…
Celebrity publicists: "In the 1990s, a lot of Hollywood publicists, particularly, wouldn't even return a call to a journalist from the Daily Mail or The Sun. They had a very snobby attitude towards it. Whereas now, if you don't talk to the Daily Mail it's at your absolute peril, because the Mail Online can shred your Hollywood client's reputation in seconds."
Being a 'showbiz' corporate PR: "We're quite attractive to maybe slightly maverick CEOs who understand popular culture of a certain generation. They understand the power of music and art, and want some of that glitz and glamour brought to their brand… to stand out in a very cluttered media landscape."
Moving from The Sun to PR: "People ask me: 'What's it like on the dark side? Oh, you're out of the dark side…'"