Morrisons targets vampires in spooky stunt
Cirkle came up with a delicious, not to mention highly practical, product alteration for Halloween for its client Morrisons.
A new limited edition 10-inch garlic pizza bread went on sale from 26 October (and remains available until 5 November), with a flavour 600 per cent stronger than its regular garlic flatbread. The company said that this was sure to keep vampires (and, let's be honest, some humans) at bay this Halloween, with its taste likely to linger on the breath for up to 12 hours.
The trick worked a treat, earning column inches in The Sun, Express and local outlets aplenty. Cirkle has handled Morrisons' product PR since early last year.
October 26, 2017
Virgin Holidays' LGBT+ discrimination spoof
Virgin Holidays created a spoof film with its PR agency One Green Bean and media company ATTN to highlight the discrimination faced by LGBT+ couples on holiday.
The video is based on research from the travel company that found that just five per cent of LGBT+ couples feel at ease showing affection on holiday, against 84 per cent for straight couples.
Titled 'What if we treated straight couples the way gay couples are treated on holiday?', it highlights this disparity and reveals some of the situations that LGBT+ couples typically experience. These include the judgment experienced when putting sun cream on a partner's back and requesting a double bed in a hotel room.
Virgin founder Sir Richard Branson said: "It is shocking that in today's society some of us can't even enjoy a simple holiday without fear of discrimination."
NUNdos offers heavenly promo
To promote the new Channel 5 series Bad Habits, Holy Orders, which follows five selfie-obsessed young women experiencing life in a convent, the broadcaster's comms team and agency Taylor Herring produced NUNdos – a pop-up soup shop in London's Shoreditch, staffed by sisters from convents in Swaffham and Chesterfield.
Diners are encouraged to leave their phones in the 'amnesty bin', and take part in "life-affirming exercises and soul-searching activities", and converse with the sisters.
Meals served go by names including Mother Superior's Chicken Broth and Wholesome Lentil Soup.
Big, bold, a bit silly, and very soulful: what's not to like?
#LetsNailIt tackles modern slavery
To tie in with Anti-Slavery Day (18 October), Avon & Somerset Police used this striking campaign to raise awareness of the issue of modern-day slaves working in nail salons.
Police officers shared images of themselves on social media wearing colourful nail varnish using #LetsNailIt, linking it to an article about human trafficking.
We've bent uniform rules to let officers paint their nails in support of #AntiSlaveryDay #LetsNailIt ACC Nikki Watson chose neon yellow ???? pic.twitter.com/ctTacvBYA5

— Avon&Somerset Police (@ASPolice) October 18, 2017
The campaign wasn't universally popular, and received a backlash in some quarters. The Sun labelled the scheme a "gimmick" on its front page, arguing that it's a distraction as crime in the area soars.
But it received support from Bristol North West MP Darren Jones, who brought the issue to higher prominence when he wore nail varnish during a speech in Parliament to highlight the campaign.
It may not have been to everyone's taste, but the campaign succeeded in generating publicity about a serious problem in an innovative and creative way.
Pregnant Then Screwed: March of the Mummies
Campaign organisation Pregnant Then Screwed descended on Trafalgar Square and multiple locations around the UK on Halloween for the aptly named March of the Mummies.
Around 1,000 people (some dressed in Halloween outfits) turned out in London, Manchester, Newcastle, Cardiff, Belfast and Glasgow.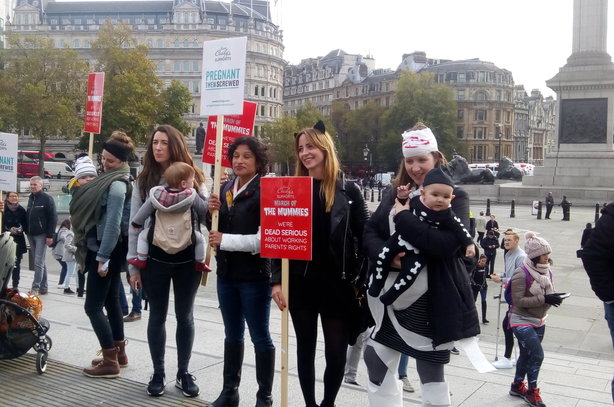 The group says pregnant women and those on maternity leave are regularly discriminated against by employers. Its aims include increasing the time limit on a tribunal claim from three to at least six months; requiring firms to report on how many flexible working requests are made and granted; and introducing subsidised childcare from six months old rather than three years.
A host of celebrity and political speakers attended the London event, organised by PTS's Joeli Brearley, including Green MP Caroline Lucas; Sophie Walker, leader of the Women's Equality Party; and former Blue Peter presenter Helen Skelton.

Campaigners handed a delegation of MPs a petition with their demands at the end of the event.