On the good mornings, Melissa Brotz wakes up to emails from Asia-Pacific where Abbott Laboratories boasts a strong foothold and market share.
Brotz may even be bolstered by a heartwarming headline, such as, "Singer, 10, performs at the Albert Hall thanks to hi-tech patch for diabetes that monitors her blood sugar level." Sometimes she gets to take her 16-year-old son to work and, on rare occasions, even works out.
On the bad mornings, Brotz gets urgent phone calls and texts. And for Abbott's head of public affairs, that could mean any number of things.
"I've been here 21 years. I've seen a lot and been through a lot," Brotz notes. "My blood pressure and calibration level is a lot more tolerant than it was 10 years ago."
Over the course of Brotz's career, the legacy health giant has undergone significant transformation to adapt to a changing industry. In 2011, it announced one of its most extreme moves yet: It would spin off its drug portfolio, including Humira, and pipeline into a separate company, AbbVie.
The idea was to drive shareholder value by creating a separate company for more risk-tolerant investors willing to put their money into the hit-and-miss proprietary pharma business. Abbott was left with the steadier areas of medical devices, equipment products, and overseas drug sales. The deal was finally completed on January 2, 2013.
It was a strategy the investor community welcomed, with Abbott and AbbVie tripling their market capitalization to almost $250 billion since the separation. The day before the deal was announced, Abbott's market cap was $81.6 billion — it now stands at more than $97 billion.
This change required an evolution in comms to leverage social media and other technologies that were unlocking brand storytelling's potential.
"We were able to turn a traditional comms organization and work toward giving Abbott one that is vibrant, dynamic, and current," she adds. "Our goal is to always experiment, take calculated risks, and ensure we're innovating in our own communications. From a healthcare company perspective, we've begun to do that, but we're still young on that journey."
Going global and local
In 2013, CEO Miles White wrote an op-ed for the Harvard Business Review titled The Reinvention Imperative, an apt headline for an executive whose 18-year tenure in the top role has included more than $100 billion in publicly announced acquisitions.
In it, he explains why Abbott, among other things, would place greater emphasis on having a "more powerful and meaningful corporate brand."
"It became clear to management that this was a different Abbott," Brotz explains.
Instead of only orienting marketing around each individual brand, it would also build the profile of its parent company, "something drug and medical device makers have typically been loathe to do," as The Wall Street Journal put it.
Right before the AbbVie split, White established the global marketing council, which includes key function heads and senior executives, and created the CMO position, currently occupied by Elaine Leavenworth, Brotz's superior.
The point isn't to de-emphasize the product brands, but to add value by creating an "overarching connection with [Abbott's] corporate identity," Brotz says.
Establishing brand trust is critical in emerging markets such as APAC, where Abbott has carved out a substantial portion of global revenue. "While U.S. and other developed markets remain critical, the portfolio of businesses and the fast-growing emerging markets became more important. In many markets, consumers are bigger decision-makers in terms of our portfolio of products," Brotz says.
"It became more important that people have trust in the corporate brand when coming into contact with product brands. That was the start of our journey in terms of building a corporate identity," she adds.
The journey has included some reputational issues, such as the company's aggressive sales tactics that generated controversy.
In July 2016, an Abbott salesman in India committed suicide by jumping in front of a train after feeling he couldn't meet the company's sales targets. His death prompted more than 250 drug representatives in the country to walk off the job in protest.
"The health and safety of our employees is paramount," Brotz says. "That was a tragic situation. We have very high ethical standards around the world. Our goal is to always ensure we're following those."
In its home state of Illinois, Abbott was sued this year by a county alleging the corporation helped fuel the opioid crisis by co-promoting OxyContin. The suit alleges Abbott misled the public on its addictive properties and benefits when it assisted in promoting the drug manufactured by Purdue Pharma.
Brotz contends there wasn't significant coverage around the issue. "The company doesn't sell the product. It hasn't for close to two decades. From a comms standpoint, we can clarify the situation, but what we're doing now in the pain arena is extremely helpful for people and gives them an alternative."
While Purdue has been sued several times — it agreed to pay the U.S. Department of Justice $600 million in fines in 2007 — the company indemnified Abbott, thereby shielding Abbott from legal action.
Life. To the Fullest.
Abbott released the results of a survey last year enumerating what nearly 2 million people thought most fulfilled their lives.
The top four answers were: family (more than 32%), success (12%), giving (8%), and health (7%). These insights helped the company understand what fulfillment means worldwide and formed the bedrock on which Abbott built its new corporate identity: Life. To the Fullest.
"For a brand to mean something, it has to be authentic," says Leavenworth. "Life. To the Fullest. isn't a campaign; it's what we do every day — helping people live their best lives. That's why our strategy started from the inside-out, with employees at the core. Our role is to work with Abbott teams across the company to share how our identity comes to life in a tangible, personal way, in our interactions with the people we serve."
As part of the survey's launch, Abbott rolled out content, such as hacks and tips, across social media and launched a dedicated news hub: www.LifetotheFullest.abbott.
Abbott has used the past few years to raise its awareness and reputation in target countries, such as India and China, Brotz says.
This new identity helped evolve the company's "pharmaceutical look and feel" with an accessible voice that doesn't overwhelm the public with technical language.
"It's so easy to say we changed our look and voice, but when we went through it, it took a lot of focus, commitment, training, and retraining," Brotz says.
The previous corporate-speak nature of the healthcare company lent itself to parody. Brotz recalls her team sharing a "brand booklet" about messaging with the rest of the team, who looked at it and said, "We can talk to people the way we actually converse?"
"I challenge others and I get challenged every day on that," Brotz explains.
From publicist to publisher
The groundwork was finally laid for comms to take a giant step forward.
"Five years ago, we were an editorial organization. Now we're brand publishers," Brotz notes, essentially delivering an edict on what PR is in the social age.
Comms is now expected to create video, think about paid media strategies around content, and execute on other more modern tasks. As its responsibilities have expanded, so too have comms' capabilities, Brotz says.
"We sit around a table and brainstorm how to get a three minute story into 15 to 30 seconds," she adds.
During that time, it muscled up on content and other developing areas by hiring new talent, "with consumer and more competitive positioning backgrounds, as well as journalists who would help us with our storytelling capability," Brotz notes.
In 2013, Abbott hired Vicky Assardo as comms head for the diabetes care business. But three years later, Abbott made a slew of hires for content. After managing content and digital marketing for MasterCard for almost 10 years, Guillermo Morrone joined as director of global editorial and content strategy. Mike Kellams, a former associate managing editor for the Chicago Tribune, joined as senior manager of editorial content.
"Our content team has become expert at creation and distribution, but all of our communicators are creating content," Brotz explains.
That same year, Ellen Wichman, a former healthcare reporter at the Chicago Tribune, joined Abbott to head external communications for workplace, marketing, and policy.
Abbott also expanded or switched up the roles of associates to fill out the team. Kathryn McKenzie, formerly senior director of public affairs brand comms, now leads the content team. Darcy Ross, formerly director of public affairs and global diagnostics, became head of media relations.
This ramping up of comms manifests itself in strategies involving earned media and content, a combination Abbott put to use when it acquired device company St. Jude Medical, a $25 billion deal and one of the biggest M&A stories in 2016. Brotz says the brand's strategy was to show how complementary St. Jude's portfolio would be to Abbott's, "giving [it] one of the best and most competitive medical device business out there," with top positions in key cardiovascular segments, chronic pain, and others.
After the acquisition, Abbott's comms team produced human interest stories, such as the feature High Tech, with a Mother's Touch. It tells the story of a woman discovering a birth defect that affects her heart — a condition her own mother helps treat every day as an Abbott employee.
A few months later, a story appeared in The Wall Street Journal discussing how device makers such as St. Jude Medical are exploring ways to treat Parkinson's disease through deep brain stimulation. All of this occurred while Abbott produced short-form videos and released them on its YouTube channel.
"Storytelling became more and more important to us," Brotz explains. "We're still the publicists and issues managers, but we've also become the storytellers and publishers."
Spreading the word
Recently, the FDA approved Abbott's FreeStyle Libre, a glucose-monitoring device for diabetes patients that eliminates the painful routine of pricking their fingers with a needle. Libre launched in Europe in 2014, and there was much anticipation from the media around its imminent approval in the U.S.
Brotz helped generate awareness around Libre's FDA approval in September and the "revolutionary" technology by nurturing the media's appetite, producing social and digital content across all social channels, and engaging diabetes bloggers and other influencers during and after the announcement.
Its stateside splash boosted its stock and caused financial headaches for its competitors on Wall Street. The product is expected to launch sometime before year's end.
Melissa Brotz Résumé
2012-present Abbott, divisional vice president, head of public affairs
2003-2012 Abbott, divisional vice president, external communications
2002-2003 Abbott, director, external communications
1998-2002 Abbott, director, U.S. pharmaceutical public affairs
1996-1998 Abbott, manager, U.S. pharmaceutical public affairs
1994-1996 Golin/Harris, account supervisor
1990-1994 Porter/Novelli, assistant account executive
(DVP: Divisional Vice President)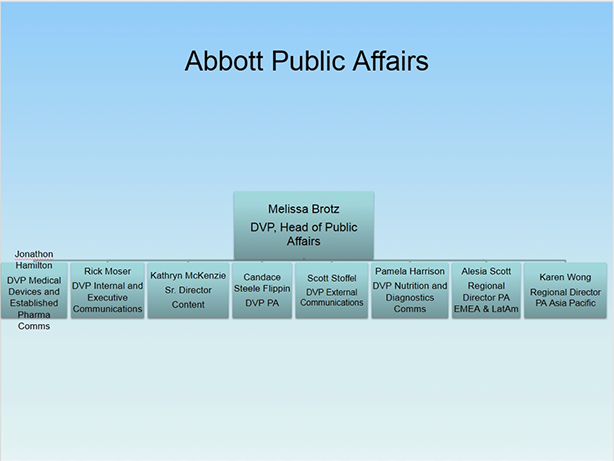 Melissa Brotz: DVP, head of public affairs
Jonathan Hamilton: DVP, medical devices and established pharma comms
Rick Moser: DVP, internal and executive comms
Kathryn McKenzie: Senior Director, content
Candace Steele Flippin: DVP of PA
Scott Stoffel: DVP, external comms
Pamela Harrison: DVP, nutrition and diagnostics comms
Alesia Scott: regional director of PA for EMEA and LatAm
Karen Wong: regional director of PA for APAC