The PM drops an E
Theresa May's unfortunat peech on Wednesday allowed plenty a commentator a chance to try their hand at the British national sport of being snide on Twitter. Here are five of Flack's favourite examples from its metropolitan liberal elite bubble:
So this all ended with the pm dropping an E on stage? Bold.

— Karim Palant (@KarimPalant) October 4, 2017
Source tells me ISIS have claimed responsibility for Theresa May's speech

— Hussein Kesvani (@HKesvani) October 4, 2017
In fairness, this was always the promise of Theresa May: no matter how bad the circumstances, I will plough on regardless.

— Helen Lewis (@helenlewis) October 4, 2017
Theresa May should unveil a big stone sculpture engraved with her key policies. It would be a massive improvement on the current situation.

— James O'Brien (@mrjamesob) October 5, 2017
It's not the coughing that carries you off it's the political coffin they carry you off in... #Conservativeconference #TheresaMay

— Rhodri Harries (@rhodrih) October 4, 2017
PHA and Katie Hopkins a-dress the press
Kudos to PHA Media, which ran an eye-catching stunt at the conference in Manchester - putting controversial broadcaster Katie Hopkins in a wedding dress to drum up interest in the The Campaign for Family Law Reform, whose chair is the founder of another long-term client, the law firm Vardags.
Hopkins' appearance in her nuptial garb on Monday gained online coverage in several outlets, a large picture in the Telegraph, and plenty of interest in their client among delegates.
---
Read next: Flack at #CPC17: Lounge wars, Sir Lynton's retreat, lanyards, LGBTs v DUPs
---
How did they pull it off? "A team of four from PHA worked together to get the dress in, which was carried under an arm in a suit carrier bag. When asked by security, we responded that it was a prop for a Fringe event," explains PHA director James Clench.
"We then got Katie ready in the Midland [the official conference hotel] and walked her out, across to the conference centre where she was soon surrounded by the press pack. There were two of us ahead, one taking snaps on their iPhone and one behind carrying the 8ft dress train." Clench says Abbi Smith deserves the lion's share of the credit for the activity.
Former radio host Katie Hopkins hands out leaflets in a wedding dress at Tory Conference #CPC17 https://t.co/Y8ld1cUEaO pic.twitter.com/J3ZtfGjScu

— Mirror Politics (@MirrorPolitics) October 2, 2017
Katie Hopkins attended #CC17 in a wedding dress. We are all the guy in pink. pic.twitter.com/tKD2YJKIVv

— Joshua Zitser (@mrjoshz) October 2, 2017
Separately, but still on the wedding front, Flack enjoyed this quirky invite to the launch event of Mearns & Pike, a newly-formed healthcare agency. Sadly, Flack will miss out on Kirsty and Jon's big day, it being the PRWeek UK Awards that evening.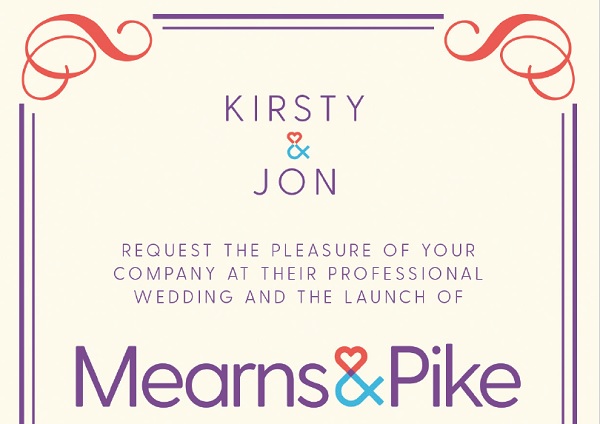 Bell's booking with bookies blasted
The Campaign for Fairer Gambling's attempt to tighten the rules on bookmakers' controversial fixed odds betting terminals (FOBTs) has returned its focus on the bookies' high-profile former PR man, Lord Bell.
A snarky piece of sponsored content by the campaign on the political blog Guido Fawkes, begins: "Last month, Lord Bell appeared on Newsnight fronting up the disgraced Bell Pottinger, the PR spinners he co-founded, which has now been dissolved."
"Rewind a few years and his Lordship was fronting up another disgraceful entity. In 2013, he was the guest of honour at the annual shindig of the Association of British Bloodsuckers (Bookmakers – Ed) – the ABB. According to Private Eye, he encouraged them to take a leaf out of the tobacco lobby's playbook and believe 'your opponents are wrong, and the moment you start acknowledging that they have an argument, you're dead'."
The campaign, which is part run by an outspoken former spokesman for Jeremy Corbyn, will have delighted in seeing a rift in the gambling industry become public at the Conservative Party Conference this week, ahead of a consultation due shortly that will take in FOBTs and other industry issues.
It's not looking good for the industry - one attendee at the tense fringe event remarked to Flack that the industry looked like it was "arguing over the last deckchair on the titanic".
Paul 'Boris' Bristow
APPC chairman Paul Bristow (below) has a knack - unfortunate or not, Flack will leave that up to you to decide - of being mistaken for politicians.
This year he was accused of having "Boris Johnson hair" by one wag at the Conservative Party Conference. At a previous conference he arrived late at a fringe event and, upon giving his name to the desk, was ushered to the front and almost got a chance to speak, before the penny dropped that no, he was not in fact the former Lib Dem health minister Paul Burstow.
Great event by the young @APPC_UK at #CPC17 with Melissa Barnett from @PBConsultingUK and @wallacee from @GKStrategy pic.twitter.com/zkE4Vf02q5

— Paul Bristow (@paulbristow79) October 1, 2017
To ask or not to ask
The thorny issue of PRs asking for copy approval has been a big talking point this week, after an alleged (but denied) intervention by TV presenter Clare Balding.
The Sun has waded into the phenomena with its usual forthrightness. The Currant Bun's Dan Wootton has gone as far as name and shame those celebs who, he alleges, take part in the practice, and those who don't. Take a look.
Meanwhile, other PR pros have given their thoughts on the issue to PRWeek.
For David Woodward, director of strategy at Weber Shandwick London, said the trend is "particularly sensitive" because it "stands for something much bigger: integrity, trust and capability".
"When a journalist receives a request for copy approval, what they actually hear is something very different. While the PR is thinking about their responsibility to ensure the client's messages are conveyed accurately, what the journalist hears is a direct attack on his or her editorial integrity.
"They also hear a lack of trust in their ability to faithfully represent the content of the interview. And they hear misgivings over their own capability to do their jobs properly. No wonder then, that merely asking for copy approval is a minefield."
Megan Carver, who counts celebrities among the clients of her eponymous PR agency, described asking for copy approval as "glorified advertising".
"The role of a publicist is to brief their client ahead of an interview, so instead of asking for approval, the publicist should be fully briefing the client and giving them the tools they need to be interviewed properly."
Flack is sure this debate won't be ending any time soon.
Oh, and on the subject of copy approval (sorry)...
Interviewing an MP. He wants full coffee approval. pic.twitter.com/PfXtn3iQ5k

— David Wooding (@DavidWooding) 6 October 2017
From Hogumentary to Hollywood
Last month personalised card and gift retailer Moonpig and its PR agency Brands2Life created a mockumentary celebrating and retiring the company's original logo.
Narrated by a man in a pig head mask, the Hogumentary film (below) playfully pays tribute to the pig logo, which has accompanied the brand since it launched in 2000.
Moonpig's head of PR and social media Peter Hoffer said: "Creating the Hogumentary was a way for us to celebrate and have a bit of fun with what happens when a brand icon steps away from the limelight."
The quirky clip was filmed at Moonpig's head office in London, and includes a number of cameos from the Brands2Life team. What a multi-talented bunch.
Unfortunately, the identities of these budding thespians are a closely guarded secret. But why, Flack hears you scream? No doubt the PR agency fears Tinseltown will come-a-knocking if these superb players are unmasked.
Digital relief
Here's a good cause that's worth a mention. London PR agency Harvard has been supporting a fundraising initiative for Unicef UK and serial tech entrepreneur Emma Sinclair to help the plight of people in Syria.
But, unusually, this scheme focuses on raising funds to help roll out 'innovation labs' where young people in the country can receive support, seed funding and training in digital skills.
It's Unicef UK's first crowdfunding initiative. Click here for more details, and view the video below: