This is the first time the brand has repositioned its strapline since it launched "Power to you" in 2009.
The new brand-positioning strategy and related advertising campaigns were developed after extensive research and concept testing by Kantar, which included qualitative and quantitative responses from 30,000 people in 17 countries.
"At a time of growing concerns about the future, due to pressing issues the planet is facing, it's important to highlight that technological innovations over the next few years will have a profoundly positive effect," Serpil Timuray, chief commercial operations and strategy officer said at a media briefing. "In order to express this point of view, we are repositioning the Vodafone brand on the theme of future optimism."
The brand's new strapline will read: "The future is exciting. Ready?" The first part of the strapline will be presented in local languages with the second part – "Ready?" – presented in English. For example, in Italy the strapline will read: "Il futuro è straordinario. Ready?"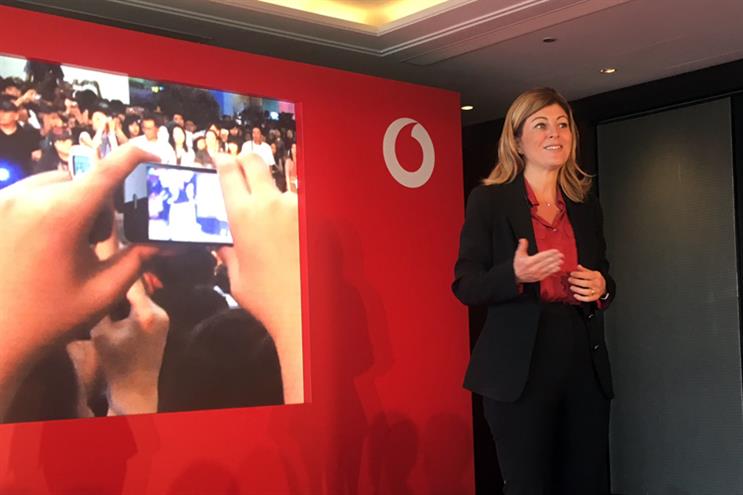 It is accompanied by "the largest global ad campaign in all of Vodafone's 33-year history," along with a refreshed logo and visual identity, Timuray continued.
The work was supported by a cross-functional team from WPP: Team Red lead by Heather MacPherson.
Within this team, Vodafone worked with Santo London's agency head, Orlando Hooper-Greenhill, and creative directors Tom Evans and Olly Courtney to design the brand repositioning and campaign.
Leading the ad campaign is a 60-second film produced by Ridley Scott Associates and directed by Caspar Balslev. Titled "The Story of Hello" (video above), it focuses on the constancy of human interaction even while technologies evolve over time.
The ad will air on Friday across most of the brand's markets, said Sara Oliveira, Vodafone's global head of brand.
"Our new brand positioning is intended to embody Vodafone's mission and purpose to help our communities adapt and prosper as new trends shape the world," Timuray said.
The new Vodafone logo places much greater emphasis on Vodafone's "speech mark." Designed by Brand Union, the mark will appear as the central graphic focus and will be overlaid on all marketing and marketing communications activity. It will also appear in a new 2D design in place of the older skeuomorphic 3D image.
Will things get better?
To position the campaign further, Vodafone commissioned an opinion study with YouGov to determine how people felt about the future.
The study surveyed 13,000 people in 14 countries and found that people are more positive about the future. Nearly half, 48%, think that today's children will have a better life, but nearly a third, 32%, think it'll be worse.
There was a marked difference between the responses from developed countries versus developing. The more developed nations tend towards pessimism about the future. In Italy, Germany, and the U.K., those who think things are will get worse outnumber the optimists.
Most pessimistic was the U.K., where only 32% think things will get better while 39% think things will get worse.
On the flipside, developing markets are understandably confident that things will get better for their children. Leading the charge is India, where an overwhelming 78% are confident things will get better versus 14% who think things will get worse.
The study also found a split between respondents based on age. The younger someone is, the more optimistic they tend to be about the future. Overall, 62% of 18-to-24 year olds are confident that things will be better.
This story first appeared on campaignlive.co.uk.