Several attendees said that the exhibition zone (below) within the conference centre, where companies and charities can pay upwards of £25,000 for a spot, was less packed than in previous years.
Political blog Guido suggested that the number of MPs in attendance at what is an expensive and tiring event was well below 90.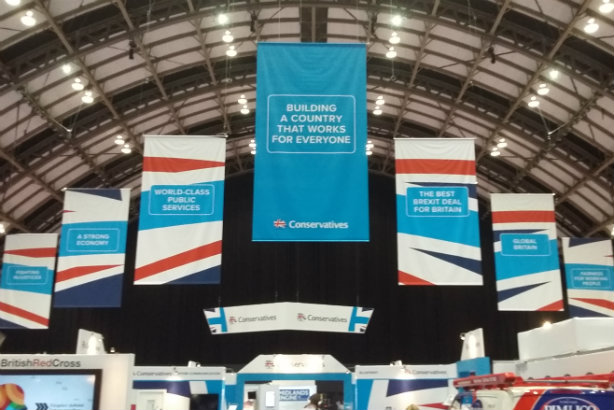 It is generally agreed that conferences are becoming smaller and less crucial, but the governing party's conference remains a must-attend for anyone needing to get the inside track, or for that matter wanting to be seen to have the inside track, and an opportunity to put your company or your industry in the mind of movers and shakers.
PRWeek looks at a selection of the largest and most eye-catching companies and industries shouting about themselves at conference:
E-cigarettes and vaping
The profile of the tobacco industry at conference took some attendees by surprise. Tobacco giants are keen to show off their new, non-combustible products and lobby for favourable regulations for them.
Licensed Taxi Drivers' Association
Having become a political football over the potential loss of its London licence, Uber was the talk of Manchester. The Licensed Taxi Drivers' Association, which has run a smart campaign to draw attention to Uber's apparent failings on behalf of its black cab driver members, was represented at the event by general secretary Steve McNamara and other staff, including serving cabbies handing out leaflets to delegates.
McNamara told PRWeek: "The main reason that we're in Manchester today is because we're very keen to promote our new green verhicle - we're concerned and our members are very concerned about the environment they work in, and obviously there's lots of issues in taxi legislation at the moment and one of them is the Uber licence, now that's not our main reason for being here, we're here most years, long before Uber were around and hopefully we'll still be here long after Uber are gone."
Of the Uber topic having become a party political issue, McNamara said: "It's been painted that way purely because we've got a Labour mayor... but I don't think it's a party political issue at all, it's a London issue - anyone who is in change of transport in London recognises that there is a safety issue and it just so happens that the safety renewal has fallen on this Mayor's watch."
Banking and financial services
Natwest was an exhibitor, while newly merged trade body UK Finance was involved in three fringe events, and BACS, the organisation behind various payment methods in the UK, was also involved in an event. Lloyds Banking Group sponsored the parliamentary lounge.
Airlander
A new arrival to the conference was Hybrid Air Vehicles, a British SME currently flight testing the Airlander, which it says will be the world's largest aircraft. It says the firm can tap into a potential multi-billion-pound export market and create hundres of UK jobs.
Head of partnerships and comms Chris Daniels told PRWeek: "It is important for us to be at CPC17 to make our politicians aware of this and get them excited about this Great British icon that is a poster-child of the UK's nascent industrial strategy.
"In a post-Brexit environment, companies like ours are exactly the ones the UK Government should be promoting and exporting. This is the first time we've ever been involved with any Party Conference and we've had a great first couple of days and are delighted with the interest from Ministers and local party members, young and old alike."
Gambling
With the gambling industry facing a Government review of stakes and prizes on gaming machines, and regulations on its marketing and advertising, trade body BACTA and think-tank IPPR hosted a session on reducing harm to problem gamblers, which proved a tense affair.
Energy and industry
The energy industry consistently brings big budgets to conference; exhibitors include fracking firm INEOS Shale, the Northern Conservatives reception was sponsored by mining firm Sirius Minerals, Cadent Gas sponsored another reception for the industry, the Nuclear Industry Association held an event and small nuclear reactor technology firm NuScale sponsored the back of the conference passes. The Offshore Wind Industry Council, Dong Energy, Octopus Energy and Energy UK were among others running various activity for an industry threatened by energy reforms proposed by the Prime Minister to help consumers.
Pimlico Plumbers
The plumbing group, led by prominent Conservative supporter Charlie Mullins, again had a large stand at conference, and a drinks reception organised by Connect Communications. Mullins told PRWeek last year that the conference was "one of the most important things on our yearly calendar".
Great to introduce @AlbertoCostaMP to some of our PP #apprentices and to give or plumbing challenge a go! #CPC17 pic.twitter.com/OACXIqycMQ

— Charlie Mullins OBE (@PimlicoPlumbers) October 5, 2017
Tratos
Another large stand, which attracted large numbers of attendees with food giveaways, belonged to cable manufacturer Tratos, which is campaigning for changes to the law which would mean constructers are forced to use higher-spec, less flammable cables in new buildings.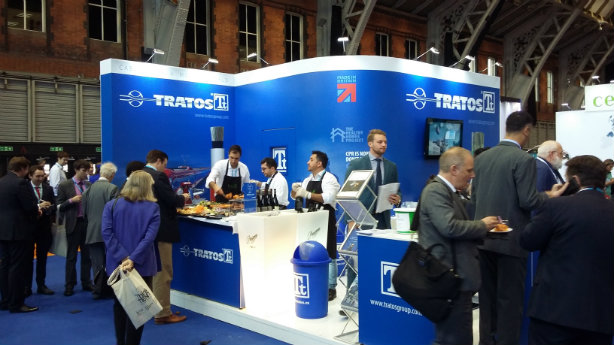 Media
ConservativeHome, whose proprietor and top two writers feature on a new list of the most influential people on the right, had a busy programme of events in its marquee within the conference secure zone. BrexitCentral, another right-wing new media outlet set up by former TaxPayers' Alliance boss Jonathan Isaby, held a rally and its neon pink freebies were prominent around the conference.
News UK and The Telegraph were, respectively, partners of the London Lounge (organised by agency iNHouse Communications) and The Business Hub (organised by PLMR.)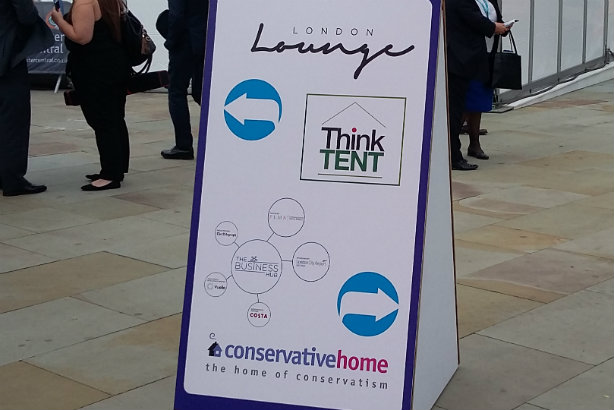 Agencies
In addition to the aforementioned prominent marquees (above) hosted by iNHouse and PLMR, MHP had a smaller lounge within the conference hotel, Connect Communications was there in strength with ten staffers, Newgate Communications had at least five staff (including former Philip Hammond spad Siân Jones) in attendance and organised a pub quiz, and Invicta Public Affairs supported the party's invite-only 'The Economy Breakfast' on Tuesday morning.
The APPC were also in attendance, running a drinks event for its Young Consultants Committee on Sunday night, at which chair Paul Bristow told members that he wants to take the image of the profession "from the dark and into the light", going on to say: "You should all be proud of what you do as public affairs professionals."
Was it all worth it?
"MPs were a bit thin on the ground in Manchester this year, but lobbyists were out in force - I've never seen the Midland [the conference hotel] as packed," said Gabe Winn, founder of the agency Blakeney and formerly of Stronger In.
"Was it a successful conference for business? Corporate affairs heads I spoke to said that government was now listening to business more, but that both sides of the lobbying divide were tired, frustrated, and resigned to a lot more infighting and not a lot of progress any time soon," Winn continued.
However, another delegate gave PRWeek a slightly different take: "I think a lot of the big boys are wondering how to get business back on the agenda; it wasn't in the election and to be honest there's a feeling that the PM just isn't that fussed."
Gavin Devine, CEO of Newgate Communications, said that at the very least, the conference provided a good chance for some networking. "The average party attendee seemed to me to be flat, fearful and at times frustrated. But actually for people from business in general and the comms industry in particular the conference delivered – it is always a great place to see contacts, clients and friends efficiently and easily," he said.