Last month, disgraced PR agency Bell Pottinger became only the second firm in ten years to be thrown out of the PRCA, following a guilty ruling on a complaint about its now infamous work in South Africa.
Following the scandal, a survey of 1,400 adults by Atomik Research for PRWeek UK does suggest that the agency's actions have damaged public perceptions of the PR industry.
In response, PRCA director general Francis Ingham said he regretted that the story had lowered some people's perception of PR, and promised that the body would "work tirelessly" to defend and enhance PR's reputation.
PR industry expects swifter decisions
But has the trade body and others done enough to root out bad behaviour and enhance the reputation of the industry? And what does it say about the value of trade bodies in general?
Many in the PR industry applauded the PRCA's decision to expel Bell Pottinger.
Commenting on social media after the ruling was handed down, CIPR council member Ella Minty labelled the decision as right for the PRCA and for the global PR industry (see tweet below). Michael O'Connor, partner at comms agency Grey Sergeant, called the move "a positive stance and the right decision".
@PRCAIngham @PRCA_UK well done, Francis! The right decision for you, for us and for our industry worldwide ????????????

— Ella Minty (@EllaMinty) September 4, 2017
However, several have questioned why it took the association so long to act on bad practice.
James Herring, founder of consumer PR agency Taylor Herring, says: "It's impossible not to feel sorry for those innocent staff swept up in the scandal - but ultimately the PRCA took the correct course of action. If I had any criticism; what took them so long?
Herring adds: "Over the past couple of years there's been pretty much a damning report a month in Private Eye about the agency."
Herring says Bell Pottinger's hand "in various shady deals with corrupt regimes and tyrants is an open secret".
James Brooke, managing director at Rooster PR, also questions why Bell Pottinger was not previously investigated for what he describes as "widely rumoured unscrupulous business practises".
Echoing Herring, Brooke says the PRCA was right to expel Bell Pottinger, but adds: "While the PRCA is basking in the glow of its decision, I question why it took so long to reach this point in the first place."
Brooke, whose agency is not a member of the PRCA, also says: "Real leadership isn't just about dealing with the immediate issue, it's about working to prevent it in the first place. While the industry is in a better place today, I question whether our associations in their current form are really fit for purpose."
Brooke argues that he is "yet to be convinced the PRCA offers anything of real value to medium-sized agencies such as Rooster".
He says: "The PRCA has always been a 'nice to have' as opposed to a 'must have'... I just can't justify paying the not insignificant membership fees."
PRCA membership and revenues are up
Bell Pottinger accounted for approximately one per cent of these fees, equating to about £15,000 per year. Ingham says: "While it is not yet clear what direct impact our handling of the Bell Pottinger case will have on the revenues of the PRCA, I am sure that it will contribute towards the ongoing growth of the association."
The PRCA revealed last month that its revenue had grown from £2.89m during the 2015/16 financial year to £3.16m during 2016/17, with its membership bolstered by 31 in-house teams and 43 agencies joining in that period.
"Growth is nothing to be ashamed of. On the contrary, a larger association is a stronger one that can achieve more for its members. And one that can ensure that more practitioners are committed to an industry Code of Conduct," Ingham adds.
Can trade bodies enforce ethical practice?
Nonetheless, PR professionals have also raised concerns more broadly about the value of trade bodies. Marshall Manson, CEO at Ogilvy PR, says they do have "a useful role to play", but adds that while they should articulate and protect standards for membership and provide ethical guidelines, they aren't regulatory bodies.
As a result, Manson says trade bodies could not be relied upon to enforce ethical practice.
He says: "Ethical decision-making is the responsibility of every practitioner, from the most junior to the CEO. If we are to be the industry that most of us want - grown-up, C-suite counsel, rather than just spin doctors or publicists - industry leaders must define and really live by meaningful ethical standards."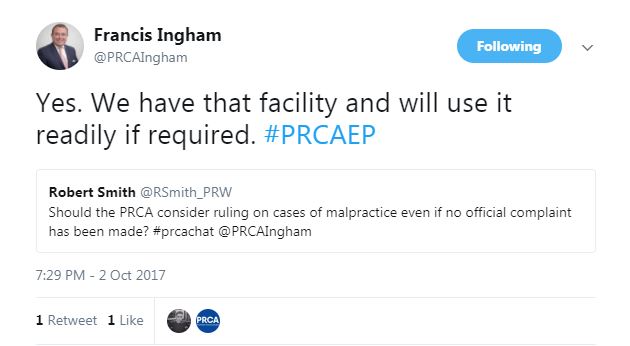 Ingham says the expulsion of Bell Pottinger sent out "a clear message" that the PR and public affairs industry was committed to the highest ethical standards in the work that it carries out.
He says: "The industry will not turn a blind eye to unethical behaviour. And that commitment proves that voluntary regulation is the best solution."
The CIPR, meanwhile, which offers representation to individual PR practitioners, says ethical conduct begins with "the personal choices" comms pros make.
The institute's president, Jason MacKenzie, says each individual who joins the CIPR makes a personal commitment to sign its Code of Conduct. While companies with 10 or more employees can join the CIPR through its corporate affiliate scheme, each employee of that company must personally sign the code to be considered a member.
MacKenzie says: "Professionals from all walks of life, including lawyers and accountants, adhere to stringent codes of conduct and public relations should be no different. That's why we've made ethics a compulsory element of continuing professional development (CPD).
"More than 2,000 of our members now commit to CPD and in doing so, demonstrate an understanding of the importance of our Code of Conduct. The fact that this figure has grown consistently over the past decade is testament to the growth of professional PR."
No plans for trade bodies to merge
The debate around ethical practice has also led some to suggest PR trade bodies should merge, and represent the industry with one voice. Brooke, for one, believes the CIPR, PRCA and APPC should consider such a move.
However, MacKenzie says the CIPR has no plans to merge with other trade bodies. "The CIPR has collaborated with trade bodies in the past and maintains an open mind to doing so in future. Industry bodies have found common ground on issues including lobbying transparency and diversity - a unified approach to these issues undoubtedly benefits the broader PR community."
But he says that because the CIPR is "on a strong financial footing", having turned over more than £4m last year, "the CIPR has no plans for a merger".
Merger or not, united action to weed out malpractice can only be welcome as the industry fights for its own reputation.