Lounge wars: PLMR parks its tank
"Good for them that they recognised a great idea... we have nothing to fear," Jo Tanner, co-founder of iNHouse Communications, told Flack of agency rival PLMR's decision to host a lounge at this year's Conservative Party Conference. iNHouse has run its London Lounge for seven years at the Conservative events and five at Labour, and once again hosted business leaders, politicians and journalists aplenty in a marquee at the front of the main venue, sponsored by clients including Starbucks, News UK and Gatwick Airport.
PLMR's 'The Business Hub' has a strikingly similar range of partners - it is sponsored by its major client London City Airport with The Telegraph as its media partner and Costa providing refreshments. What do these canvas hubs of hobnobbing cost the agencies in rental and operational fees? PLMR CEO Kevin Craig will only say that the agency's investment was "well into five figures", while iNHouse says that the London Lounge more than pays for itself through sponsorship and sub-letting.
"I've been coming to conference for 20 years and I've always been very impressed by organisations who do creative things at conference," said Craig of where the idea came from. He noted that he didn't see iNHouse as a direct competitor, as "a much smaller business than us, significantly so" - 50-strong PLMR has 11 staff at conference, more than the entire headcount of Tanner's agency.
Incidentally, MHP also invested in a loung space tucked away in the conference hotel - but didn't shell out the £200 needed to be listed in the fringe guide.
Sir Lynton's retreat
The weak position of Prime Minister Theresa May and her disastrous election campaign have, as predicted by lobbyists talking to PRWeek last week, been the dominant themes at conference this year.
The party's grassroots are not happy with how the campaign went - various stories of unpreparedness and poor campaigning have been heard through the week. Former British American Tobacco corporate comms head Fran Morrison, a party activist, told a Tory Reform Group (TRG) event that the social content provided to her by the party was almost all "too embarassing to post" on her social networks during the campaign, contrasting this with the witty and engaging Labour memes.
The campaign led to a fall in peoples' opinion of campaign guru Sir Lynton Crosby, the Australian who has masterminded the party's recent election triumphs. His firm CT Group's presence at conference was subtle - it sponsored the International Lounge, a hangout for diplomats and overseas delegates, which is tucked away out of the public gaze, next to the media zone.
---
Read next: 11 reasons why the Conservative general election campaign tanked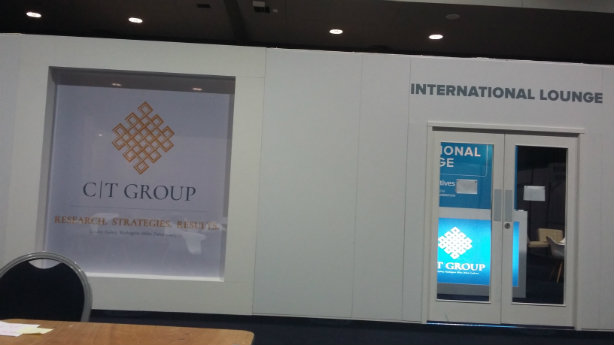 Team Ruth
"Whatever the question is in the Conservative Party right now, Jacob Rees-Mogg is not the answer," Cicero Group executive chair Iain Anderson told the aforementioned TRG event, to applause from the crowd of centrist Conservatives. "Retreating into a tweed-clad comfort zone is a disastrous idea," Anderson continued.
Anderson was speaking on a panel to promote the launch of the New Blue Book, a collection of essays on centre-right thinking he has curated. One of these is by Owen Meredith, the public affairs man who narrowly lost out on a seat in Westminster in June, who is the new chair of the TRG. The TRG's new vice-chair, meanwhile, is Flora Coleman, who works for fintech firm TransferWise in a government relations, making the group very much a public affairs affair.
What then is the answer, Flack asked Anderson later? He suggested it was the party's Scottish leader Ruth Davidson. Others clearly agree - one of the entrants into Newgate Communications' political pub quiz last night was 'Team Ruth', although they came second. "Read into that what you will," said Newgate CEO Gavin Devine.
Lanyard un-diplomacy
Tate & Lyle Sugars paid to sponsor the delegates lanyards this year (the union USDAW again did the same at the Labour Party Conference last week). Flack asked Tate & Lyle PLC why, only to be told by a patient press officer who had presumably been asked the same question several times this week, that its sugars business had been sold in 2010 to US firm ASR Group.
While @TateLyleSugars have stepped up and coughed up on Tory front (last year Tory lanyard sponsorship guide price was £16.5k) pic.twitter.com/sEn6ZhDsD6

— Sam Burne James (@samburnejames) September 21, 2017
Tate & Lyle Sugars put its weight behind the Brexit campaign before last year's referendum and has since set up the website BrexitGoldenOpportunity.com - but some delegates have decided not to put their weight behind it. Cancer Research UK staff are refusing to wear the lanyards due to a link between sugar and cancer, as apparently is publich health minister Steve Brine. Other delegates have got their hands on 'Backing British Sugar' lanyards from a rival manufacturer, while the neon pink ribbons of BrexitCentral was again very visible around the event.
Incidentally, Cancer Research were also reportedly unhappy at having their stand in the exhibition space so close to the very prominent set-up of the world's largest tobacco firm.
Policy calls, a hire from No. 10, free vapes – 'alt tobacco' lobby lights up Tory conference: https://t.co/pnLr1OZBgP #pr #CPC17 #comms pic.twitter.com/LAXGaA3MFR

— PRWeek UK (@prweekuknews) October 3, 2017
Keeping their distance
A reception last night with gay rights charity Stonewall and the LGBT+ Conservatives group had an extra poignancy by virtue of being held just a few metres away from a drinks event with the DUP, the Conservative's less than gay-friendly partners in parliamentary matrimony.
"If you were to go to that [DUP] reception, I hope you would pass on Theresa May's message that all British citizens need to deserve the fullest freedoms and protection, including equal marriage... and if you don't, at least be a good LGBT Conservative and drink all their champagne," said LGBT+ Conservatives chair Matthew Green.
The event later heard from the minister Justine Greening, who last year spoke publicly for the first time about being in a relationship with a woman. "There are still some people who aren't comfortable with the kind of values that we want to stand for in the world," she told the event. "They're over there," came a cry from the audience.
Stonewall CEO Ruth Hunt also made a wry remark about the group's leaflets showing the party as "a true LGBT champion" for half a century, noting that it wasn't the most honest about the party's views in days gone by.
Stonewall CEO @ruth_hunt at LGBT Tory event: "Don't show this to any journalists from Private Eye." pic.twitter.com/YxftbfYODm

— Sam Burne James (@samburnejames) October 3, 2017
APPC pride
Onto a different sort of pride now, and APPC chair Paul Bristow told the public affairs body's Young Consultants Committee drinks event on Sunday night that he wants to take image of profession "from the dark and into the light", going on to say: "You should all be proud of what you do as public affairs professionals."
"Lobbying is really, really crucial… so that we don't have the bad consequences of bad policy - just ask Sadiq Khan and Uber," he said.
A vaping success
Good work by James Hargrave, who works for vaping industry body UKVIA, and vapes himself. "I've managed to convince a few of my smoking friends to take up vaping," he told an event on e-cigarette policy on Monday. Even out of the office, a good lobbyist never stops persuading people to do things.
Final whistle
Elsewhere in iNHouse news, its sponsorship of the parliamentary football team continued with another loss to the journalists on Sunday, but this time by a more respectable 2-1 score. At the Labour conference, the parliamentary team had lost 6-0 - so fittingly enough, both Labour and Tories lost, but the Tories didn't lose as badly.
This is starting to get real! MPs Vs Journos at the Man City Academy. Thanks to @iNHouseComms for the kit pic.twitter.com/B58CaGe6yN

— Paul Scully (@scullyp) October 1, 2017