What's the comms structure at IHG and how do you work within the wider international business?
Emma Corcoran, vice president of corporate affairs, IHG Europe We are called 'global corporate affairs' - which includes comms - because we have a global function. There are roughly 75 of us in the team worldwide and we are split into five sub teams throughout the Americas, Europe, Asia, the Middle East, Africa, and Greater China.
Meera Thakkar, corporate comms manager Across the spectrum, we cover all elements of communications. We have internal comms and owner comms – as we are a predominantly franchised business, meaning many of IHG's hotels are third-party owned and operated.
Gemma Bull, director of external comms, IHG Europe Then on the external side, we have corporate comms, which includes everything under the IHG banner, and we have consumer comms, which includes commercial work around our loyalty brands. We also have a public affairs function.
Mark Debenham, director, global external communications And as a function, we are a standalone. We don't sit in marketing or any other division - we are a partner to the business.
---
Attending PRWeek's Strategic Internal Comms conference in November? Find out more here
---
How is comms viewed in the wider business – does the team have a seat at the top table?
Bull We have really built our reputation in the business, so lots of us have different seats at various leadership tables. That's really changed over the last few years.
Thakkar Comms is one of the core objectives for solving business challenges at IHG. I don't think that's the same for every in-house team.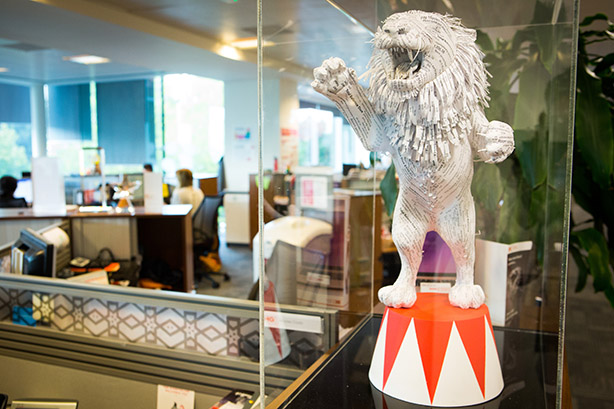 What is your agency set-up like?
Bull In Europe we have agencies across seven markets, but globally we use different agencies in different regions. In the UK, we use Hill+Knowlton Strategies as our retained agency, and we also work with Way To Blue for our Kimpton brand.
Debenham Globally, we use Brunswick in an advisory role for corporate and financial PR.
What standout feature must a PR agency have?
Corcoran They need to feel like an extension of the team. We do a lot of work in-house, so they have to feel like one of us. They also have to understand how the business works.
Neil Maidment, head of content and editorial, global corporate affairs They need to understand each brand individually and they need to be flexible and be able to work really quickly.
Corcoran We do review the accounts regularly, but we won't call a pitch just because a year has passed. If there are issues with agencies, we work through them and hopefully that agency comes out the other side. We pride ourselves on our agency relationships; we don't want to be that client that nobody wants to work with.
What are some of the most common queries you deal with?
Corcoran There's one answer to that: "can I have a free room"?
Iman Denney-Brown, external communications executive I must get that question about 20 times per day – and even more than that during the summer holidays.
Debenham On the corporate side of things, we frequently talk to our partners about helping them understand our business model and the franchisee element of IHG and its brands.
What's the balance of proactive and reactive PR, and which takes up more of your time?
Bull We'd never plan our year and allow gaps for reactive PR. We plan our year to be proactive, but then we obviously have to be flexible. If something comes up that's reactive and needs to take priority, the team is very understanding. We are a 24/7 team so we will work through evenings and weekends if we need to. I don't think you could work in this job if you were not flexible - you have to be to become a well-rounded comms person.
Thakkar We try to anticipate everything, and are rarely caught off-guard. If you keep ahead of the news agenda, you can plan for things pretty well.
Corcoran We also work closely with our global teams. If we are maxed-out, the other teams will help us and vice versa.
How does the comms team handle crises?
Corcoran We always handle crises in-house. It's not something we work with our agencies on. Essentially, we understand the problem, write the statements, and develop the Q&As. Nobody can do that quicker than us. We are also flagged very early on if there are physical property issues, and do a lot of training to ensure we are ready when something happens.
Bull Crises can range from minor accidents in hotels up to and including terrorism incidents and natural disasters (see tweet below), which affects the business and our customers. Hotels are seen as a place of shelter, so we play a community role and can be activated as an emergency centre if needs be.
In areas impacted by Hurricane Harvey & Hurricane Irma, any pet fees or restrictions at IHG hotels will be waived. Please DM any questions. pic.twitter.com/Rze7DwhAG7

— IHG (@IHG) September 8, 2017
How do you respond to inaccurate stories about the business?
Corcoran We have very strong relationships with our media contacts, so we just talk it through with them. Fortunately, the vast majority of journalists want to print stories with accurate information.
Bull That said, we aren't shy and will get on the phone and be proactive about changing stories if we have to. Ultimately, we try to explain the situation openly and honestly with the media, and most of the time they respect that.
Debenham Our approach definitely generates a lot of goodwill. If you are familiar with someone, as we are with a lot of media titles, you can be quite frank and ensure the story is correct and accurate.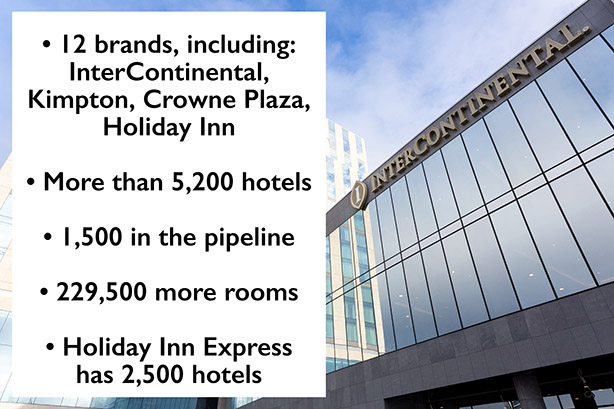 How important are social and digital PR to what you do?
Bull We handle certain elements of social, but the IHG social team sits within a different part of the business. We own the global IHG social channels, but the social team owns the individual brand names. However, when we run a campaign, we always activate through social media and partner with other teams within the business.
Corcoran We also don't tend to offer journalists information via social media; we give it to them directly.
Is traditional PR still an important part of what you do?
Bull It's the bread and butter of what we do. Our press office is always on, so it's day in, day out.
Deeney-Brown Achieving press coverage across all of our brands is still one of the most important things we do as a team.
Corcoran I think all the elements of PR and comms - from traditional to modern approaches - complement each other. PR is about expanding a medium that already exists.
Bull It's also all about the skills we have. Our skills are only becoming more important every day. The ability to storytell and really understand your audience's need will never go out of fashion.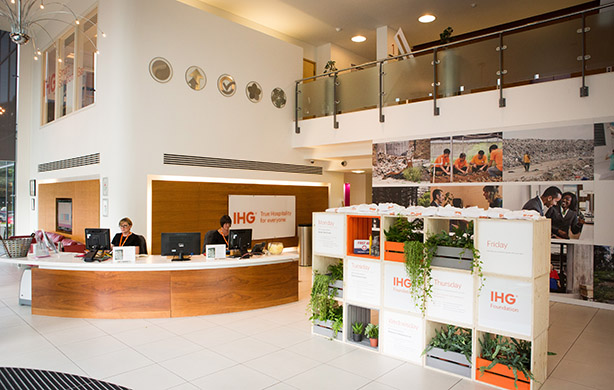 How will the IHG PR strategy evolve in the next few years?
Corcoran We will see much richer content and more multimedia content coming through – both internally and externally across the business. The integrated element of what we do will also continue to grow over the next five years.
Bull The pace of how that integrated element evolves will be really interesting for us as a business and for the communications industry as a whole. Our business never ever shuts, so seeing how we keep up will be interesting - especially as we become increasingly more global.
Deeney-Brown Immersive comms is also an essential part of what we offer as a business. We run campaigns with VR, AR and everything in between, because IHG is all about experiences for customers. It's really important that we continue to bring that to life.