Marmite DNA tests
Marmite's 'Love it or hate it' campaign is now 21 years old, and it feels like it is as deeply engrained in UK culture as the cups of tea that (some) Brits quaff alongside toast loaded with its yeasty goodness.
The latest campaign from the Unilever brand again taps into the lover/hater dichotomy, with genetic testing firm DNA fit commissioned by the brand to research whether people are genetically more likely to be lovers or haters of Marmite - the results of which made national news.
Marmite: love it or hate it? New study reveals it's down to your genes https://t.co/q0OeB4a84e

— The Telegraph (@Telegraph) September 7, 2017
The study is part of a campaign by the creative agency Adam & Eve/DDB, which includes a TV ad and an app using facial recognition software to analyse whether users are more likely to be Marmite lovers or haters. Members of the public are also invited to send off for their own DNA testing kits.
Hopper HQ's #RealMe
On 7 September Instagram auto-scheduling tool Hopper HQ switched off its image filter functions to encourage users to show their 'true' selves and raise awareness of mental health issues that may be exasperated by social media.
The campaign, which was created in association with PR agency Radioactive and the Mental Health Foundation, achieved around 200 posts on Instagram, and included support from several celebrities and influencers (see post below), reaching more than five million users globally on social media.
It also achieved coverage in the online editions of a number of magazines and newspapers, including The Huffington Post and The National Student. Following the campaign's initial success, it was extended until 13 September, and will be repeated next year, Radioactive said.
Hotels.com's Inflatable Sanctuary
What happens to holiday inflatables left behind after the summer season? That was focus of a creative and original campaign by accommodation booking site Hotels.com, which created the world's first "Inflatable Sanctuary" at the Hipotels Gran Playa de Palma. Hotels.com guests who book into the Spanish hotel over the next three months can adopt one of the discarded flotation devices for free.
In addition, Hotels.com released a survey that found while half of all British holidaymakers buy a pool inflatable, only 28 per cent take them home after their trip.
The survey of 2,000 holidaymakers also found that the donut is the most popular inflatable among Brits, and inflatables are the second most likely items to be abandoned – behind sun cream.
Premier League Writing Stars
The Premier League has enlisted former Chelsea star Frank Lampard and Everton's Yannick Bolasie (below) for a poetry competition aimed at five to 11-year-olds, as part of the organisation's Premier League Writing Stars scheme, which offers free curriculum-linked teaching resources for children.
Lampard and Bolasie, also a children author and lyricist respectively, have teamed up with Children's Laureate Lauren Child and the young people's laureate for London Caleb Femi for the scheme, which is asks school children to write around the theme of resilience.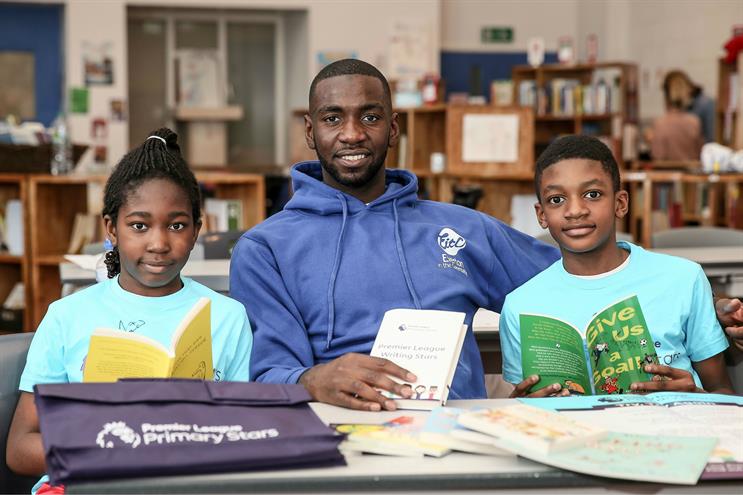 NFL players #TakeAKnee
In early 2016 NFL player Colin Kaepernick chose to sit on the bench rather than stand during the national anthem as a protest against police brutality and racial injustice. Later in the year, the San Francisco '49ers star's protest hit the headlines and a backlash began. Before long, Kaepernick was fired and remains out of work to this day.
However, support for the movement he created has grown and last month it exploded, with more and more NFL stars and celebrities (above) following suit – #TakeAKnee had truly arrived and the reasons behind it were on the global news agenda. According to social media analyst Talkwalker, four million social posts related to the NFL and the National Anthem – or those using the hashtags #TakeAKnee or #TakeTheKnee appeared across US social media over the weekend of 21-22 September.
Even the President's feathers were ruffled (below), with an irate Trump tweeting about it almost daily throughout the month. To that end, and despite its fiercely divisive nature, the campaign has succeeded.
Sports fans should never condone players that do not stand proud for their National Anthem or their Country. NFL should change policy!

— Donald J. Trump (@realDonaldTrump) September 24, 2017