"Oh yes, the ones with the guy with the scarf." In the world of PR, the cravat collection of James Gordon-MacIntosh, who along with Jo Carr set up Hope&Glory PR in 2011, is arguably just as famous as the agency itself.
"Oh don't bring that up – he needs no encouragement," laughs Carr when the inevitable subject is broached by PRWeek, when we meet at the firm's industrial chic offices on a quiet street in King's Cross.
Gordon-MacIntosh explains: "I have worn a scarf on a more or less daily basis - although I do remove it in particularly hot climates - since the doors opened on Hope&Glory. In his autobiography, John Hegarty of Bartle Bogle Hegarty refers to an ad man who always wore a bow tie. His observation was that clients always remembered having met the bloke with the bow tie. I read that and thought; 'I really need an affectation'."
It certainly succeeds in making him memorable in agencyland – and Gordon-MacIntosh seems to enjoy that status, taking delight pride in having been referred to as "sartorially flamboyant" in PRWeek's latest Power Book.
More importantly, Hope&Glory itself continues to succeed. It now has 60 staff, with major clients including Adidas, Barclays, Sony, Airbnb, Ikea and O2 (whom it has worked with almost since launch), while recent wins include Deliveroo and Argos.
It grew revenues by 39 per cent to £4.6m and increased headcount by 50 per cent last year, leaving it 64th on the PRWeek UK Top 150 table for 2017. It achieved nine nominations at the 2017 PRWeek UK awards, which takes place later in October.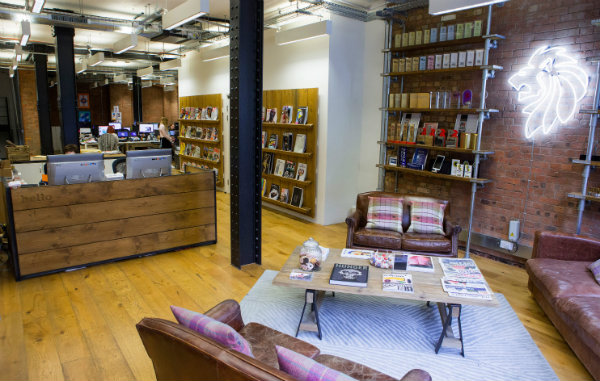 Launching with Lansons head-start
Carr and Gordon-MacIntosh met at Seventy Seven PR, a consumer shop created within Fishburn Hedges. The pair describe – as do so many ambitious mid-level staff at network agencies – a frustration at moving away from doing PR itself as they progressed through management. Along with fellow managing partner Alan Twigg, who now works for Way To Blue, they left Fishburn six years ago last month.
Carr and Gordon-MacIntosh got involved with Lansons, with the corporate agency taking a 25 per cent stake in the pair's new venture. The two founders own the majority, while directors Gavin Lewis and Adrian Chitty have now taken minority stakes.
They and Lansons collaborate on some clients, most notably Lansons' sizeable Isle of Man government account, with Hope&Glory doing tourism PR for the island. That aside, they largely operate as separate entities, especially now Hope&Glory has decamped from Lansons' Farringdon base, to King's Cross.
"This kind of gave us a rubber stamp saying that we can't be that bad", Carr says of the Lansons relationship. Gordon-MacIntosh adds that it meant they never needed to worry about broken printers, setting up phonelines, and had an accountant and receptionist on hand from day one, suggesting it gave the business a six to 12 month headstart on other start-ups. (When he spoke to PRWeek around the time of launch, he more ambitiously put it at two years.)
Carr seems comfortable taking the role of being the slightly more sensible, lower-profile (and cravat-free) half Hope&Glory's leading pair, and says their temperaments have proved complementary.
"Basically I'm hope and he's glory, that's the joke," she says. "We often laugh about this - probably in the morning James, I imagine, gets out of bed and thinks right 'what does today hold?' and it's all a big adventure. I start my day thinking 'bloody hell, I've got this, this and this'. I think it works really well because I'm able to do some of the worrying but James reminds me that this is fun."
'Please say thank you'
Another balancing act the pair are conscious of is in their client relationships. Carr says: "I think we do have a very honest relationship with the client, but we're very lucky that we don't have clients who say 'well I'm the client and I expect an answer in a heartbeat'."
As part of its efforts to ensure sustainable relationships with clients, last year the firm put down in writing a list of 20 things that clients should expect from them, and 16 things they expect from them as a client.
"While we don't explicitly say 'don't email out of hours', we do talk about responding and setting deadlines but they need to be achievable, and actually if we've done a good job, please say thank you. The team loves it when a client says well done," she says, adding that it previously existed as an "unspoken" agreement. Click to see the full list, which the agency has made available at PRWeek's request, or see highlights at the end of this article.
Hope&Glory had 100 opportunities to pitch in the previous financial year (ending March 2017), declining 45 and winning 60 per cent of the rest. The firm says they didn't lose any clients they had hoped to keep, but did "politely decline to repitch" for its account with Virgin Active and Virgin Trains.
---
Next generation: OneFifty
In January 2016, Brands2Life directors Alex Pearmain and Katie Buckett launched OneFifty, a digital consultancy in which Hope&Glory is a minority investor, mirroring its relationship with Lansons. OneFifty now has 12 staff and is based in the same building as Hope&Glory. Mutual clients include O2, Airbnb and Accor Hotels. OneFifty also works for Mazda and hospitality group Mitchell & Butlers.
---
Another number that Hope&Glory is proud of is that 25 per cent of current staff joined as interns. On the topic of recruitment, Gordon-MacIntosh says he feels the PR industry needs to move away from expecting people to be complete all-rounders.
He says: "The PR industry demands so much of a practitioner. We've tended to hire people who we acknowledge have phenomenally strong strengthes in some areas, but might not be amazing at other things – we'd rather have someone who is an absolutely pheonomenal publicist but might no tbe the best client handler in the world than hire someone who is alright at everything. You're not a terrible practitioner if you don't have all of these things."
---
See also: Alan Vandermolen says PR industry "creating a generation of generalists" and may be "in deep shit"
---
Campaign highlights
That said, as a consumer PR firm, Hope&Glory will be judged and judge itself on the quality of its creative campaigns. Gordon-MacIntosh says that he does much of the work on the agency's website, including adding recent case studies.
"I'm pretty depressed if there isn't at least one piece a week that we genuinely think is outstanding, rather than just we banged out a press release and it was alright," he says.
What, PRWeek asks, are the favourite recent campaigns of agency's chiefs? Carr picks its PRWeek UK Award-nominated dining club for Ikea, "because it was the result of probably a two or three-year journey of taking ikea to a place where they felt like they could do something like that".
Her business partner plumps for a campaign with Adidas which he says was "not quite but almost led by influencer work and content", and as such a sign of things to come for the agency, and the wider industry.
Eyes on Frank
On the subject of the future, what next for Hope&Glory? Gordon-MacIntosh has two agencies, both "pure-play consumer businesses that kind of do what we do", in his sights; Mischief (2016 revenue: £5.2m) and Frank (£5.3m). He'd like to be bigger than those, and exceed £6m in revenues.
Carr elaborates: "It's a bit of a glass ceiling, we'd quite like to break that. That would be our ambition, while wanting to stay true to consumer brand comms and how do we do that without having to diversify, acquire other agencies or go international – and I think we'd quite like to find a way of doing it organically."
Both say it would be "hard" to go back to working for a network agency, although potential buyers have enquired. Gordon-MacIntosh says: "We get approaches from time to time – I think ultimately we're relatively agnostic whether we do it independently or under someone else's ownership or we take investment from someone that allows us to grow.
"We have a very straightforward objective, anyone who wants to help us achieve that objective we're happy to speak to, but we have absolutely no plans to sell."
---
Hope&Glory's client service agreement
The agency's client service promise lists 20 things that clients can expect from working with Hope&Glory, and 16 things it hope for from clients. These include:
We are very happy to work alongside your other marketing agencies although the best ideas come from being involved fully from the start, rather than being asked to "amplify" an existing idea
We will invest time (at our cost, not yours) getting to know your business and your sector so we are truly well-informed
We will help you communicate the value of PR activity to your wider, internal audiences
It's enormously helpful if you can educate your marketing colleagues about what PR can and can't do. Or we can brief them together – it sets realistic expectations on all sides
If there are changes happening within your business that might impact communications or PR activity, it's useful to have a heads-up as early as possible
Please appreciate that our time is a finite, measurable resource and while we will always go the "extra mile" additional requests may incur additional costs and expense
Please treat the agency team as if they were members of your own internal team. We will always remain courteous towards you and we'd expect your team to behave the same way towards us
Click to see the full client service promise