Early activity by the LTDA focused on the rather technical legal point of whether Uber cars could use meters in the way they do.
But as the new service grew in popularity, and after the High Court ruled in Uber's favour on the meters point in 2015, the trade body shifted its messaging.
It focused primarily on public safety (as well as non-payment of tax), points that resonated more with customers and provided a genuine challenge to the seemingly unstoppable low-cost and high-convenience force that Uber had become.
The campaigning, assisted by Newington Communications for the past two years, targeted both regulators and the public.
One element last year, which carried the message 'TfL don't give a monkey's about you' (see image above), called on the authority to ensure all taxis are properly licensed in London, while emphasising that the only way to be safe is to use a black cab.
The safety message later became more explicit. A poster from 2016 reads: "Last year there were 154 rapes and sexual assaults by minicab drivers in London. At least 32 of these were Uber drivers. Don't take a risk with a minicab."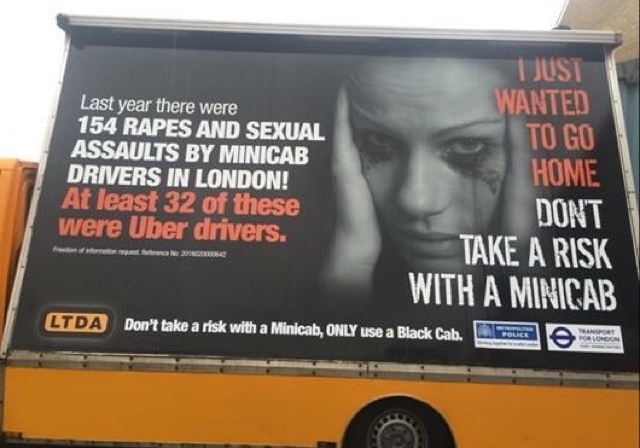 A series of noisy taxi demonstrations and numerous media appearances from LTDA general secretary Steve McNamara helped keep the issue alive, while their lobbying of TfL stepped up with an objection to Uber's licence renewal in May.
It hasn't all been negative campaigning. In December 2015, the body launched the Better for London campaign. In the run-up to the 2016 London mayoral election, all 11,000 LTDA members were encouraged to display a window sticker highlighting the benefits of black cabs.
While many still want Uber to remain in London – at the time of publication more than 600,000 people have signed a petition urging TfL to renew the licence – there's some evidence that the LTDA's messages have resonated with the wider public.
A survey of 1,000 Londoners by Keen as Mustard Marketing in association with research platform Lucid found that while 23.4 per cent strongly disagree with the decision not to renew the licence, a similar proportion (21.6 per cent) strongly agree with it. Mayor Sadiq Khan, although not directly involved in TfL's decision, is an influential advocate of tough action on Uber and backed the transport body's stance.
The battle is not over. Uber said it would appeal, and the firm's new CEO's interjection earlier this week – in which he apologised for past mistakes – suggests a counter-campaign is moving into gear. Meanwhile, Theresa May has called the ban "disproportionate".
But for now, it's the black cabs and their representatives who are laughing all the way to the (taxi) rank.