Amina Taher has just flown in from Abu Dhabi to meet me in London. She looks remarkably fresh. This could be the benefit of youth – Taher is in her early 30s – or, indeed, of luxury-class travel. It emerges, however, that she has not been relaxing during the eight-hour flight; instead, she has been responding to revelations about a terrorist who was caught trying to board an Etihad flight in Sydney the previous month.
"I was dealing with the Sydney issue but then we also had technical problems at one of our call centres. That's the problem of on-board wi-fi," Taher says with a wry smile. "It really never stops."
It was only in May that she was promoted to vice-president of corporate affairs for Etihad Aviation Group, reporting directly to the CEO, and with a seat on the executive committee. Not surprisingly, she is the only woman on the main board.
In fact, one wonders how many young Muslim women sit on the boards of major flag-carriers. Since taking the top comms role, Taher has had to deal with a string of crises, from Alitalia (in which Etihad holds a minority stake) going into administration, to Donald Trump enforcing laptop bans on Middle Eastern airlines (since lifted on some, including Etihad).
---
Also see: Etihad launches global agency review and parts with Ketchum in US
---
In its annual financial results released at the end of July, Etihad announced it had lost $1.87bn in 2016. It is one of the reasons that Etihad's much-lauded CEO, James Hogan, left in May – the interim CEO of the Group is now Ray Gammell. A permanent CEO appointment is imminent.
As a result of all this, Taher finds herself in the midst of a major strategic business review involving heavy cost-cutting. So how is it all going? "It has been like a rollercoaster. But I love it," she replies without hesitation.
The workload is certainly intense. Colleagues attest to the fact that Taher works a seven-day week and has taken virtually no holiday this year. On weekdays she commutes early in the morning from her home in Dubai, to Abu Dhabi International, returning home as late as 10pm.
One has to understand that running Etihad's comms is a unique PR role. This is a young airline – it started flying only in 2003 – but it already has a fleet of 131 aircraft and employs 20,000 people worldwide.

Etihad also holds a special place in Abu Dhabi, the largest of the United Arab Emirates; UAE President Sheikh Khalifa bin Zayed Al Nahyan sits on the board.
Taher explains how the board has been driving a fundamental review of the group, called 'Right size and shape' (RSS), which lies behind the cost-cutting and significant rethinks in comms.
"There has been a four per cent cut in jobs across the company and RSS has involved reducing my own department from 43 people to 28 over the past month. It has been tough, but I have learned a lot about the great people we have."
On a positive note, this is a fast-evolving airline in a transforming country. Oil prices remain low, which has meant a sharp fall in national revenues for the Emirates. Abu Dhabi has accelerated its plan to become less reliant on oil money and wants to develop as a cultural hub in the Middle East.
Fluctuating fortunes
The aviation business has many related challenges: over-capacity in the overall market, pushing down seat prices; and a number of geo-political situations – from sanctions on neighbouring Qatar to the impact of global terrorism – making premium travel volumes and yields fluctuate wildly.
"Our comms priorities are driven by these business challenges," says Taher. "In the longer term, we try to ensure the core airline remains solid; to constantly communicate in an open and transparent way; and to develop strong two-way comms between the leadership and employees."
Taher, who has MBAs from both Harvard and London Business School, is a strategic thinker. In reality, however, many day-to-day priorities are reacting to the fast-moving environment in which the airline operates.
For example, when the Alitalia administration took place in May, Taher created a dedicated 'war room' to deal with the implications for the group. Trump's laptop ban was also highly disruptive: "This legislation impacted the Gulf airlines too. We were able to offer free wi-fi and iPads for business-class customers. We were the first airline for whom the ban was lifted and had to communicate this quickly, although obviously with sensitivity to other regional airlines and the airports."
Simultaneously – like almost every blue chip comms director one meets – Taher is trying to find an optimal structure. "We are divided into external comms and internal comms, plus Arabic comms. But all my team have to work across digital comms. I strive to have well-rounded comms professionals, whom we train and empower," she says.
This has also meant a review of the consultancies employed by Etihad, and Taher is nothing if not candid about the large and confusing network of agencies she inherited.
"It's chaotic and it's a mess," she says. "We have almost 40 agencies in various markets, mostly on retainer. Some provide great value, some less so. I'm looking to reduce this number to between five and eight agencies in key markets but their scope will be different; their value to me will be greater."
Much of this growth has derived from Etihad's minority holdings in airlines such as Alitalia, Air Berlin and Virgin Australia, so the airline needs some comms function in all these territories.
Taher gives the example of the Americas, where she has just terminated the airline's two-year relationship with Ketchum. Instead, she says, Etihad primarily now requires specialist reputational and political counsel in the US, where the UAE carriers (including Dubai-based Emirates and Qatar Airways) are locked in a battle with US airlines over the international Open Skies agreement.
In its Abu Dhabi base, Etihad has long relied on Four Communications founding partner Ray Eglington, whom Taher clearly values for strategic comms advice.
On a global basis, Taher shies away from using a single PR agency network preferring a regionalised model. But she yearns for a unified 'intelligent' media monitoring firm, which can give her a real-time grid of stories from 50 international markets.
She points out: "The reality is you need comms support in different time zones. And if, God forbid, a plane crashes somewhere, you need people on the ground to support you, to do a press conference, to manage a situation."
Like many airlines, and indeed a rising number of organisations, Etihad faces an ongoing series of minor 'crises', to which it needs to respond – sometimes proactively to the brand's advantage.
"Last week, we had a tyre burst [on an aircraft] in India, a story that broke via social media. We responded through a reactive media statement and Twitter. But then we need to find a way of engaging our guests, and other stakeholders, in the Indian subcontinent, which is one of our key markets."
Increasingly – and again in line with many Western comms departments – Taher says she requires digital-savvy content partners.
"We don't rely on agencies for content development. Almost all of the content we produce is done in-house," she explains. "But I want an agency that can develop video content and use technology better, both on an internal basis and for consumers. For example, when the laptop ban happened, it would have been great to communicate this via video content as well as via print."
Social media skills
Interestingly, Taher does not believe that theexisting global PR agency networks possess the necessary ability to produce fast-turnaround, social media-friendly video content.
Of course, to many in the UK, the name Etihad means more than just aviation. Since 2011 the City of Manchester Stadium, the home of Manchester City FC, has been called The Etihad Stadium. This followed Abu Dhabi taking ownership of the football club and splashing Etihad on the players' shirts as part of a sponsorship deal.
Moreover, under expansionist CEO Hogan, Etihad's sponsorship extended beyond sport; it has tie-ups with the official fashion weeks of London, Milan, New York, Mumbai and others.
Part of Taher's remit is to activate these global sponsorships, which were signed by the airline's commercial team in conjunction with IMG. She sounds passionate about some of these partnerships, but sceptical about others, particularly those relating to more-niche sports.
"Sponsorship in our part of the world can be, er, interesting. One inherits certain things. Etihad's involvement in global fashion and food was something new; it's fun and interesting. We can narrate our story and brand voice through these," she says.
Last autumn, Etihad ended its relationship with long-term ad agency M&C Saatchi, thus terminating its partnership with 'ambassador' Nicole Kidman.
"Did Nicole Kidman work for us? Not necessarily. Do you need ambassadors when you have influencers specific to certain media? And then, of course, there's the question about whether you use influencers to communicate via your media or their networks," muses Taher.
Generally, she has a highly progressive attitude toward marketing communications. She is hungry to experiment with influencer comms but believes one needs a balance of traditional media and new-form video to communicate.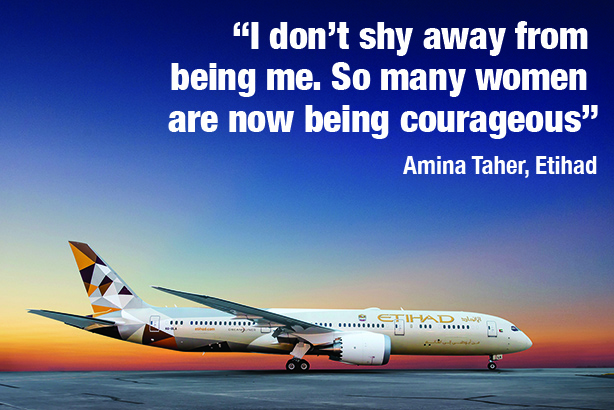 She also believes Etihad, like many Gulf carriers, has reached a pivotal moment in its overall brand positioning and marketing strategy. Taher says that, ultimately, with the changing airline market, Etihad has to decide "whether we are going to be a luxurious airline or not".
She adds: "This is part of our strategic review and we don't yet know. But based on research there may be a positioning with more flexibility; possibly both trendy and affordable. We need to decide whether we deploy three-class or two class cabins.
"We're trying to base our innovation on research and be honest with our guests about changes. We recently introduced the ability for economy guests to bid for free neighbouring seats, enabling them to stretch out. And we've removed chauffeur services for business-class customers globally, but have retained them in Abu Dhabi."
There is no doubt that Taher is remarkable: a warm, dynamic and progressive force in the corporate world. But how does she manage the obvious tension between this and the conservative attitudes of her homeland?
"Yes, it's a challenge. The UAE is a young country and yet you have your identity, religion, values. What I try to do is respect and value where I come from – at the same time, I don't shy away from being me. So many women are now being courageous.
"Being a woman in a male-dominated industry is not easy. Men talk to you and they have their own opinions. A week ago, one of my senior colleagues came to a meeting. I was leaving and he said in front of everyone: 'You give bad advice to the CEO.' I told him to 'hang on', and justified my position. Of course, comms is a very subjective discipline."
Taher is the oldest of four sisters and comes from a line of determined women.
"I see myself as empathetic and human in my dealing with people. That's the culture I want," she says. "Some people just see those attributes as the female side of things, but I don't personalise this. I stay calm, but I'm prepared to challenge views when it compromises my career or the decisions I have made on behalf of the airline."
Like many Emirati women, Taher was married young, at the age of 20, and has a 12-year-old daughter from that marriage. But a few years after graduating, she decided the relationship was not right for her. "It was a very bold decision to say I wanted to leave. But we didn't share the same values." Last month, she married a Bahraini businessman. "I took two days off," she laughs.
Will Taher stay in aviation? "I love the buzz. It's so sexy. Every day I wake up and try to go through my to-do list but the outside world shapes my workload. Is it sustainable as a lifestyle in the long term?
"Absolutely not. I don't want to get divorced twice!"
Ultimately, then, will she remain in the UAE? "I love the UAE but I also love the US and London a lot. The energy is different. With my personality, I feel there's so much to give to the world."
---
AMINA TAHER: CV
May 2017 Vice-president corporate affairs, Etihad Aviation Group
January 2014 Head of corporate comms, Etihad Airways
2010 Head of social development and sponsorship, Mubadala Development Company
2006 Corporate communications, Zabeel Investments, WASL Group
2005 Internal communications, group marketing, Dubai Holding
2003 PR and marketing, General Motors