Trend setters
Earlier this week tech PR firm Berkeley announced it had acquired Munich-based agency Essential Media.
In a statement, Berkeley MD Paul Stallard said: "As an independent firm, this acquisition represents a huge step forward in our goal to strengthen our international network and expand specialisms in core markets."
Standard quotation for an acquisition, really. However, Flack was thrown slightly when Stallard went on to say: "[The acquisition] also allows Berkeley CEO Chris Hewitt and myself to legitimately attend the Oktoberfest each year without feeling guilty."
It seems Stallard may have taken a leaf out of the Talker Tailor Trouble Maker playbook on that one.
In the latest of several leftfield quotations on the agency's press releases, this is what Talker Tailor co-founder Gary Wheeldon said when announcing new client Wagamama: "Can we get a Raaamen! Thank you Jesus and all the saints, we love working with the kings of katsu."
But Stallard is not the only one following the trend.
Yesterday, Ready10 announced it had been appointed to handle PR for fantasy football game Draft Fantasy.
Commenting on the win, and in an unprovoked attack on Spurs fans, agency founder David Fraser said: "We are massive football fans, plus we have a couple of Spurs supporters too, so this is an ideal brief.
Although big in the US, the draft concept is new to the UK and having played fantasy football myself every season for the last 23 years (I started when I was two), it's exciting to be working on what is a genuine revolution in the format."
Long may the trend of continue.
Pott pressure rises
Pressure continues to mount on Bell Pottinger for its controversial activities in South Africa, which has become the talk of the corporate PR community.
Flack spoke to one big cheese this week about what might happen if the PRCA's action at the upcoming disciplinary hearing is viewed as inadequate. Could we even see government intervention in the sector if suitable political pressure is applied, amid wider concerns about unethical practices?
That's a highly unlikely prospect – frankly, this government has enough on its plate, and there's little political will for it or idea of how it might work. But it raises an interesting question about whether there should be greater scrutiny of financial PR, in particular, given the market sensitive information that it handles regularly.
Flack's pal cheekily suggested he may welcome extra regulation in this area as a barrier to entry for upstart rivals. As the source put it: "All you need to start a financial PR agency is a telephone and a double-barrelled surname."
A sharp suit probably helps too, Flack imagines.
Arsenal FC fans unveil new kit design – sort of
Arsenal owner Stan Kroenke caused outrage this week after it emerged he had launched a new trophy-hunting TV channel in the UK.
In response, Arsenal and labour leader Jeremy Corbyn said he was "appalled" and "disgusted". A number of others, including TV personality Ben Fogle, called for a boycott of the club.
The club, however, seemed to shirk any responsibility, releasing a statement that said: "This is nothing to do with the football club, so we've got nothing to say."
PR pros expressed mixed views on the merits of Arsenal choosing not to comment. Graham Goodkind, an Arsenal fan and co-founder of Frank PR, said he wasn't surprised the club had been "pretty quiet".
However, PrettyGreen head of sport Paddy Hobbs said: "Arsenal's response portrays them as a club with the same level of guts that their players have when challenging for the title." Ouch.
Goodkind went on to reveal the Gunners' new shirt for the upcoming season...
Quite like the new kit amendment that Arsenal are considering... pic.twitter.com/NhGPBnSqr4

— goodkind (@goodkind) 1 August 2017
Hayman in the hot seat
Many a current affairs or news programme has benefited from the guest input of an insightful and media-savvy PR pro. But Michael Hayman, CEO of agency Seven Hills, has gone a step further, taking the presenter's chair on London Live's new dedicated business programme, The Capital Conversation, which profiles leading entrepreneurs and business pioneers.
The show launched this week (1 August) with an interview with Yo! Sushi's Robin Rowland, who is quizzed about his approach to business and his outlook. Check it out below:
Future interviewees will include former Tesco boss Sir Terry Leahy, serial entrepreneur Luke Johnson, and Gina Miller, the campaigner whose court fight forced the government to consult Parliament before triggering the Brexit process.
Sing-apore songstress
PRWeek has written in the past about the wealth of multi-talented PR professionals out there, but this one takes some beating. Theodora Lau, a 20-year-old digital account coordinator at WE Singapore, has just released a single called July that reached number one on Spotify Singapore's Top Acts.
"The thinking behind pursuing music on top of my full-time job was simple: I was not willing to sacrifice what is most important to me," she writes in a blog.
"While pursuing a passion outside of work may require some sacrifice, it stretches your limits and grows you in ways you would not have developed otherwise. The lessons learnt and perspectives drawn add value to the day job - for example, getting more creative with your ideas or being more collaborative within your team.
"Ultimately, as long as you are willing to put in the hard work, there will always be enough hours in the day to balance your professional career and your passion. You should never let go of one to concentrate solely on the other."
Inspiring stuff, Theodora [picks up guitar].
All mod comms
It is, of course, beneath us to tease comms professionals going about their business and working hard, but a reference to social media in the Charity Commission's annual report raised a smile from the jaded and cynical Flack this week.
It read: "We recognise that digital technology allows for cost-effective and timely engagement with trustees, and using emerging channels of communication such as social media continues to be a priority for the Commission."
Emerging? We don't wish to poke fun but social media platforms, many of them at least a decade old, could reasonably be described as mature comms channels these days, rather than emerging ones.
Alternatively, there is also the inter-web and we hear telegrams and smoke signals are quite good, too. Cave paintings anyone?
Mooch ado about some PR jobs
There's been amusement abound this week about the sacking of White House comms chief Anthony Scaramucci. Flack was proud that some industry types didn't miss a trick to exploit Mooch's departure for their own ends (and PRWeek's…).
Hey @Scaramucci if you need a new role, the @PRCA_UK has a great jobsboard powered by @prweekuknews @prweekjobs https://t.co/4Tp1qA3ORq

— Francis Ingham (@PRCAIngham) July 31, 2017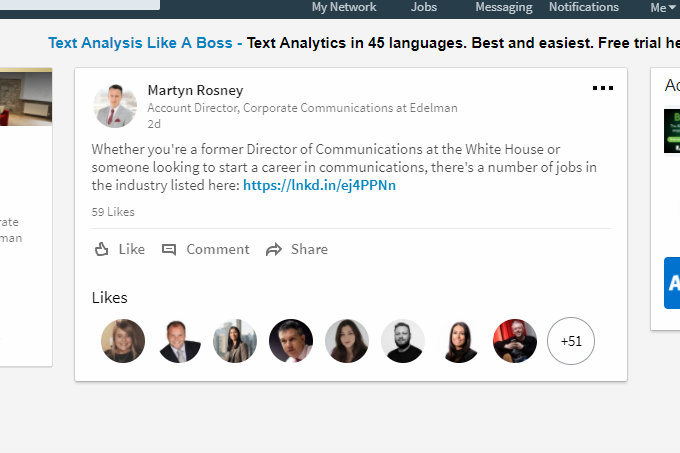 Hold my beer…
On Wednesday PRWeek published a list of 14 things journalists think about PR professionals that just ain't true, but it's come to light there was a glaring omission.
Just because Flack spends pretty much every spare minute drinking Champagne in fancy restaurants, darling, doesn't mean that all PR people do. Hold my flute:
PR LYFE pic.twitter.com/YtmENYVLom

— Joe Sinclair (@AlpineJoeJoe) August 1, 2017
All the single grannies
Flack was bowled (obvs) over this week by a campaign from Chadstone Bowls Club in Melbourne, which featured three of its, err, 'most experienced' players smashing out a rendition of Beyoncé's 'All the Single Ladies' – including dance moves – and posting the video on Facebook.
The boogying biddies hope that enough attention might help save their beloved club from demolition, and it might just work – the clip has gone viral, with more a million views in the first three days alone:
Boycott fake news
What do bowler hats, strawberries and cream, morris dancing and chicken tikka masala have in common? Answer: they're all proper English institutions, and you can jolly well stick iconic cricket radio show Test Match Special at the top of that list.
This week, the gloriously irreverent programme deviously scribed a press release to wind up arguably it's most beloved protagonist – Sir Geoffrey Boycott. Pour yourself a real ale, sit back and enjoy (or ignore this section if you think cricket's boring):
When @Aggerscricket received a 'press release', @GeoffreyBoycott wasn't expecting what was to follow...#bbccricket pic.twitter.com/4poNOfQRlN

— Test Match Special (@bbctms) July 31, 2017
The instigator, co-commentator Jonathan Agnew, later revealed the phony document in all its glory:
Here's the 'press release' and edited video. Full wind-up now a podcast here https://t.co/OeagFIpUBi https://t.co/RxqZPOUq3B pic.twitter.com/oEykRvoRCW

— Jonathan Agnew (@Aggerscricket) July 31, 2017