How did you get into journalism?
I went to art school at St Martin's and then got onto their fashion communications and promotion degree course. I had a year out in industry, with a six-month internship that led to my first job at the Telegraph.
---
Read next: Women's media brand The Pool gets Finn to highlight 'safe' commercial environment
---
Did you have any anxiety moving from such an established outlet to a start-up?
I knew that digital was the way forward and with the focus on being by women, for women, and disrupting the established women's media landscape, it just made perfect sense – but it was still terrifying. I talked to my parents and they thought I was mad.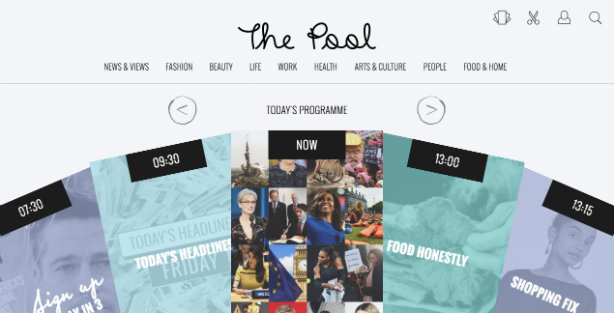 Could that degree have led you into PR?
It was definitely something I thought about. Fashion PRs are saintly; they have to put up with an awful lot, and I wouldn't have the patience – or the good grace.
What is your view of the PR profession more generally?
It's a really tricky role. I'm always amazed when people can remember the last conversation I've had with them, and I can't remember what I told my boyfriend in the morning. Some of the loveliest people I've met are in fashion PR, so you really do forge friendships. When you're a good PR you can just make a brand sell and sell – I know some people are snooty about them, but I think they do a tough job.
What do PR pros get wrong most often – what advice would you give our readers?
It's the same old, same old – first of all, know the publication, address your pitch properly, know if you're talking to a Mr or a Miss. Because I'm called Frankie it is ambiguous – it's not a deal-breaker, but gets you off on the wrong foot. Capital letters in subject lines: no, don't shout at me. And don't chase too much – I know that's hard because everyone's under pressure, but everyone's inbox is bulging.
What gets in the way of doing your job?
Email is the main time-drain. Oh – and opening parcels. I mean, I'm really lucky I get sent a load of stuff, and it's such a nice problem to have, but honestly – opening it takes ages.
How much do you look at user analytics?
We've got a Google Analytics screen up in the office. We've got all the data, and it's amazing having that, but the data tends to tally up with our gut instincts.
Do some trends just come out of the blue?
Sometimes you think "That's a nice piece", then you put it up and it just, for want of a better word, goes viral. We did a piece on bralettes, which are soft-cup bras; it just kept going and going and going, and it just tapped into this moment, it was crazy. That was the moment we realised underwear content does well – [so] then I did a "New knickers for the new year" piece. Data can tell you so much, but in terms of how to get to the crux of a matter, it is a lot of instinct.
New year, new knickers. Time to throw out any pants that pre-date the Kardashians https://t.co/4KA5PRneyx pic.twitter.com/WFaJb1zsb2

— The Pool (@thepooluk) January 7, 2017
You do a lot of advertorial content – how do you make sure you keep it appropriate?
It's not just a case of brands giving us some assets and we whack them up [on the site]. We have brand partners we believe in and like, and whatever the story is they want to tell, we'll work to try to create some content our readers will love. It's about really making it as relevant, applicable and engaging [as possible] for our readers, so they don't feel like they're being taken the piss out of.
What was the last app you downloaded?
Citymapper – now I can't leave the door without it. Uber I keep deleting and re-downloading; I keep trying to wean myself off it. And then Vestaire Collective, a French resale website – it's kind of like a posh eBay.
Who has been your favourite interviewee?
The best person I've interviewed recently was Claudia Winkleman – the great thing about her is normally you have to submit your questions [in advance] – but she didn't want to see them and you just got these genuine, brilliant, hilarious responses that added so much colour to the final piece.
We're obsessed with @ClaudiaWinkle and her relaxed but hilarious style advice! #spon https://t.co/8PEZEpfwqU pic.twitter.com/ABQNhAHJq3

— The Pool (@thepooluk) July 13, 2017
---
Previously, PRWeek has Grilled the Guardian columnist Owen Jones, BBC News sports editor Dan Roan and others - get in touch if you'd like to put your favourite contact up for a future edition.