The research, from media analysis and data company Mergermarket, points to significant growth in the value of deals handled by agencies in the period, compared to the first half of 2016.
New York-headquartered Sard Verbinnen was the leading agency by both value and volume of deals it handled in H1 2017, working on 113 deals with a total value of $200.97bn.
In the same period last year it handled 91 deals worth $146.61bn. This means the total deal value grew by 37.1 per cent.
Brunswick fell from first to second in the table by value of deals, although the value of its deals grew 22.4 per cent against the same period last year to $188.7bn. The agency dropped from first to fourth by number of deals (74, down from 102).
Notable climbers include Finsbury and new partner agency Hering Schuppener of Germany. The former jumped from 12th to sixth in the ranking of the number of deals it handled by value (up 446.4 per cent to $97.2bn), while the latter saw the value grow 90.8 per cent to $56.57bn.
Other fast growers include Publicis/MSLGroup agency Kekst and Ashton Consulting (see table below).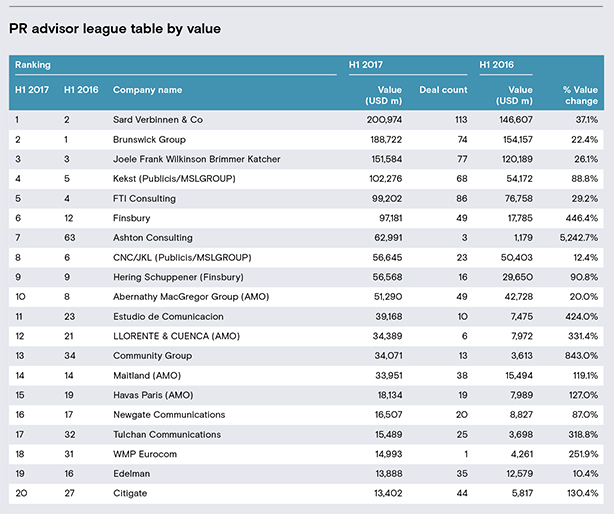 Jonathan Klonowski, EMEA research editor at Mergermarket, said: "While volumes remain relatively low, deal values continue to soar and PR firms have clearly taken advantage of this, with the top 20 all seeing an increase in the value of deals advised on.
"In 2017 we have seen 'future proofing' by firms, looking at both how to deal with the ever-changing geopolitical situation and also how to utilise the latest developments in technology. This has led to a number of high-profile consolidations, particularly in the consumer and energy sectors. There does not appear to be any obvious reasons why the trend of 'fewer but larger' deals should not continue for the rest of the year."
Regional breakdown
In the US, Sard Verbinnen maintained the top position by total value of deals (up 46.5 per cent to $183.85bn against H1 2016) and also volume (up from 80 to 101).
Behind Sard Verbinnen in the table by total value is Joele Frank Wilkinson Brimmer Katcher (up 27.5 per cent to $151.55bn), Brunswick (up 74 per cent to $110.46bn), Kekst (up 76 per cent to $94.16bn) and Finsbury (up 1,105 per cent to $83.18bn).
In the UK, Brunswick held its position at the top of the league table by value of deals in H1, with a value of $92.43bn, up 316.3 per cent on the same period last year.
FTI was second in the list, growing the value of deals that it handled by 556.9 per cent to $74.85bn, and it maintained its position at the top of the table by volume of deals (up eight to 49).
There was also significant growth in the aggregate value of deals involving the likes of Sard Verbinnen (up 306.1 per cent to $64.67bn), Maitland (up 384.7 per cent to $33.65bn), Finsbury (up 171.1 per cent to $22.75bn), Kekst (up from $591m to $20.8bn) and Tulchan (up 300.2 per cent to $14.8bn).
Brunswick also retained the top spot by value of deals in H1 in Europe; the value grew 44.7 per cent to $161.82bn. FTI was second with a value of $92.52bn, and the agency also handled the greatest number of deals in Europe in H1 – 76, ahead of Brunswick on 51.
In Asia-Pacific (excluding Japan), Newgate Communications jumped from 17th to first in the table by value ($16.21bn), ahead of Maitland ($14.31bn).
Sard Verbinnen, which handled deals worth $11.89bn in H1, topped the table by number of deals (17), one ahead of Newgate and three ahead of Brunswick.
---
Click for profiles of Brunswick, FTI and other financial PR giants from the 2017 PRWeek Global Agency Business Report