What is the comms team structure and how do you work within the wider business?
Paul Moore (director of comms): Nine people sit within the PR and public affairs team. This includes our UK PR managers Katie Kershaw and Andy Cockburn; our European PR managers Carrine Heinen and Matteo Taddei; Mark Ramsden, who is our UK public affairs manager; and Kirsten de Haan, who is our Europe-based public affairs manager. I also work alongside a press office assistant and Anna Knowles, our head of UK PR and corporate affairs. We are spread out across Europe, but meet each week in London to ensure our comms approach is aligned across the business. We also operate a 24-hour press office – it never switches off.
Knowles: At least one of our team will be on call out of normal office hours and during public holidays because we operate flights virtually all the time, and therefore need to have someone working who can respond to media enquiries or crises as quickly as possible.
---
Also see: easyJet launches 'flying library' to get kids reading in first Taylor Herring campaign
---
How often do issues arise when someone is on call?
Knowles: We have to deal with unforeseen issues every day. Last month, we had a particularly busy weekend, following a suspected terrorism-related conversation between passengers on one of our aircraft, which prompted the pilot to divert the UK-bound flight to Cologne. It was a false alarm, but our staff take the safety of our passengers very seriously.
Moore: These types of events are viewed in the industry as day-to-day. Sadly, aviation has been very explicitly targeted in the past – so it's a situation we are used to dealing with. From a comms perspective, you try to be as proactive as possible, and explain to customers and the media what is happening. If you don't have the answers, you have to be honest and say you don't know.
What is your agency set-up like?
Knowles: Agency-side, we work with VCCP, which handles our ads and marketing, and we use PR agency Finsbury to support on financial results. We also work with TVC Group, which helps run our media centre and supports us on our big launches and events.
Moore: We also use consumer PR agency Taylor Herring on an ad hoc basis (see Tweet below) and have long admired their work, and use various agencies in Europe to give us more arms and legs on the Continent. However, the day-to-day media enquiries and crisis handling is dealt with in-house. We lead in terms of what the messages are, regardless of which channels they are distributed through. I am not sure how you could provide those messages with external PR support.
'Flybrary' takes off on @easyJet in first campaign by new agency @TaylorHerringUK https://t.co/IJduSNUirY #pr #comms pic.twitter.com/30jQYjsHqo

— PRWeek UK (@prweekuknews) July 18, 2017
What are the most common queries and how do you handle them?
Moore: We tend to be asked about passengers missing flights, or queries from people who have been denied boarding – for whatever reason. We carry about 250,000 passengers a day, and people's capacity to do all manner of different things on our flights or in airports never ceases to amaze me. You think you've heard it all, but then someone will get tasered while naked, as happened in 2013. The capacity for things to go wrong is very high.
Knowles: Not a day goes by without someone asking us about Brexit. We probably get a call every hour from a journalist asking us what our latest view is, and what our mitigation programme looks like. Unfortunately, it's not yet clear what Brexit will mean for most businesses.
What's the balance of proactive and reactive PR, and which takes up more time?
Moore: Over the course of a year, it's pretty much 50/50, but we have to fight quite hard to keep it like that. For a comms team, I think 50/50 is about right. However, at its worst, you can do 90 per cent reactive PR one week, 90 per cent proactive PR the next – which is too far in either extreme.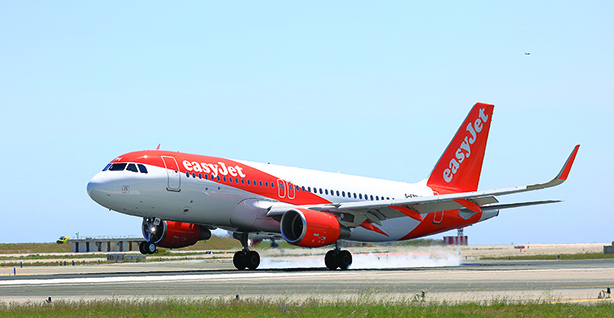 How important are social and digital PR to what you do?
Knowles: They are front and centre and built in to everything we do, but our approach is always evolving. For example, two years ago, we would release a statement on our website, and then do a version on Twitter after that. However, about 18 months ago we flipped that approach – tweeting first and then forming a statement later – because we realised that's the most efficient way to deal with a fast-moving story.
Moore: A major challenge we have, particularly with Facebook and Twitter, is that increasingly journalists are reading things on social media – posted by our customers – and taking them as fact and publishing stories before we have had a chance to comment on the situation. We work very hard to make sure stories about easyJet are accurate.
Knowles: We constantly fight to get stories taken down that are incorrect. We monitor what is being written about us, so if it's wrong we can jump on it right away and stop issues escalating.
How do you feel the media treats you generally?
Moore: Generally, they are fair. You reap what you sow. If you show yourself to be genuine, open and proactive with information, then it definitely helps.
Knowles: You also need to show integrity, so the journalists you deal with every day – such as travel and business correspondents – feel they can trust you. If they trust you, it's easier to get headlines changed or information amended if it's wrong.
How will your PR activity evolve over the next few years?
Knowles: Corporate social responsibility activity will increase. Our team will also become more of a catalyst for change throughout the business, which means we will have more authority to bring in outside perspectives and have our own critical mass and momentum.
---
Read next: Inside in-house: National Trust embracing digital to promote the nation's legacy