The protest was organised by DA Abroad, the overseas arm of the Democratic Alliance, the opposition party that has been turning the screws on Bell Pottinger over its controversial work with the Gupta family's Oakbay business, including by making complaints with both the PRCA and CIPR.
It was ostensibly a chance for the DA to hand over their demands that the agency "make public any and all communication and contracts pertaining to the work done for the Guptas", declare the fees it was paid for this work and invest these in building schools or in local NGOs.
But with those demands already having come from the party - and the agency declining to send a representative to receive these in person - it was really a chance to make public indications to Bell Pottinger that it will be let off the hook easily.
Today, we will hand over list of demands to #BellPottinger at their offices in London.https://t.co/k21T82KjDF #StrongerThanBellPottinger pic.twitter.com/UZ3iszXwUT

— Democratic Alliance (@Our_DA) July 14, 2017
Kicking off at 4.30pm, DA Abroad leader Francine Higham spoke at just after 5pm to a crowd of a little more than 30 people. The crowd also sang the country's national anthem.
It being a demo, the convenor inevitably claimed greater numbers - Higham told PRWeek over the weekend that there were "at least 60" people in attendance, although 30-35 is the range reported elsewhere. There were also three police and a handful of media in attendance.
"Considering the short notice on this picket we're really appreciative that so many made the effort to join us in a fantastic expression of South African defiance and unity – standing together against racism and calling for transparency and accountability," said Higham, who by day is a consultant for digital sports consultancy 7 League.
While peaceful - although nobody from any of the companies housed in Holborn Gate used the front exit during the protest - there was a strong feeling of anger among the protestors. This has already been made clear on social media - when Bell Pottinger gave up the account, CEO James Henderson cited social media "abuse" as part of the reason for resigning.
People held signs calling Bell Pottinger "racists", saying they were "promoting racial hatred".
One man I spoke to was convinced of the link between the "economic emancipation" narrative Bell Pottinger has admitted to promoting (its accusers add "economic apartheid" and "white monopoly capital" to that), and a rise in deadly violence in his country.
The chanting of Bell Pottinger's name was rather haunting, full of upset, and certainly eye-catching (see top of story).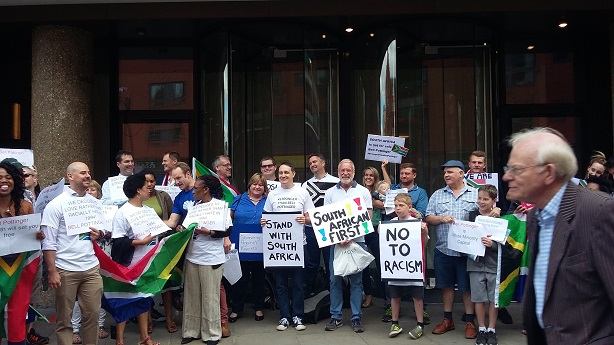 The anger is real. Bell Pottinger will know this already, and probably won't want to go after business in South Africa any time soon, one must assume.
And the anger is here to stay. While Higham said that "all who support the campaign were invited and welcomed to join", the protest was DA-led, and it seems clear that the DA feels there is public support to be gained from keeping up its hardline stance on Bell Pottinger.
Meanwhile, Bell Pottinger awaits the independent report it commissioned to audit its work on the Oakbay account, and to see how the DA-instigated PRCA complaint progresses.
Separately, the departure of sacked partner Victoria Geoghegan was confirmed by a filing at Companies House.