Aarons joined FTI forerunner Financial Dynamics 17 years ago, prior to the 2006 acquisition and 2003 MBO. He is based in London and is global head of network development for the firm's comms unit.
He oversees cross-border business, serves as coordinator of the firm's partnership with the World Economic Forum and had a role in helping to establish global offices including South Africa, India and France.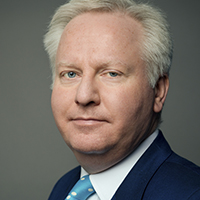 Aarons (right) did not comment on his departure. It is understood he left on amicable terms, but does not have a new role lined up.
The loss of Aarons comes at the same time that Paul Marriott and John Hobday, leaders in the strategic comms business' Asia-Pacific and Gulf regions, have handed in their notice. Gareth Wynn, a senior MD who led the unit's energy business from London, also left last month.
In a statement to the US Securities and Exchange Commission at the end of June, the firm said that over the second quarter of the year it had "continued to evaluate components of its workforce and related expenses".
This process "resulted in the Company terminating approximately 4% of the Company's more than 4,700 employees and closing or vacating leased space in several small international offices during the quarter", it said.
The roughly 190 employees who have left the firm are predominantly US and Asia-based, and relate to areas including FTI's tax and accounting practices, PRWeek understands. The strategic communications unit in EMEA is not believed to be affected beyond the departures mentioned above.
FTI provided the following statement on Aaron's departure: "Jon is leaving us for new adventures after holding a number of roles during his 17 years with us. We thank him for his dedicated service to our firm and wish him all the best in the future.
"At the same time, we are continuing to make important senior appointments and have just welcomed Juan Rivera as our new senior managing director in Madrid, who will lead our growth in that region."
Rivera's arrival from Madrid-headquartered group Llorente & Cuenca was announced earlier this week.
The New York-listed firm announces its Q2 earnings on 27 July.
The strategic comms unit's CEO Ed Reilly told PRWeek that 2016 was "a somewhat mixed year", speaking to the magazine for its profile in the Global Agency Business Report.