Following a brand review survey of nearly 1,100 people, carried out by NFP Synergy for London's Air Ambulance, it was revealed that 63 per cent either do not believe or are not sure if the organisation is a charity.
This compares with higher recognition of the charitable status of other organisations, with 54 per cent confirming that the lifeboat service, RNLI, is a charity and 74 per cent saying the same of the British Red Cross.
Those surveyed thought funding for the air ambulance came from the NHS, central or local government.
But the charity is in fact staffed by doctors and paramedics on paid secondment from Barts Health NHS Trust and the London Ambulance Service, with the majority of its income derived from donations.
But there was good news for brand recognition of the charity, which serves 10 million people living and working inside the M25, with 80 per cent telling the survey they have heard of the air ambulance.
However, there was confusion over what the air ambulance actually does, with a majority of respondents under the mistaken impression that its key role is to transport patients to hospital, including from hard to reach areas.
In fact, London Air Ambulance, which attends five critically injured patients per day, only takes patients to hospital in 20 per cent of all cases.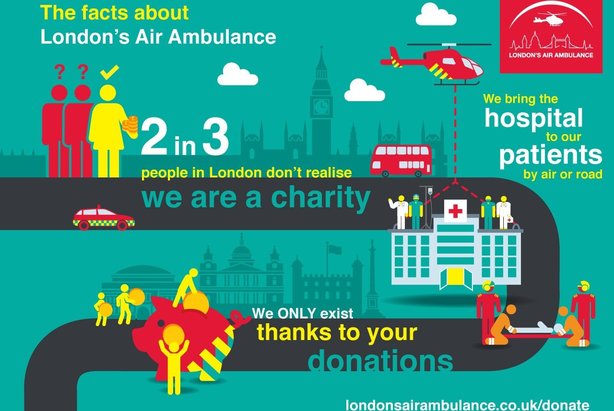 Its main role is to deliver a doctor and paramedic team, by helicopter or rapid response car, to the scene of a critically injured patient and provide treatment one would find in a hospital emergency department, such as open-chest surgery, blood transfusions and anaesthesia.
Commenting on the findings, Jonathan Jenkins, chief executive of London's Air Ambulance, said: "The results of our brand research confirm what we as an organisation already suspected.
"In my early days as CEO, I have quickly learned that one of our greatest challenges is spreading the message that London's Air Ambulance is a charity."
Jenkins said, following its support of people caught up in the terrorist attacks in Westminster and Borough Market, many people on social media were shocked to discover the air ambulance was a charity.
He added: "Over the past few years our charity has been focused on acquiring our second helicopter and extending our daylight flying hours so we can better serve the people of London.
"Now that we've achieved that goal, our next challenge is about increasing awareness that we are a charity, which will hopefully in turn grow our supporter base."
---
Click here to subscribe to the FREE public sector bulletin to receive dedicated public sector news, features and comment straight to your inbox.
If you wish to submit a news, comment, case study or analysis idea for the new public sector bulletin, please email Ian.Griggs@haymarket.com