"Facts are not enough." These words spoken by Frank Shaw, Microsoft's long-time corporate VP, communications, and keynote speaker at the May 24 WE Communications-hosted event in Seattle, captured one of the biggest challenges facing today's PR pros in the never-ending battle to win hearts and minds in an age of constant motion, both in terms of brands themselves, as well as the sectors and geographies in which they live.
All brands currently operate in a post-truth world, explains Shaw. "Alternative news" is on the climb and opponents continually rise up to aggressively cast doubts on objective facts. This new reality, he adds, very well might be one of the single biggest obstacles for brands to overcome. As such, a new game plan is needed – one that does not rely solely on facts – for all brands seeking to break through and maintain trust with employees, customers, and all key stakeholders.
"We know there are some things that help in this post-truth, post-fact world we live in," says Shaw. "Stories break through. Emotion breaks through. Real people affected in interesting ways break through. Of course facts matter, but they must be accompanied by other things."
The burning question becomes how a brand navigates this post-truth world to allow those emotions and impactful stories to reach the forefront.
Standing up to stand out
Clearly identifying your core values is the place to start. Achieve that, counsels WE CEO and president Melissa Waggener Zorkin, who opened the event, and you will better connect with an individual's emotional drivers and personal beliefs, which have become so important to how people shape opinions about brands.
Moreover, she continues, as corporations navigate and respond to the myriad external forces coming at them – be it political, economic, competitive, or from the cultural zeitgeist – a clear set of values works to keep brands specifically defined for all key stakeholders on both an emotional and rational level.
"Static is dead. Constant motion is what the world is all about today," points out Waggener Zorkin. "With forces being exerted on us all the time, the most important thing communicators can do to respond is to plot our own path. We must figure out what we stand for, so that no matter how hard the wind is blowing, we know our North Star and that we're on the right path."
Standing up to stand out is also a way for brands to provide something consumers desperately crave in times of turbulence – stability. To emphasize this point, Waggener Zorkin introduced WE's Brands in Motion study, which covered three markets – the US, UK, and China – and surveyed 4,500 consumers and 1,000 b-to-b decision-makers in each one. The survey was conducted in early 2017.
"Almost half of study respondents – 48% – said they think brands can provide stability in an uncertain world," she reports. "Brands can no longer expect to sit on the sidelines and remain untouched by hot-button issues. Today, customers want brands to embrace tangible action, not feign neutrality. They want us to have purpose, not just to sell products."
"This is a great call-to-action," Waggener Zorkin concludes. "That's a huge permission – and a huge opportunity – for all of us to ask, 'How do we show up?'"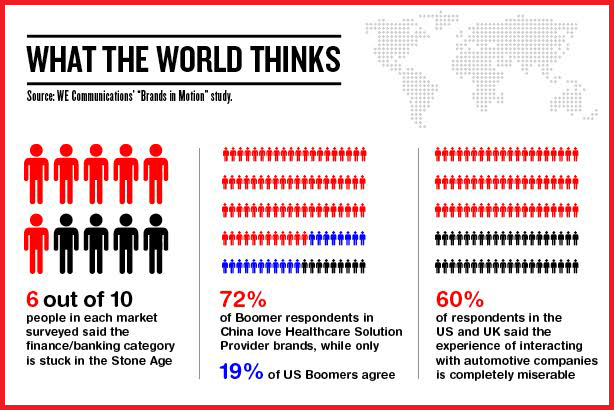 The battle for trust
As communicators know full well, effective storytelling is a brand's best friend these days. In that same vein, a brand's inability to tell compelling stories can be its worst enemy.
"Every corporation, every brand has to devote the resources to tell their own story to our customers, our partners, and our employees," says Shaw. "It's the key to getting people to care about us."
And once again, the current media reality took center stage as Shaw sought to emphasize the importance of storytelling. As he explained, the media, which has historically shaped public sentiment, "is in some ways weaker than it has been, doesn't scale as much, and doesn't have as much credibility."
Media – or more specifically the trust people place in it – is under siege from new and rising forces. These include "alternative news" sites; organized groups that selectively leak stolen documents, such as WikiLeaks and anonymous online bulletin board 4Chan; as well as various other entities that use social media to spread falsehoods as news.
And as the media battles to regain trust, Shaw reports that it has actually been an unwitting accomplice to its opponents.
"We all remember seeing that story that said the Pope had endorsed presidential candidate Donald Trump," he cites as an example. "Of course, it wasn't true. But in the media's aggressive attempt to fact check this, the story was actually seen by more people than ever would have had it just existed on social media channels."
"The media has to understand that it still has credibility," adds Shaw. "It's diminished, but it has credibility and the media has to own it and stop lending it out to other people. The first step to doing that is acting like you have an adversary and then understand that adversary."
One tack, he advises, is for the media to stop repeating fake news. And it must take a hard look at commenting systems that seem to be attached to everything these days, from videos to news articles; they're often hijacked by adversaries to cast doubt on the facts of the story.
"The media has to understand that it can't carry the anti-truth virus the way it is right now," Shaw stresses.
A teachable moment for brands
As a corporate communications leader, Shaw pays particular attention to the media's current plight because all brands, specifically their in-house PR and marketing teams, are inextricably linked to the situation.
The corporate world, he says, has to recognize how it carries the anti-truth virus just as the media does. And corporate communicators must realize they are part of an ecosystem that not only includes their owned media channels, but earned media, too.
"We're two sides of the same coin. We are mutually interdependent," explains Shaw. "I am a member of the media as a corporate communicator in the same way as somebody who reports from The New York Times or Huffington Post. We're all influencers. Sometimes we're big fish. Sometimes we're small fish. But we're all swimming in the same water."
"And trust is the water that we're swimming in," he continues. "It's the most important thing keeping that media ecosystem healthy."
As such, Shaw says the onus is on corporate communicators to be accurate, to be factual, but to tell their stories in a way that brings the facts to life, which is crucial since various opponents are working to undermine those facts.
"We have all seen corporations hurt their trust and damage their credibility by saying and doing things that have turned out to be untrue," he adds. "You have to continue to earn that trust and you can't lose it. It's not just a corporate communications function," though the corporate communications team certainly has a leading role.
And what happens if you lose that trust? According to WE's Brands in Motion study, you will get hurt in the worst possible place – the bottom line.
As Waggener Zorkin (pictured below) notes, 58% of consumers said they have chosen not to purchase something in the past because they didn't believe in what the brand was standing for. "I don't know about you," she surmises, "but if more than 50% of my customers went away, I would be dead overnight. That's a huge number."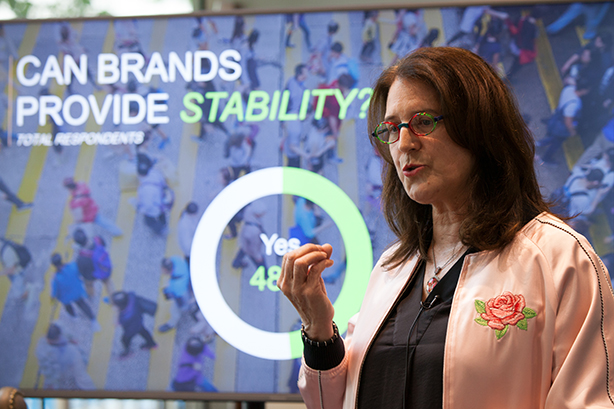 Walking the talk
Following Waggener Zorkin's and Shaw's remarks, WE Communications invited three values-driven, Seattle-based companies – Starbucks, REI, and Zillow Group – to join the firm for a panel discussion focused on how brands have been speaking up on key issues in such a way that has earned trust with their employees and, in turn, their customers.
"You've got to know your purpose as an organization," says Rob Discher, REI's director of communications and public affairs. "When you know that and consistently speak up on issues and build that trust, you will know where you play in the incredible, dynamic social landscape."
Linda Mills, VP of corporate communications, Starbuck, adds, "We never want to take a stand just for the sake of taking one. We want to have an action that goes with that and to clarify or inform our own people."
Katie Curnutte, VP of communications and public affairs, Zillow Group, says speaking up on issues and telling stories that reflect their values "is not done in a silo. Our social impact program will involve our VPs of product, as well as brand marketing. It can't just be left to the 'do-gooder department.' It must be integrated with every single thing we do."
Dawn Beauparlant, chief client officer at WE, amplifies the importance of a simple, yet too-often-underappreciated skill. "Listening has a ton of value," she said. "Smart brands make sure to both listen and learn as part of their engagement with stakeholders." And from listening, adds Beauparlant, brands will often gain more clarity on what they can do to strengthen their bonds with consumers.
"At the end of the day, what truly is appealing is customers' values and principles, not just their wallet," explains Waggener Zorkin. "Some CEOs have stood up for some things and got shot down, while some have stood up for some things and have been lauded and praised. What's the difference? How you choose what things to stand up for because you can't be everything to everybody." And one common thing shared by all brands that truly understand what things to stand up for – they exhibit authenticity, which is a trait consumers value more than ever.
That is why figuring out your North Star is so critical for brands. It helps you stay ahead in a world that is constantly in motion.
Click here for more from WE's Brands in Motion study.
How are some of today's top brands standing up to stand out? Find out in the August issue of PRWeek US, where we delve deep into the panel discussion featuring the aforementioned quartet of leaders.