The commemorative event was to mark the centenary of the Battle of Messines Ridge, a bloody offensive during the First World War, which marked the first time that the 36th (Ulster) and 16th (Irish) Divisions fought alongside each other during the Great War.
The battle was fought on 7 June 1917, which meant the commemorative event went ahead despite Purdah.
It was the first time that the British and Irish Governments designed and delivered a truly joint commemorative event, according to officials.
But Purdah made promoting the event difficult, with comms activity restricted to a press notice announcing the commemoration around six weeks ahead of the event, followed by an operational note to UK, Irish and Belgian media inviting them to apply for media accreditation for the event.
Despite concerns that media would not have the resources to send teams to cover the event, due to the General Election taking place the next day, around 80 members of the media were accredited.
It was agreed that all media would be permitted to attend the main commemorative event at the Island of Ireland Peace Park in Messines, a memorial to all the soldiers from the island of Ireland who died in the First World War.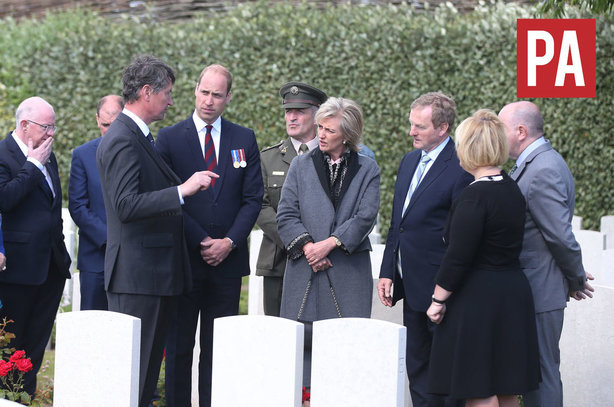 The Duke of Cambridge, the Taoiseach Enda Kenny and Princess Astrid of Belgium attended the ceremony and laid wreaths at the foot of the Round Tower memorial, before meeting invited guests including descendants of those who fought at the Battle.
Around 800 people attended the event, 300 of which were family members of those that fought in the battle while the remainder were members of the public who had applied for tickets.
Only a handpicked pool of three British, three Belgian and three Irish media were allowed to cover a private service at Wytschaete Cemetery where over 1,000 servicemen of the First World War are buried, including many from the Battle of Messines Ridge.
They were allowed access to the event with the proviso that they shared footage with all other media.
The use of hashtag #Messines100 by key stakeholders such as Kensington Palace, the Irish Department for Foreign Affairs and the British Embassy in Brussels proved to be a good tactic – becoming the top trending topic on Twitter during and after the event.
A press release issued on the day of the event was re-tweeted 47 times and liked 58 times.
The event resulted in widespread print, broadcast and online media coverage, which officials attribute to the combined efforts of comms teams from the British and Irish governments working together.