While Theresa May's repetition of slogan and now infamous 'fields of wheat' confession meant her attempt to increase her majority was being criticised from before polling day, it was only when the reality of the results struck that the recriminations began in earnest.
Plenty of fingers have pointed in the days since, most notably those of the PM's former co-chief of staff Nick Timothy. In his public resignation note on ConservativeHome, he cited the Conservatives failing to "notice the surge in Labour support", and a failure to understand the divisions of modern Britain - while also saying the result was not due to "the absence of support for Theresa May and the Conservatives".
In today's Spectator, he writes that at the campaign's outset Team Theresa had "envisaged a return to traditional campaigning methods" of press conferences, and would be supported by ministers, given that May was "never comfortable hogging the limelight".
"On the advice of the campaign consultants, and following opinion research that showed Theresa to be far more popular than the party or her colleagues, we eschewed our instincts. We were wrong to do so," he wrote.
That the Conservatives 'lost' the election in PR terms is indisputable - while May continues as PM, her campaign served to bring about a worse end result than had been envisaged at the start.
The question is - why?
1) Fall-outs or poor relationships between the party and 'campaign consultants'
The political advertising blogger Benedict Pringle has argued that the campaign shows Team Theresa was not working hard enough to spread the messages which Crosby Textor and digital and social consultants Edmonds Elder wanted to push.
Others opine that Sir Lynton Crosby was not allowed freedom to run the campaign how he wanted, not given enough access to the Prime Minister, or was ignored by May on Timothy and Hill's advice. However, a party insider tells PRWeek that Crosby had "had plenty of access" to the PM, while another individual who worked on the campaign said the Australian and his business person Mark Textor were working with Conservative Campaign Headquarters (CCHQ) "pretty much full-time".
Whether or not May actually listened to Crosby and Textor, it is clear the huge faith she had in Timothy and Hill would have been hard to override. It is hard to avoid the assumption that Timothy's reference to "the campaign consultants" refers, in whole or in part, to Crosby himself.
M&C Saatchi, the creative group that was in talks with the party prior to the campaign, had only a "very limited" role in the campaign in the end, several sources have indicated, with work it submitted not used. Work was instead done in-house. This would suggest a failure to mobilise "campaign consultants", rather than over-reliance on them.
Conclusion: The tight nature of May's close inner circle might not have allowed the campaign's various parts to operate optimally. But it would be foolish to completely accept the explanations of those seeking to lay full blame at the feet of one person alone - be it Timothy or Crosby.
2) The 'strong and stable leadership' and 'coalition of chaos' slogans were ill-judged
"I think the 'strong and stable' message was the right one," says Giles Kenningham, who worked with David Cameron, including on his 2015 election campaign. Kenningham also points to Cameron's successful deployment two years ago of the "coalition of chaos" slogan to suggest May was right to revive it.
Repeating these slogans was necessary to emphasise the message to the majority of voters, who interact in a relatively superficial way with politics, he said. "You have to have a strong message - people dip in and out of elections. People say it's boring, but you have to have repetition."
'Strong and stable leadership' even gets a caveated thumbs up from the Labour party's deputy director of strategy and communications. Steve Howell, previously the CEO of the agency Freshwater, says: "At the outset of the campaign, I thought you had to hand it to them, they had a clear message."
Conclusion: the 'strong and stable leadership' line was, in itself, good - even if it did begin to grate on the media. And it was other let down by other elements of the campaign.
3) There was no clear narrative that May presented the electorate
Having acceded to Downing Street after keeping relatively quiet during the EU Referendum and then watched her other leadership rivals fall by the wayside one by one, many have commented that it is not clear what May really believes in.
Pringle says US President Donald Trump managed to build a simple narrative in his campaign against Hilary Clinton. Trump built up the security threats America faced, highlighted its economic shortcomings and painted Clinton as a candidate of establishment continuity. He then offered Americans the chance to 'Make America Great Again'.
May did not build up a reason to believe in her strength and stability. "It's like if Nike went around just saying 'Just Do It' - people would get pretty bored of it, but it's really about their whole story of empowering athletes," he said. Pringle says he feels Edmonds Elder and Crosby Textor were trying to build that broader narrative, but were never really able to bring that to the fore, and on his blog presents the following creative assets as examples: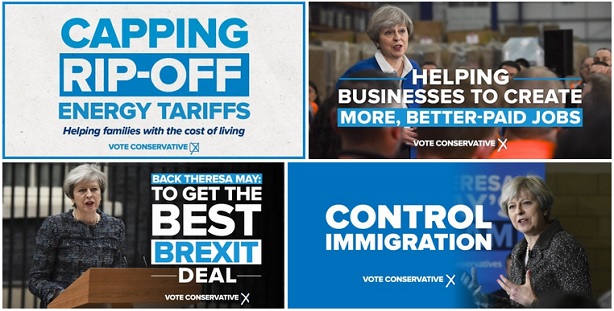 Meanwhile, their opponents were constructing a narrative that stood behind its 'for the many not the few' slogan. "Labour's narrative was so clear and told by so many different people - the idea that they were willing to make radical decisions to improve the lives of marginalised people," says Pringle, who told PRWeek that while he is a member of a UK political party, he keeps this private and tries to keep his political analysis non-partisan.
Kenningham agrees that the public services focus of Labour's campaign "mobilised" people more successfully.
Conclusion: A narrative to support May's slogans did not clearly burst through into the national psyche. The narrative to back up Corbyn's slogan achieved more prominence.
4) May's wooden interview technique made her incapable of relating to people
Timothy's admission that May is not "comfortable hogging the limelight" may be read as a damning analysis of her abilities in front of TV cameras. But she didn't get where she did without knowing how to perform.
Pringle says May had done very well on TV when "being defiant, being incandescent over the leak of her conversation with [EU Commission president] Juncker, for example - people liked that, and her 'bloody difficult woman' persona". However, she was "very wooden" through the election, Pringle said.
"She didn't seem like a good storyteller... she was saying 'strong and stable leadership' as if it was the answer to every question - she thought she'd keep saying it and then go back to CCHQ and Lynton would give her a pat on the back," he said.
Conversely, Labour were confident in Corbyn's abilities in front of the general public. "We knew that where Jeremy is exposed to people, they see him and hear him directly, they respond very positively," said Labour's Howell. Kenningham also pointed to Corbyn having spent years campaigning and rousing 'town hall'-style events; experience May does not have.
Conclusion: May failed to perform to her strengthes or depart from a narrow script.
5) Labour's manifesto promised much, the Tories' was too grim
In his Spectator piece, Timothy comments on suggestions the Conservative manifesto focused too much on cuts. "I worry that the implications of this argument is that politicians should not be straight with the electorate," he said.
The "magic money tree" critique of Labour's manifesto could be debated at length - while Howell says he carries around a simple costing document which has been given "broad endorsement" from external experts, others will say it simply does not add up.
"We were confident from the outset that we would have a very good manifesto," Howell tells PRWeek, saying the party had done a lot of policy work, even prior to the election being called.
The Conservatives, by contrast, found their manifesto paid few dividends with voters. "What this election showed is that manifestos do count - [in the Conservative manifesto] there were no 'retail commitments', things that you can 'sell' on the doorstep," says Kenningham.
Then, of course, came the Conservative u-turn on social care - the "dementia tax" as it became known, which Kenningham said "undermined the fundamental basis" of May's attempts to over strength and stability in her leadership.
Conclusion: Labour offered the public something positive, while the Conservatives produced a manifesto that was overly practical and could not be leveraged - and that was before the social care u-turn.
6) The Conservatives didn't get cut-through on the right messages
Every election, a few things manage to cut through the debate and stick in the minds of voters. That aforementioned "dementia tax" was one of those things this time around.
Plenty of Conservative activists have attested to from their experience on the doorsteps that it made people afraid of old age. The Independent called the u-turn a "study in incompetence".
"People see relatively little of the election and it always amazes me how little things actually cut through," he comments. Pringle says that in the "not hugely political" ad firm where he does his day job, it was one of two things that cut through. The other was the Conservative's pledge to abolish free school lunches, while a potential de-criminalisation of fox-hunting also achieved cut-through to a certain degree.
In turn, the Conservatives failed to get their message that Jeremy Corbyn was a friend of terrorists or a terrorist sympathiser to cut through enough. "They kept bringing up the same attack lines based on tenuous things from the distant past, which just clearly hadn't worked", said Howell. A Tory-leaning source said the party had been stumped when its attempt to push the terror message after the London Bridge attack was met with Labour's criticism of May's record on policing when Home Secretary.
Conclusion: Some things cut through - in part due to factors beyond campaigners' control. The things that did, didn't reflect well on May or her party.
7) There weren't enough 'influencers' backing Team May
In 2015, Ed Balls was ridiculed for naming (or rather failing to name) "Bill somebody" as a business supporter of the Conservative party. In 2017, the Conservative party failed to get third parties on board.
"The thing that is striking is the lack of third-party material," says Kenningham - things like letters where 100 or so business people will pledge support for the Conservatives, providing a straightforward story for the press. "That kind of thing is really useful to have in your back pocket when you're losing the media battle - there's only so far politicians can take the debate. You need other people, other influencers out there," he went on to say.
In fact, the Conservatives managed to disgruntle one national treasure in particular. "They made an enemy of Jamie Oliver - and that's the worst person you can possibly make an enemy of," Pringle says of the chef's criticism of the school meals policy.
Labour's campaign involved plenty more groups, such as Momentum and Another Angry Voice, who were working to re-tell its stories, Pringle notes, and "produce slick attack ads", in the words of Kenningham.
Pringle suggests future elections could see a rise of the American-style 'Super PACs' (PAC stands for political action committee) who do much of the negative campaign work so that politicians themselves don't have to. "That is developing in the UK," Pringle said.
Labour also had powerful advocates in the perhaps unexpected shape of the UK grime industry - and indeed the inveterate left-wing film director Ken Loach, who put together three of the party's five party election broadcasts.
So passionate is he about the Labour cause, that he called PRWeek unprompted by us, shortly after the magazine's conversation with Howell. "The aim was to do something completely unspun, we wanted to just tell what was happening," he said. This in turn made advocates of the doctors, nurses and other ordinary people featured in Loach's finished products.
Conclusion: May did not rouse support of outside influencers or advocates.
8) May's 'no show' at the debates showed her weakness
Labour comms man Howell did not mention this in his run through of the big factors in the campaign - he might have been expected to leap on it.
From early on in the campaign, PR professionals of all political stripes agreed that there was no real advantage to be gained from May appearing. Kenningham said that debating would "give Corbyn a platform, make him seem statesmanlike".
One individual who worked on the Conservative campaign said the debates were not likely to be anywhere near as important to the "average punter" as they are to the "media who is calling it, who want it to happen so it can be the story" - but acknowledged that May's non-appearance then became a story.
Conclusion: Not showing up was not ideal, but its impact was greater in the media bubble than on the Clapham omnibus.
9) Labour won out on social media
Howell points to Jeremy Corbyn's 1.27 million Twitter following (a rise of more than 50 per cent since the start of the campaign) as evidence of Labour's social supremacy, saying it is bolstered by the party's passionate and hardworking social army.
That Corbyn's following is three times that of May is a crude measure of success, but it certainly indicates greater social engagement for the Labour party - as do the various studies produced in recent weeks showing how much more sharing there was of left-leaning stories on social than there was of pro-Tory material.
That said, the Conservatives had some success - for instance, The Times reported that a social attack ad (below) produced by Edmonds Elder became "the most watched advert in British political history".
Labour were able to amplify their message through paid social more than expected - Howell said the party had pencilled in £1m to £1.5m budget for buying social and digital advertising, but it eventually raised £4.5m from small donations to do this.
The Conservative victory in 2015 was in part put down to outgunning Labour in targeted Facebook ads. The Tories continued micro-targetting and segmenting, but thanks to the 'Who Targets Me?' app and campaign and reports on parties' social strategies, some users have become wise to this tactic. In time, Electoral Commission transparency data will tell a fuller story on who spent more money online.
Conclusion: Labour seemed to have more social presence - certainly it improved on its 2015 campaign - but the Conservatives still scored plenty of hits.
10) Print media's right-wing messages failed to deliver
Plenty of Labour supporters bemoaned Rupert Murdoch's ability to "buy" the election ahead of the vote. While the party backed most prominently by newspapers ended up back in power, it was not by the landslide Fleet Street assumed.
Howell says Labour "made an early decision not to be too preoccupied with national print media because we knew that we weren't going to get any cut-through and positive stories, other than in the Mirror and the Guardian". Instead, Labour prioritised broadcasters, which he said had to give Labour a "decent airing" due to rules on transparency.
Pringle says that focus in recent years on the fact print media titles have a clear party allegiance will not have alienated existing readers. However, it appears to have made others in the media, including broadcasters "take them [the print media] with a hefty pinch of salt", meaning they are less swayed by their narrative.
Even Howell acknowledges that print media have a role to play, however. And Kenningham says they can still make and break debates. "You need to be aware that you have more and more fragmented sources and outlets - but Fleet Street can still start the conversation, so you dismiss them at your peril," the former Cameron aide said.
Conclusion: Fleet Street cannot be ignored - a year ago, many of them backed the winning horse in the Brexit vote. But social media and other factors means their role is certainly changing.
11) Labour were better prepared to fight a campaign
People involved with the Conservative campaign argue that Labour was more ready to run a general election campaign given that, as the official opposition, it was already on a campaign footing.
This suggestion jars with the fact the Conservative party was the one which called the election, but the email blunders reported from local Conservative associations and local campaigners complaints since the election that they did not feel valued by the party do suggest that it was indeed ill-prepared for the campaign.
Conclusion: The Conservative Party seemed to have such confidence in its poll lead that it ignored the fact it was not organised to properly mobilise its grassroots campaign.
The reckoning
So, whodunnit? Theresa May will likely never live down the decision to call the election, but the real reasons behind why it backfired are complex. In the word of one of the Conservative insiders PRWeek spoke to: "The blame falls roughly down the middle."
As Timothy said in his resignation note on ConservativeHome, the Tory collapse will continue to be analysed. While plenty of commentators have appealed to data, claiming to show that the election was about young v old, about Brexit, or 'clinched' by certain factors, it will be some time before the definitive British Election Study data comes out and allows true analysis of the numbers.
That said, there are some key lessons that PR and campaigning professionals can take: the need to link slogans with a fuller a narrative, the importance of good advocates and good spokespeople, a subtle change in the importance of print media - and, of course, the likelihood that, in the end, someone will try to blame the "campaign consultants".