Election party time
As Britain woke to find the country split and parliament hung, so Flack nursed a slight hangover after splitting time between two election night bashes.
First up was the Institute of Directors, a Conservative-leaning affair where chair Lady Barbara Judge said she was hoping the votes "are in the right place", without needing to specify where they were.
Her opening remarks also contained a nod to a more liberal-leaning lack of ties in the room, something she said would have been inconceivable at the Pall Mall club a few years ago. Cicero Group executive chair Iain Anderson, whose agency had shelled out to sponsor the event, took this as his cue to rip his tie off and throw it to the ground as he took to the stage.
IoD PR man Andy Silvester – a former 30 Under 30, no less – kept his on when he stepped up, quipping: "I think if I take my tie off as well it starts to become a rather different evening."
Silvester's gentle teasing of Anderson continued in the following panel session. "First question: what is the naughtiest thing you've ever done?," he asked the former APPC chair. "I'd very happily answer that," Anderson replied, but alas the conversation then turned to matters political, so it shall remain a mystery.
Former @prweekuknews #30Under30 chap @silvesterldn and ex-APPC chair hold forth at @The_IoD election night party #GE2017 pic.twitter.com/YMqAepv5GJ

— Sam Burne James (@samburnejames) June 8, 2017
With that, Flack headed to Shepherds of Westminster for a party co-hosted by the PRCA and software firm Vuelio, just in time for the exit polls.
At Shepherds, there was drama even before the shock projection came out - with the TV in the corner plunging into darkness with just minutes to go. Cue panic from proprietor Lionel Zetter, who rushed off and managed to find a strong and stable power connection in the nick of time - the TV flashing back on with just 14 seconds to go before 10pm.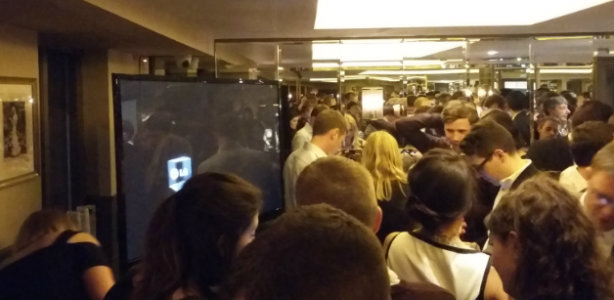 Among the revellers was a certain Simon McGee, press secretary to Boris Johnson, who made his excuses just after midnight. Flack wonders whether McGee's name may become rather more familiar to the UK population in the coming weeks...
Ready to react
Congratulations to quick-thinking PR agency Ready10 for this bit of post-election opportunism:
Searches for 'proportional representation' - aka PR - have risen 1300% in the past 24 hours, so we thought we'd do a cheeky Google ad buy... pic.twitter.com/CWpxVgPRnh

— Ready10 (@ready10) June 9, 2017
The Sun shines on Sarah Hall
CIPR president-elect Sarah Hall spent Wednesday on a campaign trail, Flack noted on Twitter.

She joined one of a number of Labour supporters upset at General Election coverage in boosting sales of The Sun and the Daily Mail, in order to throw large batches of the organs into the bin.
Bulk purchase of today's @DailyMailUK and @TheSun in the bin. What you waiting for? Get out there and do the same! pic.twitter.com/u6VzfuCpT3

— Sarah Hall (@Hallmeister) June 7, 2017

She was "busy emptying all the newsagents near me", she told PRWeek, adding: "Sun is shining on me. Taking it as a sign as it's poured down for three days solid."

So there you have it, Sarah Hall likes sun, but doesn't like The Sun.
A belated welcome for Sir Craig
The Advisory Committee on Business Appointments, a strong candidate for the title of least effectual public body, is a frequent subject of Flack and PRWeek bemusement. Normally, the letters that ACOBA sends government alumni giving them approval to take up a new private sector role get published at the same time as the jobs are publicly announced.
In the case of David Cameron's old comms chief, it was seven months almost to the day from news of Sir Craig Oliver joining Teneo Blue Rubicon in November, to the ACOBA letter coming out this week.

That letter, incidentally, assures the public that "whilst Teneo has a specific Government division, Sir Craig has declared the he would have no involvement with Government if he takes up this appointment". By the time Flack goes to press, we'll have a Plaid-Green-UKIP coalition regime, of course*, and we can't imagine he's their cup of tea.
* Update: oh, never mind.
And finally...
The last word (hand gesture) comes from Jezza:
Quite possibly, the most awkward high-five of all time pic.twitter.com/refH8Cb6Kk

— Esquire UK (@EsquireUK) 9 June 2017