Who is Labour's only corporate donor?
Electoral Commission data releases show there were no donations made to the Labour Party from private companies in the first week of political donation declarations ahead of the general election - their contributions mainly came from unions, But the second form shows that one corporate has pitched in. Fujistu provided a "non cash" donation worth £16,800 on 15 May, it shows.
An attempt to even up the firm's contribution, given that one of its corporate affairs staff is a decent bet to win a seat for the Conservatives in the general election?
No. A spokesman for the Japanese tech titan explains: "The payment declared by Labour is for our sponsorship of the Business Lounge at the upcoming Labour Conference in September 2017. A similar level of sponsorship will be declared by the Conservatives in the near future.
"We wouldn't normally pay sponsorship to a political party during an election campaign, however with the snap election the payment for the lounge has fallen into the more frequent reporting periods of the general election."
Crunch time for Walkers
It's not been a good week for Walkers. As you may have read, the crisp brand has been dealing with the fallout of its #WalkersWave campaign that saw ambassador Gary Lineker appear in Twitter posts next to notorious criminals after the initiative was hijacked by pranksters.
Now it has emerged that Walkers was caught out for getting the maths wrong on packets of its Crispy Crackers brand:
@walkers_crisps can you explain why the kCal per 100g is almost same as kCal per 30g on these Crispy Crackers? Someone needs maths lessons. pic.twitter.com/4IbUeLdT6I

— Max G Greyhound (@ilkleymax) May 19, 2017
Hi there Max, thank you so much for your getting in touch. There has been a type o it should have been
per 100g 445kkal per 30g134 kkal https://t.co/wVpbKT4lyV

— Walkers Crisps (@walkers_crisps) May 24, 2017
Let's hope things improve next week, chaps.
You're AVEing a laugh
Ah, AVE. The PR measurement tool/perennial annoyance-generator swung back into focus this week after PRWeek reported the controversy over the CIPR's threat to "discipline" members who still use it.
The story generated much discussion. Here are some of Flack's favourites from a Linkedin posting of the article by PRWeek deputy editor John Harrington:

Ben Caspersz: "AVE is a meaningless joke measurement that undermines the credibility of the industry. Congratulations to CIPR for having the cojones to take a stand on it. If it doesn't work? Public floggings and Chinese burns."
Craig Melson: "But it isn't meaningless - it's very poor, but it does link coverage to actual money (badly), so it does have a meaning. The problem is that people haven't come up with a credible alternative that satisfies those who sign the cheques."
John Brown: "This feels like meaningless posturing until the CIPR can explain how this will be policed and whether there will be an expectation on agencies to act as whistleblowers on clients that are shackled by archaic measurement practices."
Mark Stretton: "Ridiculous."
Richard Glynn: "Really not sure how constant public squabbling and threats about AVEs helps the industry. It feels like a cross between the Jeremy Kyle Show and Groundhog Day."
Dawn Neville, MCIPR: "Excuse me while I fax this announcement to my peers..."
If only Flack had a way to measure the intensity of this debate.
Flack and the terrifying screaming billboard
Flack was fortunate enough to be invited to the Hospital Club in Covent Garden on two separate occasions this week. The first was a meeting that focussed in part on the woes of Arsenal Football Club. Flack can't say he wasn't a bit delighted by this topic.
The second was an equally engaging event about how to create branded content people actually like. It was hosted by creative agency Impero, whose creative director Michael Scantlebury highlighted three (not exhaustive) strategies brands can employ to ensure they "entice" consumers. They are:
1. Let consumers talk about themselves
2. Make people feel like they are part of something 'bigger'
3. Create things that are new and surprise people
Scantlebury said brands like Coca-Cola regularly entice people because they are "consumer-centric" and let people focus on themselves. Cast your mind back to the time you frantically searched for a Coke can with your name on the front. 'Flack' was particularly difficult to find...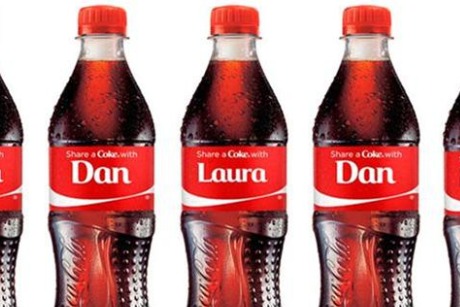 Scantelbury also said PRs and brand marketers had created too much low-quality content. "If a brand creates something I don't like, I'm just going to click away from that content," he stated. "Brands also have to realise they can't just scream at people from a billboard - that doesn't work anymore."
Though Flack fully appreciates the seriousness of Scantlebury's latter point, he cannot help but think if a billboard started screaming, he'd be transfixed – and terrified. Mostly terrified.
Hard-line from Topline
PR professionals know how to mete out punishment for minor civil infringements, it seems. Flack spotted this sign outside the London office of Topline Comms.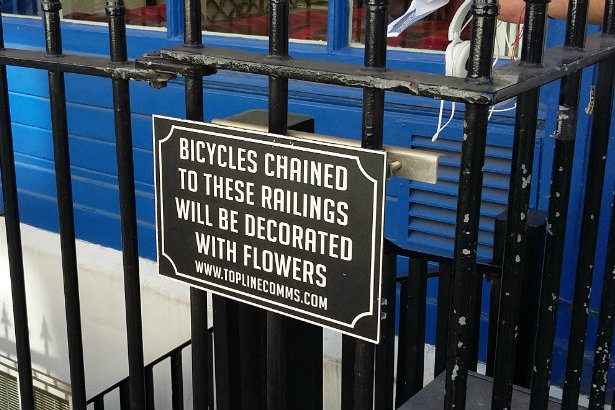 "We've done it about six times I think," replied CEO Heather Baker, when asked how many times this floral vigilantism had been enforced.
Young people nowadays...
An intriguing survey arrived in Flack's inbox from Tin Man Communications, as part of its work for imaginatively named influencer marketing client 'Influencer'.
According to a survey of 1,500 people aged 18-30, a third (34 per cent) of Brits would rather gain 10,000 followers on their social media account than get asked out on a date - while 13 per cent would sacrifice a promotion at work in favour of gaining an increase in followers. Make of that what you will.
Floating idea
In response to a tweet promoting a PRWeek opinion piece this week, which claimed that the news is broken, Engine London's Mark Perkins and Taylor Herring's Peter Mounstevens came up with an ingenius idea on how the PR industry can be of assistance:
"If we can agree that the news IS broken, what are we PRs supposed to do?" https://t.co/5uelixKGhw #pr #comms pic.twitter.com/4FAExyl6L6

— PRWeek UK (@prweekuknews) May 25, 2017

Hold on! Just influencers, floating down the Thames, Mark?


Dog days on Twitter
Finally, we leave you with two pieces of canine content - a bit of fun from the National Trust, and this warning from a Worcester policeman...
?? Its a hot one today ??

Don't leave your dog ?? to die in a hot ?? car ?? or we may be forced to install special air vents ?? pic.twitter.com/rhkW7RcFTb

— PC Dave Wise (@CopThatCooks) May 24, 2017